Next Five: Edrice "Bam" Adebayo
If watching the McDonald's All-American Game last night wasn't enough to get you excited about the 2016 recruiting class, we're revisiting our NEXT FIVE series on each 2016 signee. 
Be sure to check out the rest of the profiles, which we'll have on the site throughout the week:
---
Two weeks ago tonight in Davidson, North Carolina, just over a mile from the court Steph Curry once roamed, Davidson Day School honored its five high school basketball seniors in the regular season home finale in Yates Gymnasium. The parents of the five graduating players proudly walked their sons out to mid-court during a pregame ceremony as classmates and fans watched on with applause. It was a nice farewell to the five parting Patriots, one those young men will remember forever. But if Davidson Day could do it all over again, I think it would have scheduled a different opponent for the basketball game that followed its Senior Night festivities. Waiting patiently on the away bench was High Point Christian Academy and its roster full of Division 1 talent; and among that talent was University of Kentucky signee,
Edrice "Bam" Adebayo
, a consensus five-star player in the 2016 class. At 6-foot-10, 240 pounds, and with athleticism unlike anyone that size, Adebayo has no business playing high school basketball, let alone against an undersized team like Davidson Day. It's simply unfair -- like a man against boys -- as the crowd would soon witness once the ball was tipped.
From that point on, Adebayo had his way with his opponent without fully exerting himself in the game. He didn't have to, really. High Point was better at every position on the court and the game was out of reach not long after it began.
A quick recap: High Point went on to win, 81-37, with an effortless 18 points from Adebayo in three quarters. This photo of him lined up to rebound a foul shot pretty much sums it all up:
(No. 2 did not get that rebound, if you were wondering.)
If there were ever a time to travel to North Carolina to see Adebayo in action, this wasn't it, obviously. I could've watched him do the same thing in his driveway without five defenders ducking to get out of his way, every time he touched the ball.
But I wasn't the only one in the building who traveled to Davidson to see Adebayo on this night. I quickly learned I was not alone when the SUV parked next to me had a UK window decal and North Carolina's University of Kentucky specialized licensed plated.
Blue got in, as we like to say.
[caption id="" align="aligncenter" width="372"]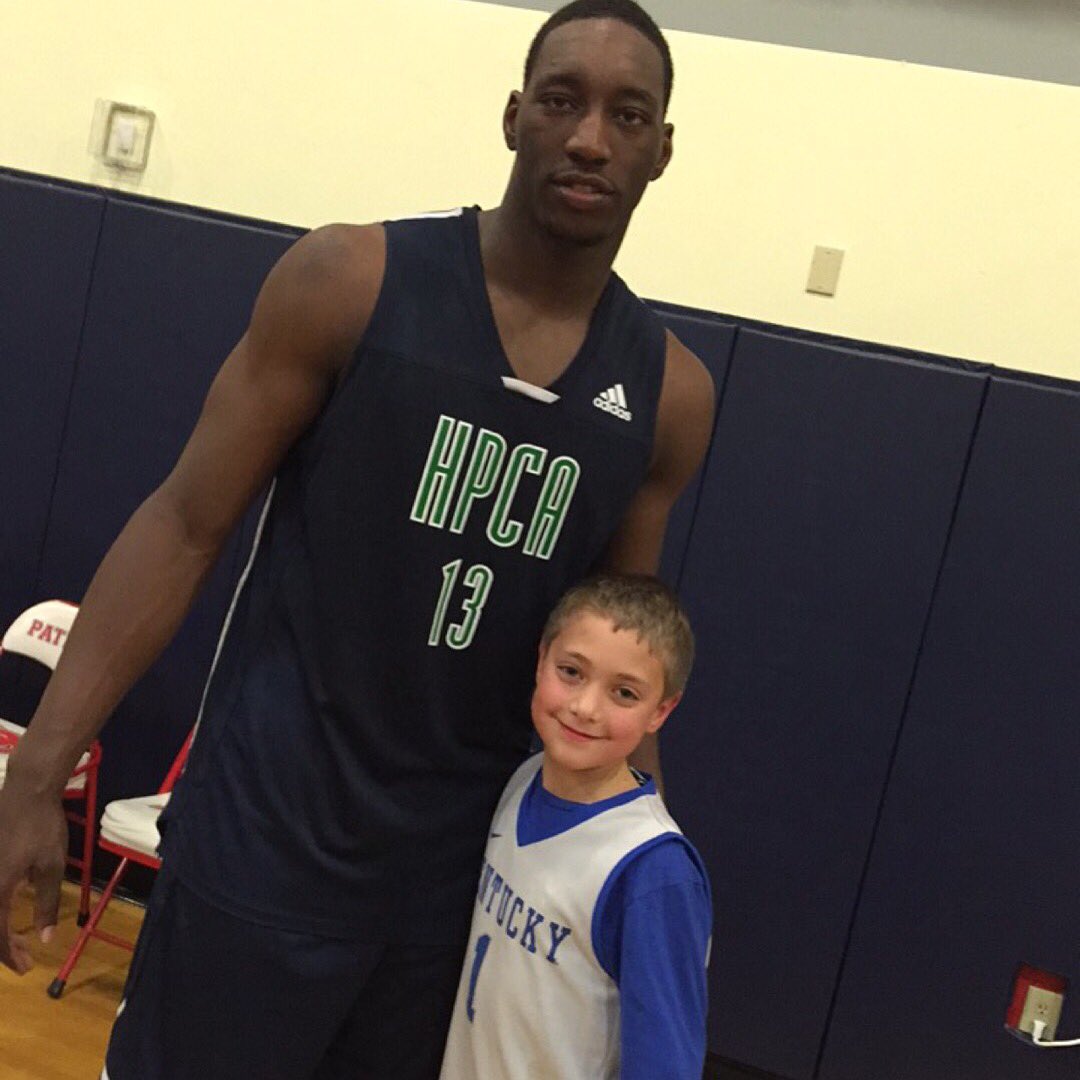 Peyton Mattingly with Adebayo after the game
[/caption] Though my fellow Kentucky fans and I learned very little about Adebayo's entire game, we were treated to some of his high-flying dunks. His explosiveness -- a word that is overused in scouting reports but completely appropriate to describe Adebayo -- was on full display. What I had seen many times on YouTube came to life on a fast break early in the game.
Scout.com's Evan Daniels once wrote of Adebayo, "One area he particularly does a good job at is running the floor. He races end-to-end and is able to get easy buckets in transition." Yeah, I see that.
(I don't care who the opponent is, that's impressive for a big man.) After the game, I spent a few minutes with Adebayo to talk to him about his decision to become a Wildcat. He told me, "It's Kentucky; all of the top ranked players go there and they end up in good places, and I just want to be a part of that." He said the success of the big men who have played for John Calipari, namely DeMarcus Cousins and Anthony Davis, was a big factor in picking UK over several other schools, including nearby N.C. State. And he can't wait to get to Lexington and win a title. "I'm very excited because this is one of those things you hope and dream for," he said. "It is a blessing that I will be able to play for the University of Kentucky."
#BBN @IAmBam13_ pic.twitter.com/B5NNoJ2uuh

– Drew Franklin (@DrewFranklinKSR) February 12, 2016
Let's go, indeed.