Nick Mingione on the current state of the Kentucky Baseball program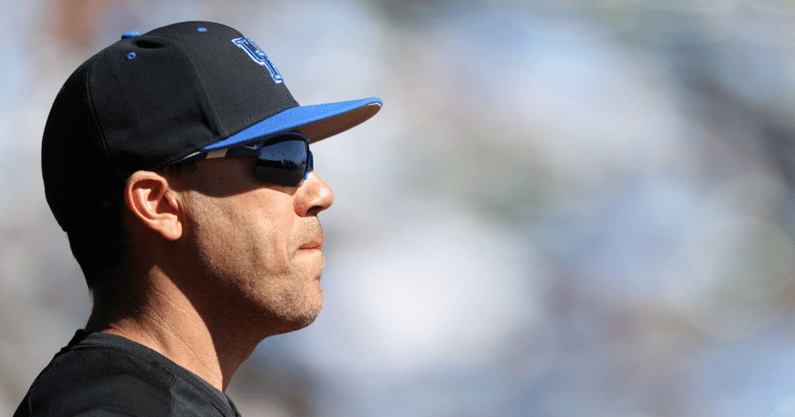 Kentucky Baseball's SEC Tournament run may have saved Nick Mingione's job, but for how long? Mingione sat down with Cameron Drummond of the Herald-Leader this week to talk about the program's current state following his sixth year as head coach.
Kentucky finished the 2022 regular season 33-26, 12-18 in SEC play. The Bat Cats haven't been to the NCAA Tournament since Mingione's first year, 2017, when they went to their first-ever Super Regional. In the seasons since (2018-22), Kentucky has only posted a combined record of 44-76 (.376) in SEC play. Mingione attributed part of the last season's woes to season-ending injuries to starting pitchers Cole Stupp and Darren Williams, but said he was proud of his squad for series wins vs. No. 1 Tennessee and Auburn, and the run to the semifinals in the SEC Tournament. Going into 2023, improving the team's offense is priority No. 1 for Mingione and his staff.
"We need to be better offensively, there's no question about that," Mingione said. "We need to strike out less. We need to be able to score more runs. We need to be able to put more pressure in different ways on our opponents."
Last year, Mingione dipped into the transfer portal to build his squad, adding eight Division 1 players from other schools. This offseason, he's doing the same. The most recent names reportedly joining the roster are second baseman Patrick Herrera (Northwestern), outfielder Kendal Ewell (Eastern Kentucky), and shortstop Ryder Giles (Eastern Carolina).
Mitch Barnhart on why he kept Mingione
Mingione's current contract runs through June 2025. If Kentucky reaches the NCAA Tournament, he receives an automatic one-year extension. Last month, athletics director Mitch Barnhart explained why he's sticking with Mingione in an interview with the Courier-Journal's Jon Hale.
"We've got to find a way to get better on the field," Barnhart said. "We've talked about we were a couple wins short these last three or four years of getting in the tournament. Well, let's not talk about two wins. Let's talk about let's go get six wins and leave no doubt. That's what I told (Mingione).
"… Nick doesn't disagree with that. There's no disagreement there. I think there is no doubt in my mind that they want the same thing, to participate. They look around and see the landscape of Kentucky teams being successful, they want to be in that conversation. Those kids want to be in the conversation, that staff wants to be in that conversation. They don't want to be the only ones not participating. They want to jump in the boat with everybody else. There's not a lack of caring there. It's an absolutely want-to."
Hopefully, that want-to will turn into wins next season.