No. 21 UK VB Impresses, but it's Not Enough as No. 4 Nebraska Wins in Four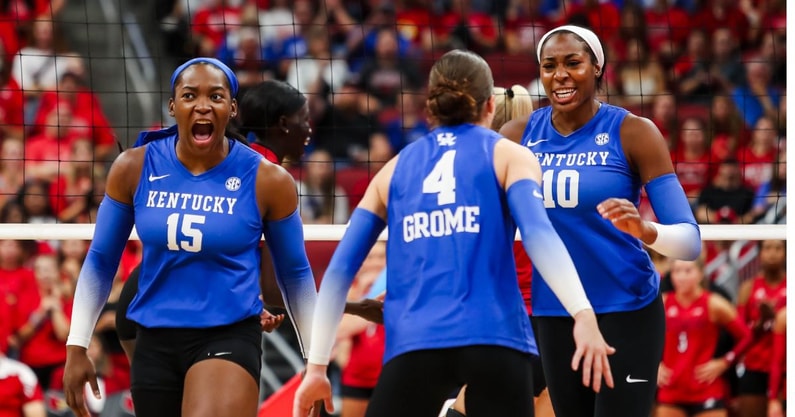 Reagan Rutherford poured on 19 kills and the Cats hit .243 as a team Sunday night but it wasn't enough against No. 4 Nebraska, as the Cornhuskers took down No. 21 Kentucky in four sets (14-25, 22-25, 25-23, 21-25) inside the Bob Devaney Sports Center. 
Despite the loss, Kentucky played perhaps its most complete match of the season inside one of the most hostile environments in the country. Heading into the match, Nebraska ranked No. 1 in the nation in opponent hitting percentage, holding foes to a measly .076 attacking clip. And while much of Kentucky's problems this season have centered around offensive consistency, the Cats hit an impressive .243 against a stifling Nebraska defense, the highest efficiency clip by any Nebraska opponent this season.
Rutherford continued her stellar play of late, recording a match-high 19 kills with only three errors on a .372 clip. Senior middle blocker Elise Goetzinger had another impressive night offensively for the Cats as she was the lone other Wildcat to eclipse double figures with 14 terminations. Freshman Brooklyn DeLeye added seven kills, Megan Wilson had five, Azhani Tealer had five, and Emma Grome had three. Grome dished out 43 assists and added an ace, four digs, and four blocks.  
Defensively, freshman Molly Tuozzo stole the show for Kentucky as the young Wildcat picked up a career-high 16 digs, including a pair of incredible digs that helped the Cats jump out to a five-point lead early in set four. The Cornhuskers ended up winning the fourth, but Tuozzo's scrappiness gave Nebraska fits all night long. Eleanor Beavin added 11 digs of her own, Rutherford had 8, and Audrey Whitworth had seven. 
At the net the Cats were led by Goetzinger and Grome who each totaled four blocks. Tealer and Rutherford added two of their own and Wilson had one. 
But as great as Kentucky's floor defense was at times, they still struggled to contain the Nebraska attack. The Cornhuskers saw four players total at least 10 kills, led by Merritt Beason and Harper Murray who each had 17. Nebraska hit .338 as a team and totaled just 15 hitting errors through four sets of play. 
Conversely, Nebraska proved to be a nightmare for many of the Kentucky hitters all night long, as the Cornhuskers picked up 61 digs as a team. That proved no truer than in the fourth set when Kentucky held a 12-9 lead and appeared well on its way to forcing a fifth frame until Nebraska won an incredible rally that lasted a whopping one minute and 12 seconds in total time played. That play proved to be a momentum builder for the Cornhuskers as they went on to come back and steal the set to end the match in four.
With the loss, Kentucky ends non-conference play with a 2-6 record and just one ranked victory. But more opportunities for marquee wins await the Cats as they prepare for SEC play beginning Friday against LSU. First serve against the Tigers is set for 7:00 p.m. inside Rupp Arena.