Notes From Today's Scrimmage
[caption id="" align="alignnone" width="2048"]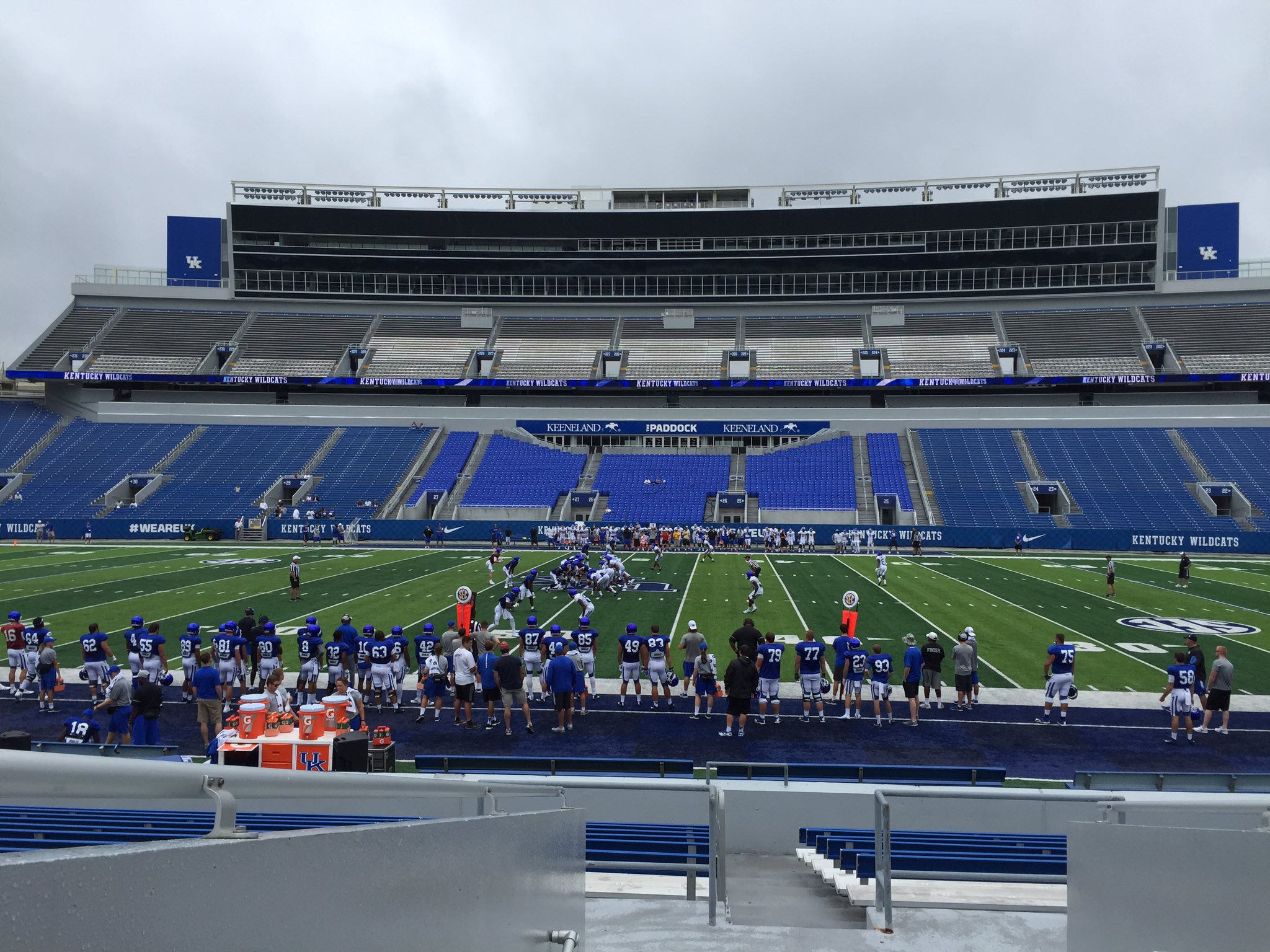 @UKAthletics[/caption]
OFFENSE
Boom Williams Played A Couples Series 
Williams participated in a total of ten live reps today. Williams was put into some stressful situations including some blitz pickups and tackles. "It was good to see him go to the ground and take good, physical tackles," Stoops said. Everything Gran wanted to see out of Williams today, he saw it. "I wanted him to get whacked. I wanted him to feel it, get on the ground. He picked up a protection, which was fantastic to see that," Gran said.
Kayuane Ross Had a 60-Yard Touchdown
The offense went three-and-out in their first drive but responded well with a 60-yard touchdown pass. "Good throw, good route, great protection. He broke some tackles. It was really, really good," Eddie Gran said.
Yards After Contact 
One positive note from the offense was the yards after contact form the running backs, tight ends and wide receivers. Gran said the receivers and backs protected the ball well, which will be important in this conference.
DEFENSE
Depth at Linebacker and Defensive Line is Biggest Concern
The biggest issue that Stoops and DJ Eliot are worried about, depth at linebacker and defensive line. With the lack of depth, the 2s and 3s need to develop to be able to help out with the depth. However, the newcomers have yet not developed into what the coaches want. Kash Daniel was one of the newcomers that Stoops mentioned as someone who can help out at the linebacker position. "Kash is a guy we really got to look at and study and see whether if he is going to help us or not. He physically he can do it. Mentally he needs to come along," Stoops said. Jordan Bonner and Jordan Jones are two other linebackers DJ Eliot mentioned that are getting better everyday.
Tackling Was Still an Issue
Tackling was an issue at last week's scrimmage and it continued to be one today. "It's not where it needs to be. We're going to have to get that accomplished in practice," Eliot said. To help this problem, the team does a tackling circuit in practice everyday. The coaches design drills that are as much like live tackling without getting players banged up.
Kobie Walker Continues to Impress
Walker's name has been tossed around a lot this camp. With issues at the linebacker position, Stoops is very pleased with what he sees from the sophomore. "He is very versatile number one. He makes good plays because he is very active. He's a guy you need with some of the things that we're doing. He makes loose plays," Stoops said.
Derrick Baity Had an Interception 
When asked what Baity saw on the interception, he said "the ball." Smart answer.
---
Injury Update:
- Both Dorian Baker and Blake Bone sat out of today's scrimmage with a hamstring injury. - Eli Brown sat out of today's scrimmage with nothing major, but will be back on Monday.