Orlando Antigua says Bryce Hopkins has chance to be "really, really good."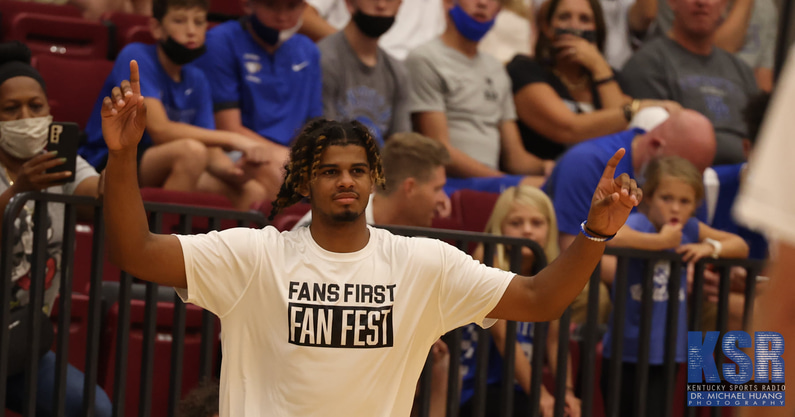 After an offseason full of whispers indicating Kentucky freshman Bryce Hopkins was impressing in early workouts, John Calipari was the first to publicly acknowledge the 6-foot-7 forward was better than anticipated.
"Bryce (Hopkins) has come in with a physicalness," Calipari said in September. "He's better than I thought."
UK associate coach Orlando Antigua is now doubling down on the optimism, adding that Hopkins has the opportunity to be "really, really good" in Lexington. The skill has always been there, but now that his body is transforming to maximize his athleticism and versatility, the sky is the limit for the Oak Park, IL native.
"The biggest thing with Bryce was, would he be able to change his body?" Antigua said in an appearance on Sunday Morning Sports Talk with KSR. "His skillset has always been the same. He can really handle the ball, he can shoot the ball, he's got a physical presence to him that you need to have with the positions he'll be playing on the wing — playing some three, playing some four. He's got a chance to be really, really good."
The next step is to build on his strengths and minimize weaknesses, with Antigua pointing out defense and rebounding as the two characteristics of his game he's working to improve. Become polished in those areas and Hopkins has the potential to improve the ceiling of this roster.
"He still has a lot of work to do," Antigua added. "He's got to be able to defend, keep guys in front of him, continue to rebound, which is something he's gotten better at week after week. When you have someone like him, Keion (Brooks Jr.), Jacob (Toppin), when you can rebound the ball and start the break, that's one less pass you need to initiate the offense.
"You can really change ends quickly with this group."
Kentucky graduate senior guard Kellan Grady singled out Hopkins as one of the early standouts on the roster last month. When you factor in his physicality and versatility, the Davidson transfer expects Hopkins to shine early for the Wildcats.
"Bryce is incredibly versatile," Grady told KSR in September. "He's arguably one of the strongest guys on the team, just very physical. He's got a really good mid-range game with a combination of floaters and pull-ups. He actually shoots the three pretty well. He's just a tough kid, he's really going to battle.
"Bryce will have a big impact on our team."
Hopkins, who averaged 24.4 points and 12.5 rebounds per contest for Fenwick (Oak Park) last season, was named the 2020-21 MaxPreps Illinois High School Basketball Player of the Year and Chicago Catholic League Player of the Year. The 6-foot-7, 220-pound senior led the Friars to a 13-3 overall record, including 11-1 in Chicago Catholic League play.
He may not be the highest-rated recruit on the roster, but he's among the most skilled. As a result, expectations are growing for him to be an early contributor in year one.