"Dream Come True": How Kentucky fans helped Oscar Tshiebwe meet his No. 1 fan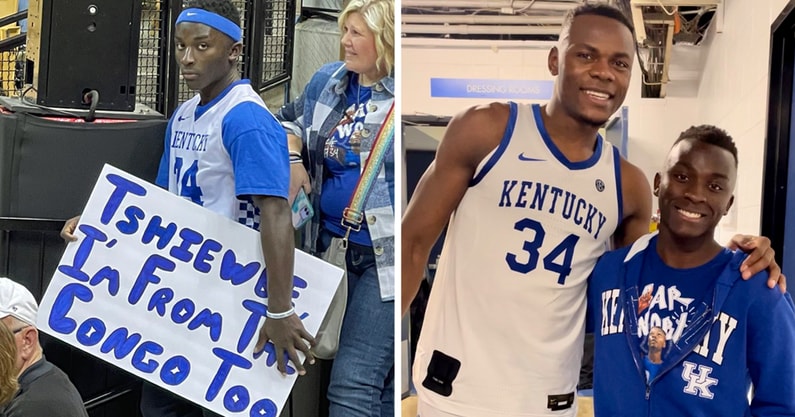 It all started with a picture. On Dec. 28, Kentucky went to Columbia, Missouri for its first SEC game of the season and turned in a clunker, losing to the Tigers 89-75. Waiting near the tunnel to the visitor's locker room was 13-year-old Langsten Ratcliff, wearing a No. 34 Kentucky jersey and a blue headband, holding a sign that read, "Tshiebwe, I'm from the Congo too."
Due to the circumstances, Langsten and Oscar Tshiebwe didn't get to meet that day. Little did they know that a fellow Kentucky fan in the arena snapped Langsten's picture, setting into motion a course of events that ended with the two finally meeting at Rupp Arena. After a whirlwind weekend that included watching the Cats beat Texas A&M courtside and a one-on-one postgame pep talk from his hero, Langsten was overwhelmed.
"It's been a lot," he told KSR on Sunday. "It's made my dream come true."
Subscribe to the KSR YouTube Channel for press conferences, interviews, original shows, fan features, and exclusive content.
---
Like Oscar, Langsten was born in the Democratic Republic of the Congo. Rachel Ratcliff adopted him in 2016 and brought him to Missouri. Since then, Langsten has been adapting to his new life, a big part of which is Kentucky Basketball. He plays for two teams, club and school, and before every game, watches a Kentucky game to prepare. Last year, he got to finally see the Cats play in person from Row W high atop Rupp Arena.
"Langsten was like, 'Mom, that's how I play,'" Rachel recalled Langsten saying of Oscar. "But then we later found out he's from Congo like Langsten and he really fell in love with him."
When the game in Columbia popped up on Kentucky's schedule, Rachel and Langsten knew they had to go. What they didn't anticipate was the outcome.
"I was frustrated," Langsten said. "I didn't get why we were getting smoked so much."
"He had told everyone that UK was going to win and he was a little disappointed," Rachel said.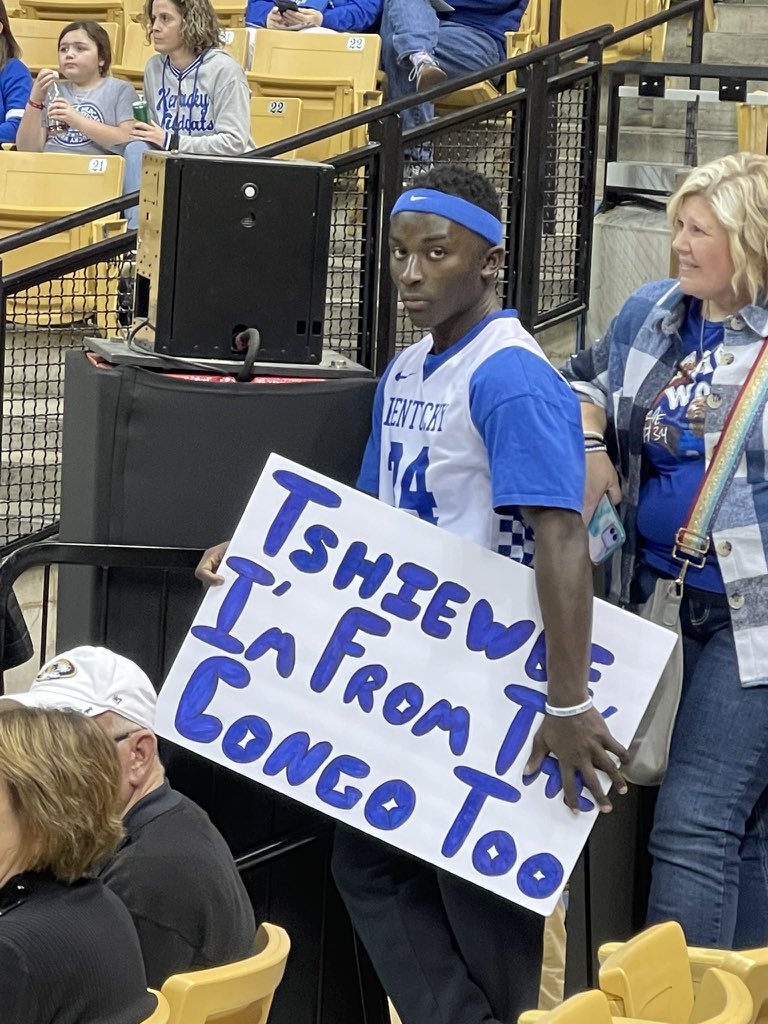 Hence, the picture, which was sent to me on Twitter by Elizabeth Eichler, a Kentucky fan I met in London.
"Hi, Tyler, not sure if the power of BBN can be put to use here," the message read. "My son and I went to the game last night and this kid was off to the side during warm-ups hoping to catch Oscar's eye. Broke my heart to see him deflated when the team ran back into the locker room. He was all decked out in Oscar gear and seemed to be with a host/adoptive family."
There is no fanbase like the Big Blue Nation, so I shared the picture in hopes that we could find Langsten and connect him with Oscar. It didn't take long for Rachel to find me and share their story — and for other fans to reach out to help them out. Lee Mudd, a University of Kentucky graduate and diehard fan, contacted me and offered to fly the family to a game in Lexington, an unbelievable gesture that, let's be honest, sounded too good to be true. We have a mutual friend, so I felt comfortable passing the message along to Rachel. Mudd owns a company that has offices in Missouri and Kentucky and a company plane that travels between the two states frequently. When he saw the picture of Langsten waiting to meet Oscar, he knew he could make this connection happen.
"Seeing the picture kind of made me a little sad," Mudd said. "I wanted to do everything I possibly could to see if he could get another chance."
When the offer came to Rachel's inbox, she was stunned and couldn't wait to share it with Langsten.
"I woke him up and I was like, 'I have a lot to share with you.'" 
Mudd and Rachel spoke a lot over the following days. Mudd said they've been in communication at least twice a week since the Missouri game, talking over all the details to make sure Rachel, a single mother, and Langsten were comfortable with the plan.
"They don't know me from Adam," Mudd said. "A lot of times, people think this kind of stuff is just not real, that it's kind of a scam."
"We had a lot of people looking into Lee," Rachel admitted. "And everything we found said he's just that good of a person that just wanted to do this and let Langsten meet Oscar, so it was very amazing."
"I wanted them to feel confident and safe in everything that's going on but let everyone know this is a lot of people's doing and not just mine," Mudd said.
After much discussion, the date was set. Mudd's company plane would pick Langsten and Rachel up in Missouri on Jan. 21 and take them to Lexington for Kentucky's game vs. Texas A&M. Mudd paid for a hotel room, a private driver, and floor seats at the game. We saved a table for them for the pregame show at KSBar and Grille and Mudd made reservations at Malone's for Saturday night.
"It kind of went together a lot faster than just the idea that I had but I think once I reached out to Rachel and Langsten, their excitement made me push forward and make sure everything is in place," Mudd said.
The plans were made but one big variable remained: Oscar. He shared my tweet about Langsten on Dec. 30 with the message, "Sorry, my guy. I wish could come out and meet you, hoping next time." That alone made Langsten's day, but arranging one-on-one time with a player like Oscar is a big ask — and one that is kind of contingent on Kentucky winning. Thankfully, the team that Langsten saw in Missouri had turned the tide a bit, upsetting No. 5 Tennessee in Knoxville and taking care of Georgia at home. Heading into Saturday, the request was in but no promises were made. We all had our fingers crossed.
---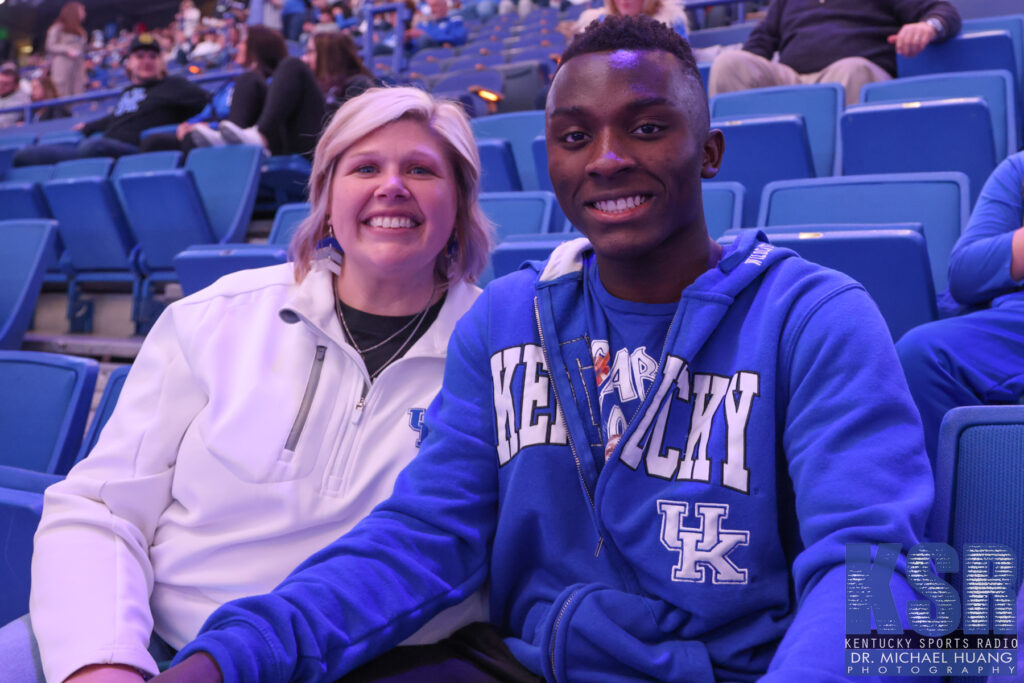 On Saturday morning, Langsten and Rachel boarded Mudd's plane in Missouri and made the short flight — "One hour and five minutes," according to Langsten — to Lexington, where a driver was waiting. Mudd, who now lives in Kansas City, couldn't make the trip but kept tabs on Rachel and Langsten throughout their journey. After enjoying lunch and the pregame show at KSBar and Grille, the pair made their way to Rupp. Rachel said Langsten's eyes grew big when they got to their seats and he saw Oscar and the other players up close.
"It was just an amazing view of him," Langsten said. "It was perfect."
"The players are a lot bigger than he was thinking they were," Rachel said. "He kept talking about the players' arm muscles and leg muscles. You can't see that stuff up high."
"They were huge," Langsten said. "They're like giants."
Unfortunately, Oscar was limited by foul trouble in the first half vs. the Aggies. He finished with 7 points and 17 rebounds, well shy of his 37 points and 24 rebounds vs. Georgia in the game prior. Regardless, Langsten was impressed.
"You can't stop him from getting the ball with rebounds," he said of Oscar. "He's just too strong. He's too powerful and when he's on fire nobody can stop him."
If anything, seeing how Oscar responded to Texas A&M's players swarming him taught Langsten a lesson he plans to apply to his own game.
"He didn't get a double-double like he usually gets but he got like 20 rebounds," Langsten said. "There's always got to be a person that rebounds and when you are triple-teamed or double-teamed, to always kick it out because there's always an open person."
---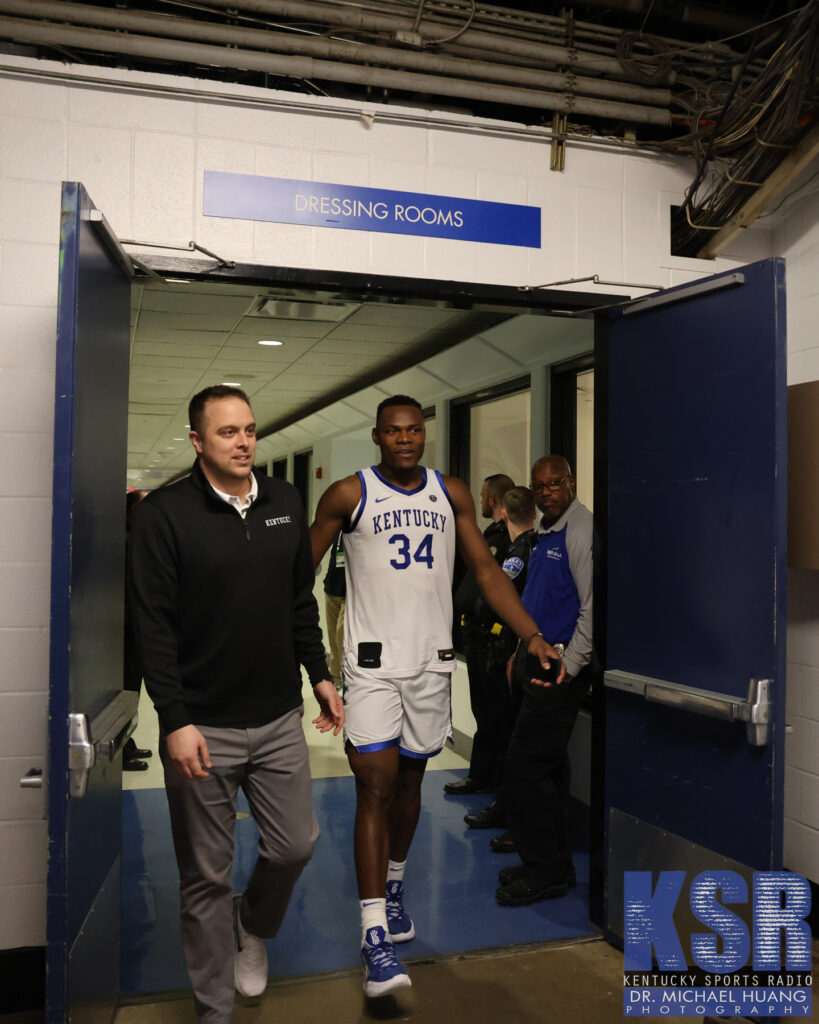 Kentucky eventually pulled away to a 76-67 win over the Aggies and the rest of the day fell into place. Langsten and Rachel were escorted to a hallway near the locker rooms and a few minutes later, Oscar came through the door. He greeted Langsten in Lingala, one of Congo's national languages. It had been years since Langsten had spoken Lingala — mastering English has been his priority — so he just stared at his idol.
"I didn't know what to say," Langsten said.
"Langsten froze," Rachel said. "He couldn't remember any of it."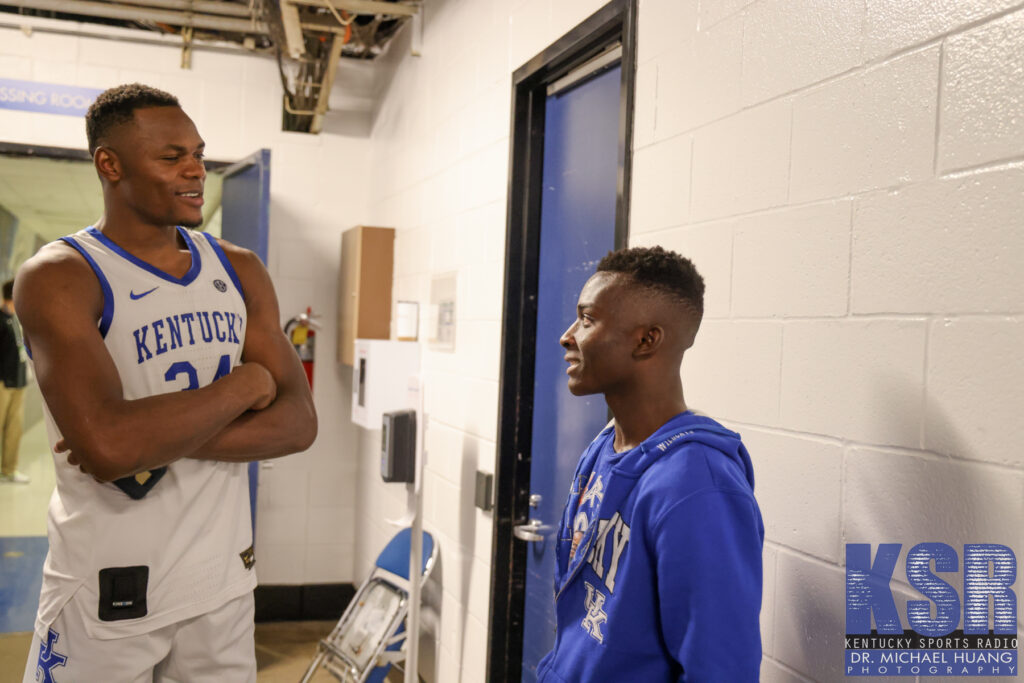 Once the two started conversing in English, Oscar asked Langsten some questions and gave him some advice on basketball and life.
"He just shared about believing in God and having faith in God, you can achieve anything. And just praying and asking God will make a big difference in your life. He said always work hard, always push yourself, and don't make excuses. Definitely don't make excuses."
After parting ways, Oscar went to do his normal postgame media duties and was asked about Langsten.
"Yes, I met him today," Oscar said. "And I thanked his mother because she brought him here. I just appreciate him and say thank you very much for taking care of the kids. That's what God wants us to do, to help each other. And I encouraged that boy, saying keep up the good work and told him when I first came to America, I did not know how to play basketball. I did two years not playing basketball because I was so bad. I was sitting, the last person on the bench. But I could not stop believing in myself and work harder. And look where I am. Just work hard and believe in God. So, the kid, I think he believed that."
"It was so cool," Langsten said of meeting Oscar. "I was nervous at first. But it wasn't so bad."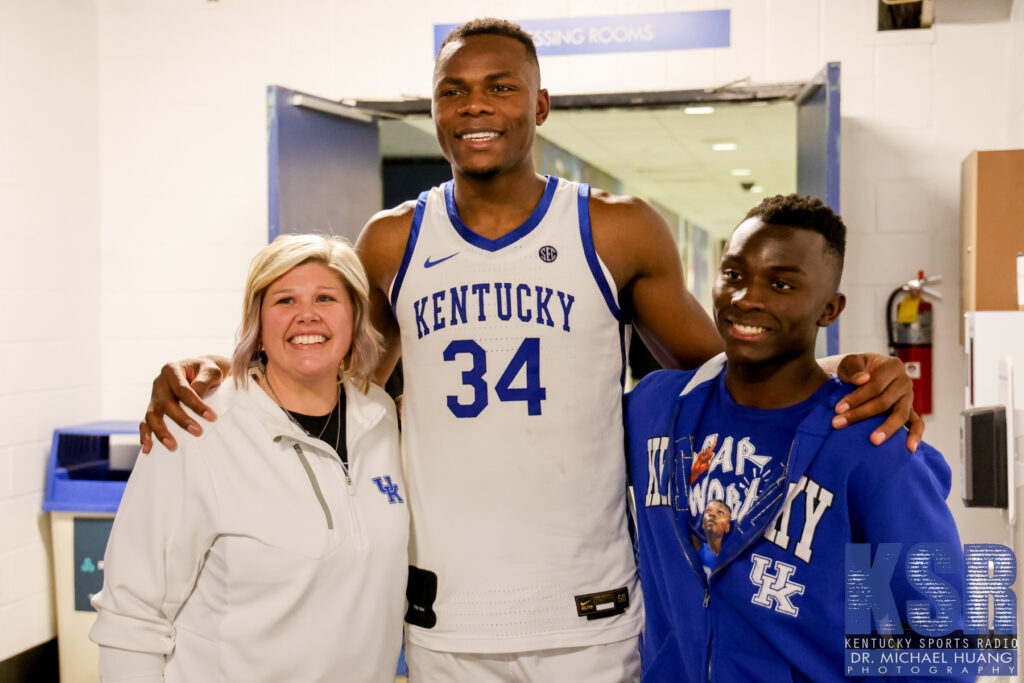 ---
The story of Langsten coming to meet Oscar picked up steam on social media as the day went on, and when I shared the picture of the two that Rachel sent me, it really went nuts. Back in Kansas City, Mudd was keeping up via texts and tweets.
"It was Christmas morning for me," Mudd said of seeing the picture of Oscar and Langsten. "Words can't describe the excitement that I had. That's what I told Rachel this morning. She said she could never pay us back. I told her seeing it all come to fruition was all the thanks that I needed."
Langsten and Rachel capped the night off at Malone's. He was so giddy he sent his grandfather a picture from the steakhouse.
"I might have bragged to my grandpa a little," he admitted, laughing.
On Sunday morning, the Ratcliffs flew home with a lifetime of memories and new connections. After seeing the story, a fellow Kentucky fan that also adopted a boy from the Congo reached out to Rachel on Twitter, adding to her growing Congolese community.
"We cannot thank Lee enough and it just makes us want to go do something for somebody else," Rachel said. "He did not have to do any of this. He did way more than even just get the tickets; he did above and beyond what we could have ever imagined. I told Langsten, we got celebrity treatment the entire time we were there."
"It's worth everything," Mudd said. "I would do this 100 times before I would take my family to do it just because we are fortunate enough to do this; other people are not. It just means everything."
It was a good weekend for the Wildcats too. Kentucky extended its winning streak to three and seems to be figuring things out heading into the final 12 games of the season. On Saturday, the Cats host No. 9 Kansas, a massive opportunity to improve their tournament resume and build momentum before going back on the road. After seeing Kentucky play in person, Langsten is confident about the game vs. the Jayhawks.
"They should get the win. Everybody's got to bring their A-games."
A win Saturday would also be big for the fanbase, which has taken some heat for its reaction to Kentucky's alarming start to SEC play. Mudd hopes Langsten and Oscar's story serves as a reminder of the good in Big Blue Nation, the best fanbase in sports.
"Kentucky fans get a bad rap. We're passionate and sometimes that passion spoils into a lot of negativity but I think Kentucky fans have been spoiled for a long time. Just hearing all the negativity that we have heard the past month and a half, just to bring some of the positive back, just shows Kentucky and the Big Blue Nation is more than just basketball or football; they are a family."
A family that sprang into action when they saw one of their own hurting and made his dream come true.
"I just say thank you to all the people that reached out to us," Langsten said. "Just being there and caring about other people and just taking care of us."