Papa John's apologizes for insensitive 9-11 promo
If you missed it, yesterday, a Papa John's franchise in Ohio offered what has been called an
"extremely insensitive" promotion on the 15th anniversary of the September 11 attacks
. The promo, entitled "9/11 Remembrance," offered customers any large pizza for $9.11 with the promo code "911RMBR":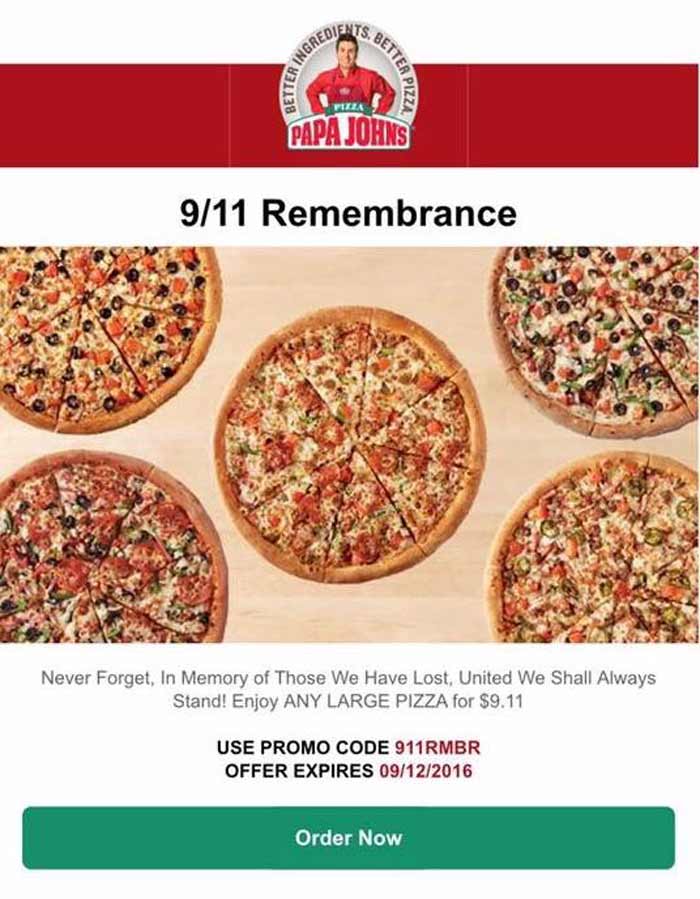 As you might imagine, using the 9-11 attacks to sell pizza rubbed some people the wrong way, so this morning,
the company's corporate office in Louisville issued an apology:
"We sincerely apologize for this extremely insensitive and inappropriate local promo code which was issued by an independent franchisee in Ohio. It was a complete lapse in judgment and does not reflect our values. We have been assured that corrective action was taken by the franchisee and the code will be deactivated."
At least it's not as bad as this commercial for a "Twin Tower" sale at a mattress store in Texas: https://www.youtube.com/watch?time_continue=21&v=2ZmM-2gj5Gc
[LEX18]