PICK 3: Week 4 College Football Picks Against The Spread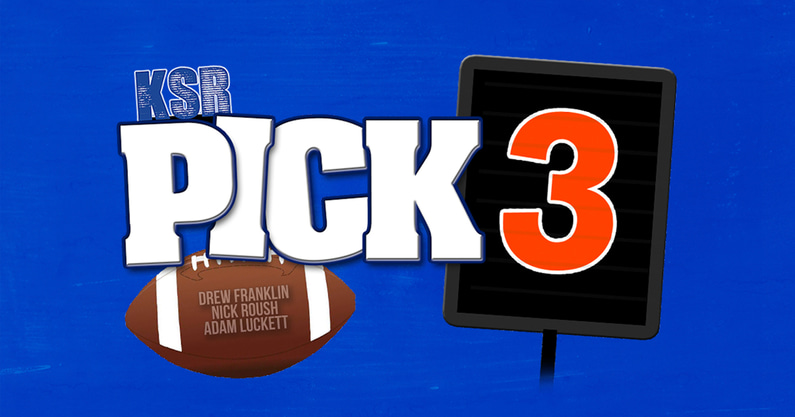 Pick 3 is back for another week to give you Kentucky Sports Radio's favorite college football picks against the spread. Pick 3 debuted last week with results we'll chalk up to first-time jitters (a 4-5 record, collectively) but we brought the confidence here in Week 4 to get in the win column overall.
Of the three experts (a term we use loosely), one of us did have a winning record last weekend. Nick Roush carried the team with a 2-1 record thanks to winners Fresno State and Penn State. Roush leads off this week with a couple of home underdogs and one Pac-12 number he loves.
Hitting in the second and third spots, Adam Luckett and I each hope to bounce back from a 1-2 debut with our three favorite plays. I didn't have to leave the Bluegrass State for two of mine, while Luckett predicts a flop from another in-state team down at Florida State.
OVERALL RECORD TO DATE:
Nick Roush (2-1)
Drew Franklin (1-2)
Adam Luckett (1-2)
LAST WEEK'S PICKS
Roush: Central Florida -7 @ Louisville (L); Penn State -5 vs Auburn (W); Fresno State +11.5 @ UCLA
Franklin: Mississippi State -3.5 @ Memphis (L); Boise State -3.5 vs. Oklahoma State (L); South Carolina +32 @ Georgia (W)
Luckett: Under 67.5, Louisville vs UCF (L); West Virginia -2.5 vs Virginia Tech (W); Purdue +7.5 @ Notre Dame (W)
ALSO OF NOTE:
There is no Free Money Podcast this week due to scheduling conflicts. Matt Jones, Jay In Lyndon, and I will return next week with as many as 20 NFL and college football picks. Sorry we couldn't make it work this week. Hopefully the Pick 3 will suffice and bring you great fortune.
As always, gamble responsibly.