PREVIEW: Kentucky WBB looks to get back in win column against Dayton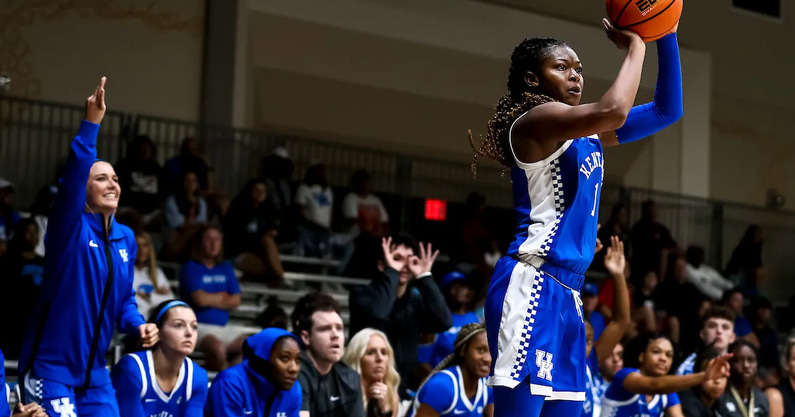 Kentucky women's basketball showed plenty of promise down the stretch on Monday. On Wednesday, they'll want to look polished.
The Wildcats (4-1) will square off against the Dayton Flyers (0-5) in their final game of the Baha Mar Hoops Pink Flamingo Championship at 4:30 p.m. on Wednesday. Kentucky fell short of a legendary comeback against Virginia Tech on Monday in their first game in the showcase; all the more reason to put on a show today.
Nonetheless, the 'Cats can't get ahead of themselves. Dayton is hungry for a win, and if Kentucky isn't careful, they'll be their first victim. Here's what you need to know about the Flyers.
Figuring out the Flyers
Dayton has suffered more heartbreaks through five games than most teams face in a whole season. The team dropped their season-opener to Providence only to follow it up with an overtime loss to Illinois State. Just seven days later, the Flyers fell to Northern Kentucky in double overtime. Most recently, the team lost Ole Miss 63-50 in their first contest in the Bahamas.
The Flyers now face Kentucky, a team they have close ties with. Dayton head coach Tamika Williams-Jeter was an assistant coach at UK from 2014 to 2016. This season is William-Jeter's first at the helm of the Flyers, previously coaching at Wittenberg University.
Despite the team's disappointing start, they aren't talentless. Specifically, redshirt junior Destiny Bohanon is a force, averaging 16.4 points per game while shooting over 50% from 3-point range. The 5-foot-10 guard recorded 11 points in their loss to Ole Miss on Monday.
Anyssa Jones is another talented guard for the Flyers. Jones is the only other player regularly scoring double figures for the Flyers. The 5-foot-10 guard averages 10.2 points and 6.2 rebounds per game. However, Jones only connects on 35.6% of her attempts from the field.
Although the team has two skilled guards, they struggle heavily with turnovers. The Flyers average nearly 20 turnovers a game, ranking them 292nd in the nation. Additionally, Dayton struggles to force opponent mistakes, recording only 6.6 steals per outing. If Kentucky can capitalize on Dayton's choppy waters, they'll have smooth sailing on Wednesday.
Keys for Kentucky WBB
In the first quarter against No. 14 Virginia Tech, UK looked horrific. In the following three quarters against the Hokies, UK looked amazing. What was the difference? Pressure.
For 30 minutes, Kentucky ran a 94-foot press on Virginia Tech, barely giving them room to breath, much less get the ball up the court. The 'Cats forced 20 Virginia Tech turnovers on Monday. For reference, the Hokies were only choking away 11.7 possessions per game before facing the 'Cats.
If the 'Cats can create those issues for Virginia Tech, they'll make Dayton miserable. Head coach Kyra Elzy believes the team's relentless attitude is a key factor in their success.
"We were gritty. I thought we were tough down the stretch, and we had no quit in us, and no backdown," Elzy said after the team's loss on Monday. "[Virginia Tech] got fatigued down the stretch, which is something we need to happen."
While Kentucky's defense looks fantastic, their offense needs some work. More specifically, Kentucky's perimeter shooting has been subpar this season. The 'Cats are shooting 22.3% from 3-point range, ranking 328th in the nation.
On Monday, the 'Cats found no relief. The team shot 2-9 (22%) from downtown, but Elzy hasn't lost hope.
"It's too early to panic. We have very capable 3-point shooters. We'll keep putting in work and practice, and that's part of the journey," Elzy said on Monday. "I'm very confident in my 3-point shooters. It'll come around."
After Kentucky's performance on Monday, Elzy has every right to be confident in her squad. Through the latter three quarters of the game, the 'Cats outscored the No. 14 team in the country by 13 points. Now, Kentucky must find a way to put on this performance for 40 minutes.
The 'Cats will tip off against the Dayton Flyers at 4:30 p.m. The game will be streamed on FloHoops.