Jeff Ruby's Kentucky Women's Basketball Preview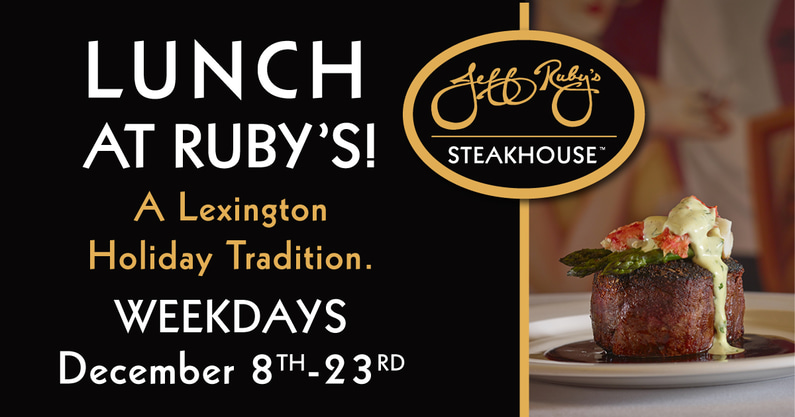 Holiday Lunch at Jeff Ruby's Steakhouse is a highlight of the Season in Lexington! Celebrate the Holidays with lunch at your favorite downtown staple, weekdays 12/8-12/23. Reservations available at JeffRuby.com.
Standard gift cards are available as are virtual gift card options ready for immediate gifting for last-minute shoppers. Purchase online at JeffRuby.com or at any of the Jeff Ruby's Steakhouse locations in Lexington, Louisville, Cincinnati, Nashville, and Columbus.
---
After defeating West Virginia by 23 on Wednesday, Kentucky Women's Basketball is in high-spirits heading into this weekend's showdown.
On Sunday afternoon, the No. 16 Wildcats (5-1) will face the Merrimack Warriors (2-4) in Memorial Coliseum at 2 p.m. EST. The contest will mark Kentucky's sixth game at home this season, where they remain undefeated. Let's talk about the team trying to bring Kentucky's hot streak to an abrupt end.
What's up with the Warriors?
Merrimack isn't having the season they had in mind. Trudging into Lexington with four losses, the Warriors aren't as imposing as Kentucky's last challenge. Led by first-year head coach Kelly Morrone, the Warriors are being outscored by their opponents by nearly 20 points a game.
The team's issues are clear on the stat sheet. For starters, the squad is shooting a poor 39% from the field. For reference, the 'Cats have made 48% of their field-goal attempts this season. Another glaring issue for the Warriors is turnovers. Merrimack is giving away 19.8 possessions per game; a scary pattern when facing a pesky Kentucky defense.
Though Merrimack's squad have their fair share of issues, they do have a dangerous skill: 3-point shooting. In their past two contests, the Warriors showed promise from beyond the arc. Against Harvard and Dartmouth, Merrimack made a combined 27 buckets from deep; more than any two-game stretch for the 'Cats this year.
The Warriors' sudden upsurge in scoring can be attributed to a couple talented players. Senior Kate Mager heads the ship for Merrimack. The 5-foot-9 guard is averaging a team-high 14.2 points per game, while making 55% of her 3-point attempts.
Trailing just behind Mager is Manson Kimbell. The veteran forward is scoring at a rate of 13.3 points per contest, while sinking a respectable 37% of her attempts from beyond the arc. Graduate student Paige McCormick is Merrimack's glass cleaner, snagging a team-high 7.2 boards per game.
While the Warriors have a few bright spots, they're star power doesn't shine nearly as much as the Wildcats. Kentucky's talent is just one of the many advantages the 'Cats have over Merrimack.
Keys for Kentucky WBB
Kentucky Women's Basketball arguably played their best game of the season against West Virginia. Sunday's contest is about making this performance a pattern, instead of an outlier.
Admittedly, this isn't an easy task. On Wednesday night, the 'Cats shot above 50% from the field and behind the 3-point line. The team had five players drain a basket from deep, including Rhyne Howard making 5-7 from 3-point range.
The key to the Wildcats' 3-point barrage was having so many viable options. Head coach Kyra Elzy spoke on this point during the postgame press conference.
"It's really hard to guard. We're very versatile and it's dangerous when your five on the floor can step out and hit threes," Elzy said. "That is the equalizer. For us to be able to knock those down, it's a great night for the 'Cats."
Kentucky Women's Basketball fans are undoubtedly hoping for another "great night" on Sunday. Nevertheless, shooting wasn't the only way the 'Cats excelled. While Kentucky was dominant from outside, they may have been even more superior in the paint.
Kentucky out-rebounded West Virginia 43-28. Further, the 'Cats scored 21 second-chance points compared to the Mountaineers' five. With only three players taller than 6-foot on Merrimack, the 'Cats should have another field day down-low.
Of course, Howard and Dre'Una Edward are two 'Cats who will likely take advantage of the undersized Warriors. The talented tandem recorded a combined 46 points and 17 rebounds against the Mountaineers. Howard, for one, feels these numbers are repeatable.
"Not to be cocky, I can do that day in and day out," Howard said. "That's honestly like a normal night for me."
Kentucky Women's Basketball fans won't have to wait long to see if Howard can truly normalize such fantastic performances. The 'Cats are set to take on the Merrimack Warriors at 2 p.m. ET on Sunday. The contest will be broadcast on the SEC Network+.