Q&A: Kentucky ramps up contact, schedules visit with Travis Perry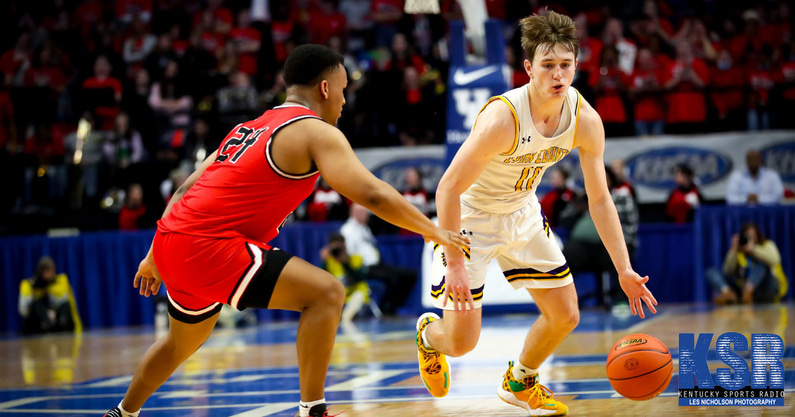 Kentucky has thrown its hat into the ring for 2024 four-star point guard Travis Perry, a prime candidate to take over as the state's all-time leading scorer.
Following a standout weekend at the Titans-Rockets Summer Shootout in Shelbyville with John Calipari in attendance, Kentucky quickly reached out to the 6-foot-2 guard, with an unofficial visit scheduled to Lexington shortly after.
What did the staff think of Perry's play? What are the top-100 prospect's thoughts on Kentucky as a program and a potential fit in his recruitment? KSR spoke with the Lyon County star's father and coach, Ryan Perry, to discuss his son's recent contact with the Wildcats and the family's upcoming visit to Lexington this weekend.
Check out the complete Q&A session below.
---
How did the contact with Kentucky begin? What were those early conversations like?
Travis played pretty well on Saturday and Sunday both, but luckily Coach Cal was there for the Sunday game and got to watch him play. I think it was the first time Coach Cal has gotten to see him play. Travis had a good afternoon and played well, then we got some contact from the Kentucky coaching staff, they got our contact information, that kind of stuff. We just got in touch, had a telephone call about our whole high school team, how we play, all that kind of stuff. Then we talked about Travis — I think the staff that was there thought Travis played pretty well. We got some interest that way, so we're gonna go up, talk to them, take a look at campus. This (past) weekend is kind of when it all went down.
What is Travis looking for on his unofficial visit to Lexington this weekend?
I think the biggest thing is Travis just wants to meet the coaching staff and get the opportunity to sit down and talk to the coaches. The situation with the coaches that are going to be coaching him is probably one of the most important things to Travis. He likes to have a good relationship with his coaches. Obviously, I'm his high school coach, coached him a little bit in AAU, but he has a really good relationship with Indiana Elite's coach that he's played with on the (adidas) circuit since he's been playing. That gives him confidence. He just likes to have a good relationship with the coaching staff, so I think he's gonna want to sit down and talk to the coaches and get a feel for those guys. That's pretty important to him.
Did Travis grow up a Kentucky fan, or was there another school he cheered for as a kid?
You know, it's hard. Nowadays, he watches — he's just a fan of the game of basketball. He watches good basketball, so he likes a lot of schools. What he's done over the last couple years, the schools that have started recruiting him are the schools that he typically will sit down on a Tuesday or Wednesday night and watch those games. He likes to sit down and watch schools he knows have interest in him or have offered him to see the style of play and keep up with what's going on with those schools, all that kind of stuff. He just loves the game of basketball, but he tries to really follow a lot of the schools that are showing interest just so he can educate himself.
What does it mean to you as his dad that Travis has emerged not only as a high-major talent, but one that blue blood schools are interested in?
Travis has had success and we're really glad with the success he's had. He's worked so hard to continue to get better and to continue to perform in situations that are important. He almost didn't play this weekend. On Friday, we had open gym, and he couldn't move laterally at all. We were trying to decide (on him playing), but coaches were getting on planes to leave and head this way. He told me he's going to play, so he ended up playing. It worked out really well because he was able to move well and play well. He's performed in those situations and it's gotten kind of bigger every year. That's the way it goes with the progression of being recruited. We want the absolute best for Travis, the biggest Travis wants.
He's a pretty cerebral kid, he thinks about all of his moves before he makes them. When you watch him play, you don't see him have emotions hardly ever. He'll knock down a jump shot at the buzzer to win the game, he's got the same emotion he had at the beginning of the game in the layup line. But it is special when you've got big schools recruiting your kid, so it is important and it kind of validates how hard he's worked.
Is the spotlight that comes with being at Kentucky something Travis is looking for? Would that kind of pressure as an in-state standout appeal to him?
I don't know if that's something Travis is wanting, but I know that's definitely something Travis can handle. He's built for situations like that. His whole life, he's been a good player. He's been one of the best players, always kind of questioned and ridiculed about, you know, should he be playing at this level and those kinds of things. I think he's built for that, he can definitely handle that and perform. It may even be extra motivation for him. I don't know that he's necessarily looking for a spotlight or anything like that, he just wants to continue to play basketball as long as he can and wants to make sure he gets the right situation and the right people around him to help him do that.
---
Perry is one of just 37 players in Kentucky high school history to score 3,000 points in a career — and he's done so before entering his junior year. He's just 1,149 points away from breaking King Kelly Coleman's all-time record of 4,337 points in a career (Wayland, 1953-56). He has earned scholarship offers from Iowa, Nebraska, Ole Miss and Purdue, among others.
Now, the Kentucky Wildcats are officially in the mix.