Reed Sheppard enjoying time at NBPA Top 100; eager to play with Robert Dillingham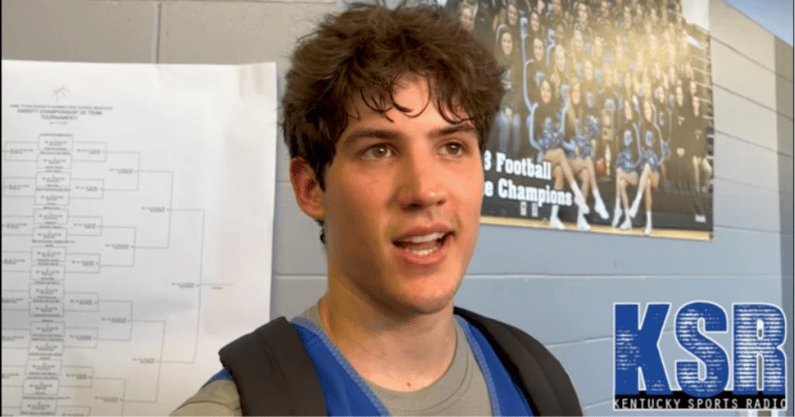 Reed Sheppard isn't used to playing at the biggest high school basketball events in the country, but as he enters his final summer season before coming to the University of Kentucky, he's experiencing what it's like to truly play against the best of the best.
The 6-foot-3 combo guard out of North Laurel HS is down in Orlando, FL this week for the annual NBPA Top 100 Camp, which is arguably the most prestigious national event of the entire year. College coaches from all across the country converge on the Sunshine State to check out their commits and top targets. Kentucky was well-represented, with head coach John Calipari, associate coach Orlando Antigua, associate to the head coach Bruiser Flint, and assistant coach Chin Coleman all in attendance for day one action on Wednesday.
But aside from Sheppard, there are plenty of reasons for Calipari to send down nearly his entire staff to Orlando. It's a loaded event.
The majority of the roughly 100-player roster is made up of rising seniors, with a group of rising juniors and a small handful of rising sophomores. Over 300 former campers have gone on to play in the NBA since the event was established in 1994. For Sheppard to get invited is no small accomplishment, but at the same time, he's making sure to enjoy the experience.
"Coming into it, it's just about having a good time," Sheppard told KSR on Wednesday. "There are like 100 kids here, Top 100 Camp, so it's just an honor to be able to come here and play in this camp, be around a lot of really good players. Having a chance to get on the court with them is special. You can build relationships with them and just have fun."
Considering this is the first major event he's played in, Sheppard wasn't trying to force himself into any issues on the court. He's been committed to Kentucky since November and is a consensus four-star recruit — he knows there isn't as much for him to prove as there might be for other prospects still being recruited. He wants to have fun and help his team win.
"On the court part, just go out there and do what you do," Sheppard added. "Stay simple, do the little things like get steals and rebounds. Everybody is going to shoot, so it doesn't really matter how many points you score. Everybody is going to be out here shooting, so do the little things like get steals, deflections, rebounds, hustle and cheer on your teammates."
Sheppard registered three steals in both of his two games on Wednesday, playing excellent team defense and consistently dapping up his teammates with encouraging words. He was perfectly content feeding the ball to fellow playmakers Gabe Cupps and AJ Johnson (even if Kentucky fans would rather see him be more aggressive) while playing within the flow of the offense.
He's not the only future Kentucky Wildcat in Orlando, though. Five-star point guard Robert Dillingham, who committed to UK not even a full week ago, also made the trip. Sheppard has begun to develop a closer relationship with Dillingham at the camp and is excited about teaming up down the road. The two could share the backcourt together in the 2023-24 season for the 'Cats.
"I think we'll work just fine," Sheppard said about playing next to Dillingham at Kentucky. "I've never played with him, I've always played against him. We've been in contact a lot more here recently since he committed, talking a lot at camp. We're going to do well, the coaches will do fine getting us both out there playing in the games."
With Dillingham now in the fold, he can help out Sheppard in recruiting other top targets to Lexington. The two have already been doing that in Orlando, with Sheppard saying he's actively recruiting five-star '23 center Aaron Bradshaw at the event. Bradshaw was actually on the same media Zoom call when Sheppard was asked who he's been trying to convince to join him at UK.
"Aaron *laughs*. DJ (Wagner), there are a lot of them," Sheppard said. "Four or five of them here that I've been in contact with about coming, trying to get a good class and a good group together so we can make some noise in the NCAA Tournament."