Reed Sheppard forging his own path as he prepares to play at Kentucky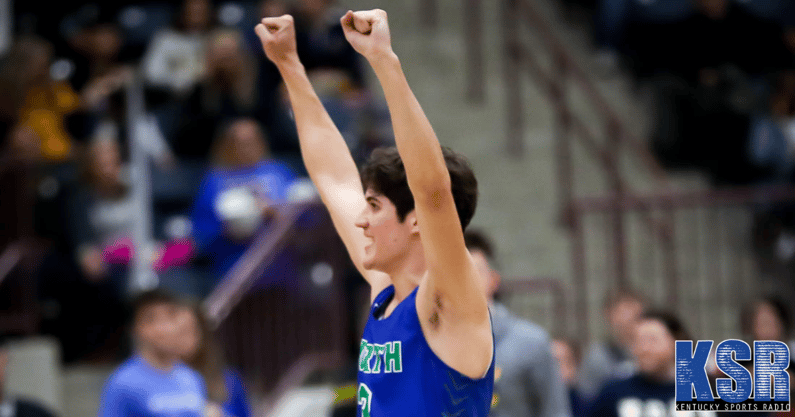 You might think that Reed Sheppard has some pretty big shoes to fill. After all, his father Jeff was a two-time national champion at Kentucky and the 1998 Final Four Most Outstanding Player. His mother Stacey ranks among Kentucky's top 10 all-time leaders in several categories. For a relatively quiet kid from London, KY, filling those shoes is like trying to fill out a Shaquille O'Neal size 23.
But even though Reed chose to follow in the path of his parents by committing to Kentucky, his decision went far beyond simply doing what they did. Reed has the potential to be a better player than both mom and dad, and he's going to approach that possibility on his own terms.
"My big thing is I want to make a name for myself," Reed Sheppard said on Tuesday night's Sources Say Podcast. "I don't want people to look at me and be like that's Jeff's son. I want them to look and say hey that's Reed. Growing up that was a big thing, keep working and get to the point where you've made a name for yourself, you're not in anybody's footsteps or anything… It's super cool being compared to dad, but at the end of the day, I'm not dad and I think making a name for myself is what I wanted to do."
Sheppard is considered a four-star and the No. 27 overall prospect in the 2023 class, according to the On3 Consensus. He was head coach John Calipari's first commitment to the group that now includes five-stars Justin Edwards and Robert Dillingham, with more possibly on the way. Like most of Cal's highly-ranked recruits, Sheppard has a desire to play basketball for a long time and make plenty of money doing it.
He could have gone almost anywhere in the country if he wanted to (Virginia was his second choice behind UK), but there is no denying that playing in Lexington will give him a leg up in making the jump to the next level. That was part of Calipari's pitch from the beginning — with his attitude, Kentucky can develop Sheppard into a pro.
"He watched me play, and it meant a lot to me because the game that I played, I played really bad," Sheppard recalls. "Well he said I didn't play bad but I didn't shoot the ball well at all, I wasn't making shots, but he called me after that and was like I always want to watch a player play when they're not playing their game, they're not hitting shots. He was like that's when you know if they're gonna play, or if they're gonna fold.
"You didn't change your demeanor, you just played the game and helped your team win and he was like that's what I'm looking for. I'm not here to recruit people that don't make shots and get mad and quit playing. His thing was, I don't offer a lot of people. You're good enough to play here, I'm gonna develop you to get you where you need to go. And you're gonna have fun and you're gonna win."
Subscribe to the KSR YouTube Channel for exclusive interviews, original shows, press conferences, post-practice interviews, and much more!
Sheppard preparing himself for UK
Sheppard still has his entire senior season of high school at North Laurel left to go before he finally makes it to Lexington, but he's doing everything he can now to be ready for that moment.
"The biggest thing is just my body," Sheppard said. "Eating, trying to eat right and stay in the weight room and just working on everything that I can basketball-wise, whether it's shooting, dribbling, attacking, just the whole thing. But mainly just my body right now. Just trying to gain weight and gain muscle mass and get my body in the best shape I can get it in so I can kinda be a step ahead when I get to college."
Once he does get to college, what role does Sheppard see himself playing under Calipari? For North Laurel, he plays mainly point guard, but with his AAU program Midwest Basketball Club, he thrives off the ball.
"Little bit of both," Sheppard said of what position he'll play. "Nobody knows for sure so when I get up there we'll just have to see. I'm good doing anything they want me to do. I'm gonna listen to them and if they tell me to play center I'll go play center. Whatever they think is the best then I think that's what I'll do. Whatever they think, I'm good with."
Luckily, the 6-foot-2 Sheppard won't have to play center (even though he does regularly for North Laurel on defense), but his mindset is surely music to the Big Blue Nation's ears.