Rhyne Howard moves to 4th all-time on Kentucky WBB scoring list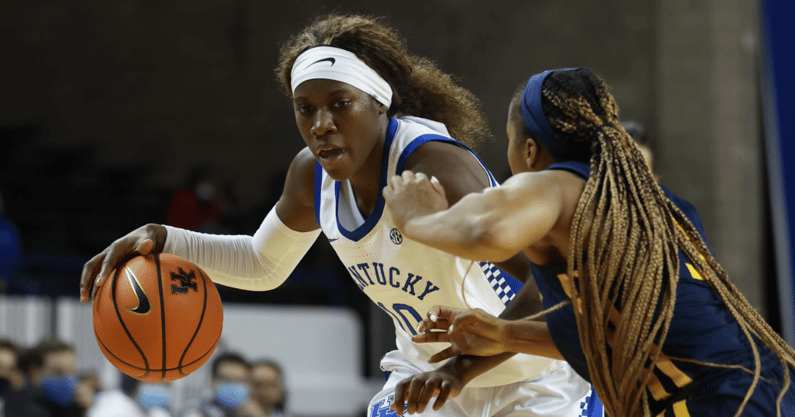 Rhyne Howard passed two Kentucky legends on Sunday afternoon. The senior Wildcat guard moved into fourth place on the UK Women's Basketball all-time scoring list.
With 21 points in a 90-56 win over Merrimack College, Howard jumped both Makayla Epps (1,790 career points) and Leslie Nichols (1,797). She now has a career total of 1,799 points with plenty of season left to go. In third place is Victoria Dunlap with 1,846 points.
If she maintains the pace she's currently on, Howard will easily move into second all-time. A'dia Mathies is currently No. 2 in scoring with 2,014 career points, where Howard would need to average at least 10.8 points per outing over the remaining 20 regular-season games.
Howard passed KY native Maci Morris earlier this season for sixth all-time, as well.
Odds are low that Howard will move past Valerie Still, who is considered the greatest women's basketball player to ever come through Kentucky. But Howard is going to put herself right in that conversation by the time her Wildcat career is done.
Through seven games this season, Howard is off to the best start of her college career. She's leading UK in scoring at 20.6 points per outing on a shooting split of 50.0/40.0/73.7 to go along with 7.4 rebounds, 4.9 assists, and 3.4 steals. Kentucky is now 6-1 with conference play right around the corner.
Kentucky WBB all-time leading scorers
Valerie Still (1979-83) – 2,763 points; 119 games
A'dia Mathies (2010-13) – 2,014 points; 140 games
Victoria Dunlap (2008-11) – 1,846 points; 113 games
Rhyne Howard (2019-pres.) – 1,799 points; 90 games
Leslie Nichols (1982-86) – 1,797 points; 111 games
Makayla Epps (2013-17) – 1,790 points; 133 games
Maci Morris (2015-19) – 1,692 points; 129 games