Rocky Lombardi is a Game-Time Decision vs. Kentucky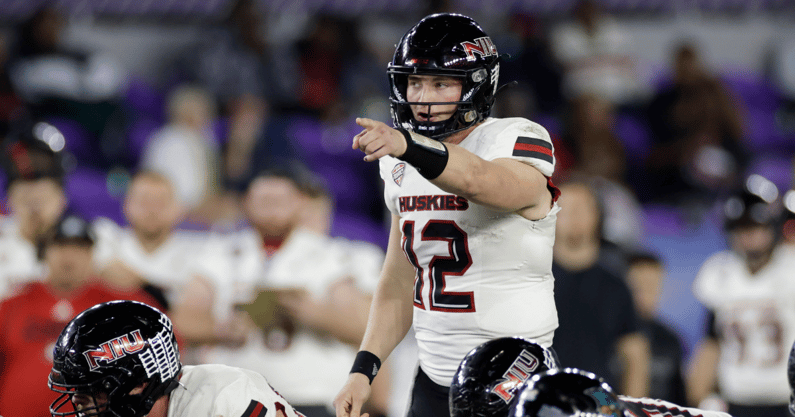 Northern Illinois may have its starting quarterback when the Wildcats host the Huskies Saturday night at Kroger Field. Michigan State transfer Rocky Lombardi exited last week's game against Vanderbilt after an awkward slide to the turf. ESPN's Pete Thamel reports Lombardi "has progressed this week and will be a game-time decision against Kentucky."
Lombardi was 7-of-7 for 79 yards and a touchdown when he suffered the undisclosed injury last Saturday. Redshirt freshman quarterback Ethan Hampton entered the game and led Northern Illinois to a pair of scoring drives before the Huskies' lead collapsed. Hampton finished the day 12/19 passing for 124 yards, two touchdowns and one interception, but did not complete a pass further than 10 yards downfield.
"I thought Ethan came in and operated the offense at a (solid) level," said Northern Illinois head coach Thomas Hammock. "We were able to move, no procedure penalties or anything like that. He got us in and out of the plays. Obviously, in practice, he's continuing to work like he's worked all year. He works it like a starter and I've been proud of his maturation as a player."
Rocky Lombardi can dramatically change the outlook of Saturday night's game, particularly for gamblers. A second-team preseason All-MAC selection at quarterback, he took his head coach off the hot seat by defeating a Power Five team in his first start, then leading the Huskies to a MAC Championship in 2021. This year he's completing 65% of his passes, averaging 8.8 yards per attempt with five touchdowns and only one interception.
Kentucky should be able to out-man and out-gun Northern Illinois, regardless of Lombardi's status. However, if the game-time decision is in the quarterback's favor, covering an almost four-touchdown spread will be a daunting task for the Wildcats.