Sahvir Wheeler says Kentucky has a team capable of making a title run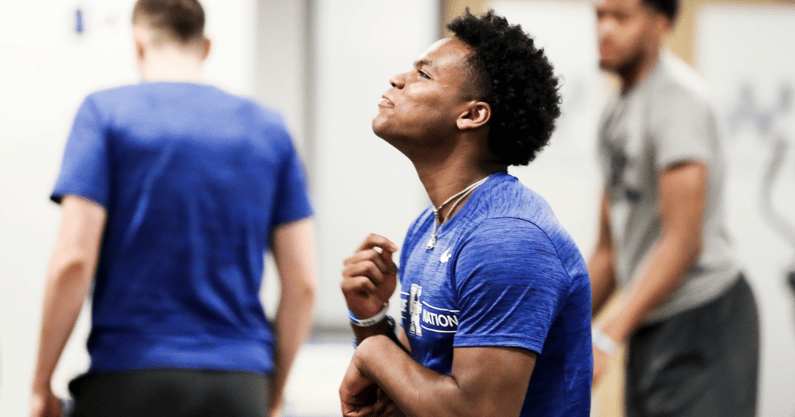 Kentucky has assembled a roster with a total of 13,385 minutes, 5,203 points, 1,917 rebounds, 1,132 assists and 543 total 3-pointers in returning college basketball production. They've also added three high-level freshmen capable of producing from day one at the collegiate level.
It's a group junior point guard Sahvir Wheeler believes will be exciting, fast, and fun to watch. It's also one he feels is capable of making a run to the Final Four and competing for a title.
Title dreams
"For one, I think we're going to have a really exciting team, going to play a really exciting brand of basketball," Wheeler told KSR on Thursday. "We're going to play super fast, unselfish, playing for one another. Ultimately, we're playing for a Final Four run and a national championship."
It's a mindset the entire team brings with them to practice, a title-or-bust mentality. After a historically down year for the program, the Wildcats are dedicated to coming back and proving once again they play for the "best basketball program" the nation has to offer.
Reaching a common goal
"We've got a really good group of guys who want to play for each other, who want to come back and show why Kentucky is the best basketball program in the country," Wheeler added. "We're working every day, perfecting every day, trying to get better every day to reach that common goal."
We know about the returning production and incoming transfers, with college stats and highlights from previous years out there for the world to see. Less is known, however, about Kentucky's incoming freshmen, especially after a year that limited in-person fan attendance at events due to COVID-19. There was no grassroots circuit last summer, cancellations and altered high school schedules, and only one All-Star event.
But make no mistake about it, the newcomers can play.
"Our team wouldn't be the same without them."
"It's a group of guys who are really, really good people off the court. They put everyone else first," Wheeler told KSR. "They came here to learn, they have open ears, they're eager to learn, they want the details, they want to get better every day. They're competitors."
Individually, Wheeler gave his scouting breakdowns for each freshman, all bringing something different to the table in early practices and scrimmages.
"TyTy (Washington) being a guard, he makes the game easier for everyone else," he said. "He makes open shots, he's creative, has a really good floater, and he's competitive.
"Same thing with Bryce (Hopkins), he's is super competitive. He gets after it. He gets downhill, uses his strength really well, can make open shots. When his motor is going, he's like a freight train coming at you. He's really hard to guard.
"Daimion (Collins) is like a pogo stick, a human pogo stick. His second and third jump — he has multiple efforts. He can shoot the midrange, can shoot the corner three. He's really good at offensive rebounding. You want his versatility, being able to switch guards and bigs. He's just a freak athlete, sometimes I feel like he's dunking the ball with his chin with how high he jumps."
Much has been said about Kentucky's returnees and incoming transfers, but make no mistake about it, the freshmen will be needed early and often.
"Those three guys are really important pieces," Wheeler told KSR. "Our team wouldn't be the same without them."