SEC Commissioner Greg Sankey pushing for federal NIL legislation in Washington DC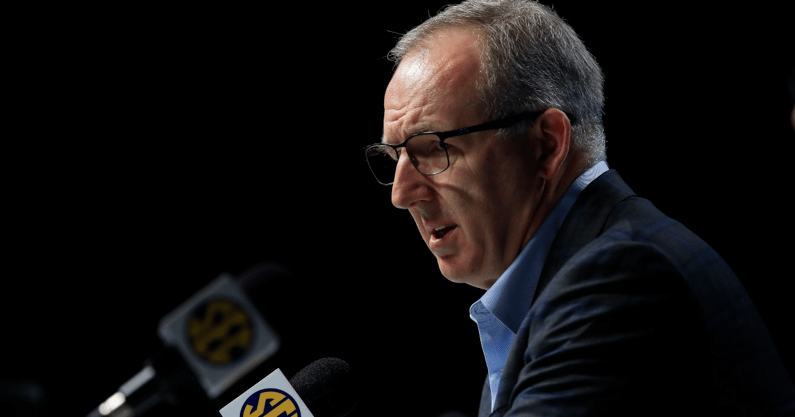 As name, image, and likeness (NIL) fuels chaos in college sports, two Power Five commissioners are going to Washington D.C. to ask for help. Today, SEC commissioner Greg Sankey and Pac-12 commissioner George Kliavkoff will meet with Senators Marsha Blackburn (R-Tenn.) and Maria Cantwell (D-Wash.) to push for federal NIL legislation. Currently, NIL is regulated by state laws and the NCAA's very vague NIL policy, which schools and boosters are finding ways around, leading to reported deals of $8 million for high school recruits.
"The goal is to discuss a few of the issues facing college athletics with influential senators," Kliavkoff told ESPN. "I think it's more likely that we eventually get federal legislation on name, image and likeness, but we're also interested in discussing all of the harm that will come to student-athletes if they are deemed to be employees."
"Either the NCAA is going to get its act together in enforcing this," he added, "or I'm going to be pushing for a smaller group to figure out how to create and enforce the NIL rules that we all agree on related to inducement and pay-for-play. The amount of an NIL payment should be commensurate with the work done as a backstop to make sure we're not using it related to inducement and pay-for-play."
Task Force to release new NIL guidelines
Earlier this week, Sports Illustrated's Ross Dellenger reported that college administrators have formed an NCAA task force to create additional guidelines to clarify that boosters and booster-led collectives are not allowed to use NIL opportunities for recruiting purposes.
"College leaders are gearing up to issue a warning to hundreds of wealthy boosters who are using name, image and likeness (NIL) ventures to involve themselves in recruiting," Dellenger wrote Wednesday. "University administrators, part of a task force to review NIL, are finalizing additional guidelines that are expected to clarify that boosters and booster-led collectives are prohibited from involvement in recruiting.
"The guidelines will provide more guidance to member schools on what many administrators say are NIL-disguised 'pay for play' deals orchestrated by donors to induce prospects, recruit players off other college teams and retain their own athletes."
Those new guidelines could be approved in the next week, but until there is federal legislation — with clear language on what is allowed and what is not — boosters will find ways around them. Hopefully, today's meeting in Washington is a big step towards that.