SEC Nation's Gameday Saturday Top 12
Mark Stoops has coached in quite a few big games.  After falling short in prime-time matchups against Florida, Auburn and Tennessee, Stoops could put the Cats on a fast-track to postseason play with a win under the lights against Mississippi State, but he needs your help.  With a high of 59-degrees, it's perfect football weather, giving you no excuses to miss this important game.  Here's how the day will go down:
1)  SEC Nation at Willy T.
Right at this moment, SEC Nation's LIVE broadcast is beginning from outside the William T. Young library.  On a beautiful, brisk morning, there's no reason why you shouldn't already be on campus.  Maria Taylor, Paul Finebaum, Tim Tebow and The Big Swagu will be on-air from 10-Noon.  If you see Jack Pilgrim in the audience, say Hi and you might end up on KSR.
2) Today's Itinerary
Things are just getting started on a busy day in Lexington.  Here's a taste of what's happening and when:
11:30-6:40 — $1 Shuttle service from Commonwealth to Keeneland at University and Cooper
1:05 — First Post at Keeneland
3:30 — The KSR Pregame Show begins at the Bluegrass RV Lot
5:15 — The Cat Walk
5:30 — The Bobby Perry Band takes the Gate 12 Plaza Stage
5:30 — Countdown to Kickoff goes LIVE with Freddie Maggard and Christi Thomas
7:30 — Kickoff on the SEC Network with Mark Jones and Rod Gilmore
Wear your gray; UK will keep the Commonwealth's lights on with these coal anthracite uniforms tonight.
3)  Snapping the Streak vs. Dan Mullen
Dating back to Dan Mullen's time as Urban Meyer's offensive coordinator at Florida, Mullen has defeated UK in 11 consecutive games.  His streak against Kentucky is starting to creep into the Spurrier range.  Until Dak Prescott arrived, the games were always close, but the only victory was the 08 team's revenge for the devastating 2007 loss at Commonwealth Stadium.  If there was ever a time to snap the streak, it's against this 2-4 team that just came off a double overtime loss in the mountains of Utah.
4) Celebrating the 40th Anniversary of the 1976 Peach Bowl Champs
At halftime UK will honor the last football team to win an SEC Championship: Fran Curci's 1976 Peach Bowl Champions.  After struggling early in the season against three Top 20 opponents, they defeated Penn State and Florida at Commonwealth Stadium before ending their season with a win over Tennessee in Knoxville, something only one team has done since.  Their 21-0 win over North Carolina was an impressive, monumental victory, one that I will closely examine later today.
5)  They aren't the only Former Cats being Honored
Commonwealth Stadium will also host the 2006 SEC baseball champion Kentucky Wildcats and the track and field athletes that represented UK in Rio.  The list of athletes is larger than you'd think: Jasmine Camacho-Quinn (Puerto Rico), Leah Nugent (Jamaica), Rondel Sorrillo (Trinidad & Tobago), Mikel Thomas (Trinidad & Tobago) and Luis Orta (Venezuela), will be recognized during the game.
6) A Successful Blue-White Game
The 2017 Kentucky Wildcats showed off their skills in front of a record Blue/White game crowd.  For those that missed it, allow this 5:30 highlight to fill you in on transition buckets, a pleasantly surprising performance from Sacha Killeya-Jones and an absurd Malik Monk dunk.
7) Malik Monk Dunks
I could not limit myself to sharing just one impressive Malik Monk highlight.
Kentucky freshman Malik Monk 🔋 pic.twitter.com/Ck3gI1BVmq

– Courtside Films (@CourtsideFilms) October 22, 2016
8) High School Scores
This week's high school football schedule wasn't the best.  The penultimate week of the regular season might as well be called "best teams in the district pound away at the worse teams."  Next week will be better when Eli Mitchell heads to the mountains for Belfry/Johnson Central, but we still managed to find a few highlights from last night.
LCA 42, Danville 40
Male 21, Manual 14
Russell County 42, Clay County 38
Central Hardin 40, North Hardin 14
Madison Southern 28, Anderson County 21
Trinity 55, Ballard 0
Johnson Central 43, Ashland Blazer 6
Lafayette 50, Tates Creek 28
Newport Central Catholic 56, Newport 14
9) UK Volleyball Extends Its Winning Streak
The Kentucky volleyball team extended their win streak to 13 last night at Memorial Coliseum with a win in three sets over South Carolina.  Craig Skinner's club hasn't lost since falling to Marquette on September 9.  They'll face Missouri Sunday in a matchup between the last two SEC teams without a loss in conference play.
10)  Baseball?
By no means am I a baseball guy.  That's just not our cup of tea at KSR.  However, there's big things popping in the baseball world near and far.
The Kentucky Board of Trustees approved nearly $50 million for a new stadium off Alumni Drive and it looks glorious.  It's scheduled to open in the fall of 2018.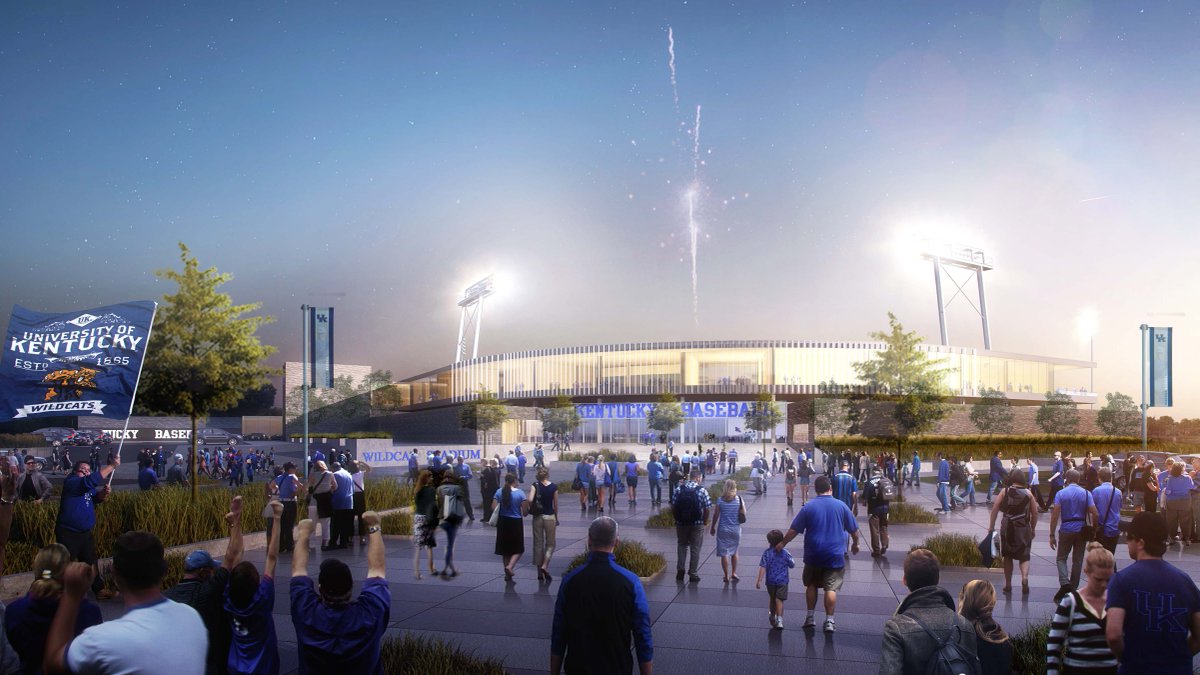 In even crazier news, I'm typing a sentence I never thought I would type: the Cubs are one win away from the World Series.  Clayton Curseshaw is on the mound for the Dodgers tonight, but with a 3-2 lead and home field advantage, if the Cubs can't make their first Series since 1945 then the curse is a very real thing.
11)  Watch Matt on the Paul Finebaum Show
Hearing Paul and Matt throw jabs at Pitino will make your day.
https://www.youtube.com/watch?v=IC7XCZEWnxE
12) Today's College Football Schedule and Scoreboard