SEC Network's Chris Doering predicts double-digit win for Kentucky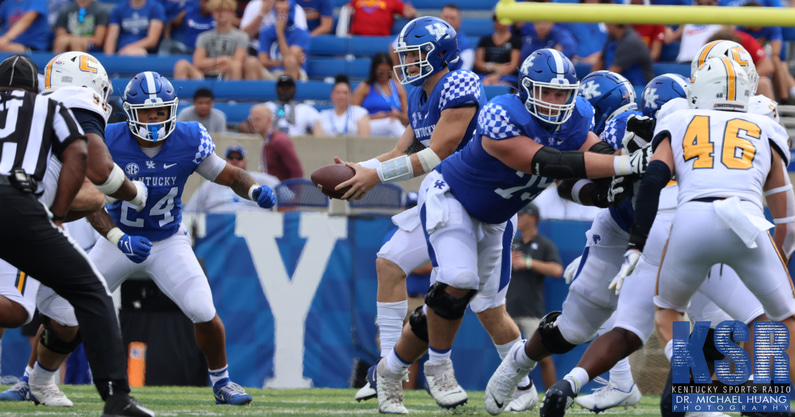 For some, Kentucky's lackluster performance and tight victory over Chattanooga one week ago was a sign the Wildcats may not be as good as advertised. For others, it can be chalked up to sleepwalking against an inferior opponent and looking ahead to the following week.
SEC Network's Chris Doering, for instance, has the latter mentality.
Heart of the schedule
The South Carolina program is turning around, and the 2-1 start is fine, but the real tests are here.
"I agree the team seems to be making a turn," Doering said of USC on Friday's edition of The Paul Finebaum Show. "There's a lot of hope around that fanbase, which is exciting to see. The problem is now, you're getting into the heart of the schedule against conference opponents. Everyone is really talented, everyone is really physical."
When push comes to shove, though, the Gamecocks are a flawed bunch. They have holes in their defense, the offense is underwhelming, and the team is low on total scholarship players.
In Doering's eyes, Kentucky is simply the superior group.
"If you look at the numbers, South Carolina only has 79 scholarship players," Doering said on Finebaum. "They're thin in the secondary, thin at the linebacker position. One of the things Kentucky is going to do is run the football and be very physical with you on the lines of scrimmage. That could wear on South Carolina as the game goes on."
A double-digit win?
Unfortunately for the Gamecocks, Doering believes Kentucky's rough performance last week is good for the program. The Wildcats have been humbled, and now, they're looking to make a statement.
"Last week, what we saw with Kentucky stumbling a little bit against Chattanooga, it's the best thing that could've happened to Kentucky," said Doering. "It got their attention. It let them know, "Hey, maybe (we're) not as good as everyone is telling (us we) are. The offense is maybe not as unstoppable as some of the reports would have (us) believe."'
As a result, Doering has strong confidence in Kentucky on Saturday. Not only does he predict the 'Cats to cover at -5, he expects UK to win by double digits.
"South Carolina is going to get the best effort from Kentucky and I think they ultimately win this game by double digits," he said.
Kentucky vs. South Carolina is scheduled for 7 p.m. ET on ESPN2.