Shaedon Sharpe mulling early enrollment, set on playing for Kentucky in 2022-23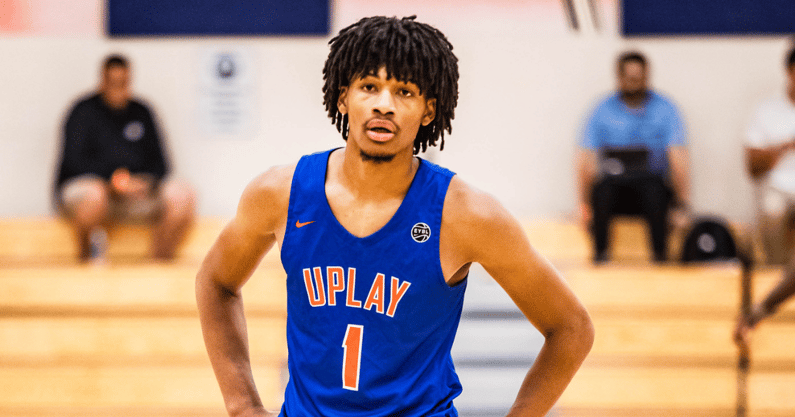 2022 five-star guard Shaedon Sharpe is "definitely" considering an early enrollment at Kentucky and plans to suit up for the Wildcats in 2022-23, sources tell KSR.
As first reported by Travis Branham of 247Sports, Sharpe is considering a mid-year enrollment that would allow him to practice with the team for the second semester. Sources tell KSR he would not play any games for the Wildcats and would instead use the semester to develop and learn the system before returning to school in 2022-23.
"Very good possibility."
"He's considering it, it's an option," a source close to Sharpe told KSR. "… He's not coming to play, even if he does enroll. He wants to practice and be around bigger, stronger guys, get a head start. When (summer) practices start, he can be in a leadership position and be desensitized to the spot.
"… He's definitely considering it, very good possibility."
The goal would be to get a "head start" for the following season, sources tell KSR, rather than "mess up any chemistry" the upcoming 2021-22 roster is working to build on the floor. He'd be there to help however he can in practice, but leave the games to the players already on campus preparing for the season.
It's an option that has been considered for the better part of a month, sources tell KSR, but only made reality within the last week. The Kentucky coaching staff learned of Sharpe's interest in a mid-year enrollment and approved of the potential jump earlier this week.
While the jump is under strong consideration, nothing is finalized at this point in time. Should he enroll early, the opportunity to play in the McDonald's All-American Game and Jordan Brand Classic will be taken off the table, among other typical senior festivities.
"That's what he's considering right now, he doesn't want to miss that," a source told KSR. "That's why it's still under consideration."
Draft eligibility
While the idea of a mid-year enrollment for the nation's No. 1 overall recruit is enticing, there is also the obvious concern of an early departure for the NBA Draft. Why would a potential top-five draft pick stick around an extra year in college when NBA money is on the table right away?
For starters, his eligibility for the 2022 draft remains in question. NBA rules state a player must be one year removed — one full NBA season — from graduation and at least 19 years of age. While he will meet the age requirement by the time of next year's draft, his graduation status remains unclear.
A source close to Sharpe, however, tells KSR that the five-star guard has not yet graduated and thus will not be eligible for the 2022 NBA Draft. And even if he was, it's not an option Sharpe is willing to explore.
"He's not eligible," a source told KSR. "… An individual needs to go through the whole process, not just jump through — you can jump through, but that doesn't mean the longevity is going to be there. There's no way (Sharpe) is looking at rushing anything."
Ready for a challenge
Should he ultimately decide to enroll early, it will be with the intention of playing through the 2022-23 season in Lexington.
"If he does come there early, and that is the decision that is made, he is not coming to be playing this year," a source told KSR. "He's coming to be a leader for that 2022-23 season."
At the end of the day, it comes down to the challenge of competing against the best of the best at a place like Kentucky. It's a challenge Sharpe is ready to take on sooner rather than later.
"He wants to be challenged, he wants to get better," a source told KSR. "The truth is, he's definitely playing in 2022-23 (at Kentucky). It has nothing to do with the NBA, it has everything to do with his individual development."
Sharpe committed to Kentucky in September, choosing UK over Kansas, Oklahoma State, Arizona and the G League. The original plan was to head to Lexington next summer before suiting up in the fall.
Now, it's likely Sharpe will be joining the team on campus in the coming months.