Shaedon Sharpe plans to help Kentucky however he can -- even if it means playing right away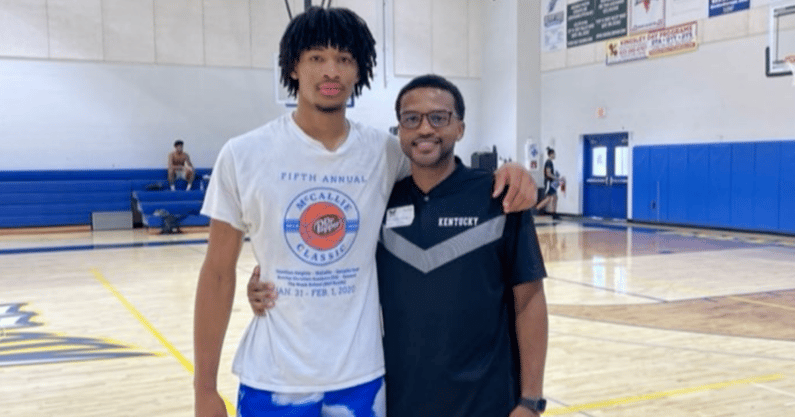 Shaedon Sharpe is officially a Kentucky Wildcat, signing with the program on the first day of the early signing period Wednesday. Now, the wait begins for the nation's No. 1 overall prospect to arrive on campus.
In the hours leading up to Kentucky's matchup against Duke in the Champions Classic, Sharpe announced he would be enrolling early and joining the program in January.
"I would like to announce I'll be enrolling second semester at the University of Kentucky," said Sharpe. "Thank you to all my family, friends and supporters. Looking forward to joining the #BBN family."
It was a decision intended to expedite the development process, one that would allow him to compete against older, faster and stronger players at Kentucky.
"We felt like it was the right time given where he is with his development," Sharpe's grassroots coach and mentor Dwayne Washington told KSR Tuesday. "The opportunity presented itself where he can get there, learn, get his body straight.
"He just felt like he was ready. He felt like he was ready to make that step to continue his development. It's all development-based."
What are his expectations from day one? Sharpe simply wants to help the current team however he can while preparing for the 2022-23 season. He'll be thrown into UK's strength and conditioning program and begin working with the nutrition staff to transform his body. And, of course, he'll work with the team in practice.
"Whatever the team wants, he's going to do," Washington told KSR. "But he's coming in to learn and develop, that's what he's coming in to do. He wants to get his body right, nutrition, and just get a head start. If you get an extra five-month head start, or five and a half, six months before the summer session, it's going to benefit you.
"… He was ready to make that transition when the opportunity presented itself, that scholarship was available. We mulled it over for 30 days or so and this was the decision he wanted to make."
The goal is to practice with the team and develop his body in a redshirt semester. He hopes to use the next six months to get a head start on the competition and get used to life as a student-athlete.
In an ideal world, he helps the current team during the heat of its season while they help him get ready for next year. It's a win-win for both sides.
"I just think it's putting a bunch of high-level players in the situation," said Washington. "A top kid like Shaedon is going to help them on the scout team, that's what he is. He's going to go against other guys with talent, I'm sure that's going to help. Those players are at Kentucky for a reason. I think collectively, the competition level raises a little bit more.
"Everybody gets better by playing at a higher level. I think he's just competing, going against better talent, which makes you better."
Any chance he plays this season? That's a John Calipari question. Should he call Sharpe's number this season, he'd be happy to throw on a uniform and get to work.
Again, anything to help the program.
"His mindset is just to go there and get ready. If Coach (Cal) says, "I need you to play," he's going to play," Washington told KSR. "He's not going out there to play, he's going out there to practice, but that can change at any moment."