Shai Gilgeous-Alexander finishes 2nd for NBA's Most Improved Player award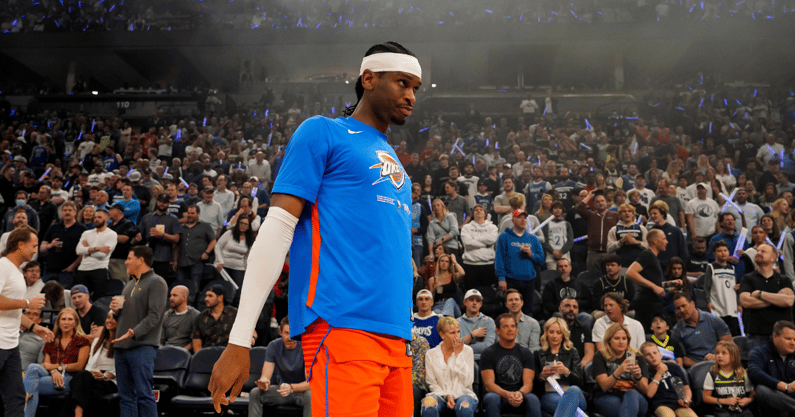 Shai Gilgeous-Alexander went from being a really good player to being a great one in just one season, but his development wasn't enough to take home any hardware.
On Monday night, the NBA announced that Gilgeous-Alexander was beaten out for the league's Most Improved Player award by Utah Jazz forward Lauri Markkanen. SGA, the 24-year-old first-time All-Star, went from averaging 24.5 points per game for the Oklahoma City Thunder in 2021-22 to 31.4 points per game in 2022-23, the fourth-most in the NBA this season.
Unfortunately for Gilgeous-Alexander, as spectacular as his run was, Markkanen was the better fit for what this award entails. The 7-footer from Finland went from being a role player for the Cleveland Cavaliers in '21-22 to the Jazz's best player in '22-23. Markkanen, 25, upped his scoring from 14.8 points per game last season to 25.6 this season while also earning an All-Star nod.
SGA is the better overall player and a bonafide superstar in this league, but Markannen going from an average player to really good in one season was more deserving of winning MIP in the eyes of the voters. New York Knicks point guard Jalen Brunson finished third in the voting.
[tweet]
Gilgeous-Alexander's ascension to superstardom has been nothing short of shocking. Even to the Kentucky fans that watched him transform from bench player to SEC Tournament MVP, not many expected him to make this level of impact in the NBA.
Now in his fifth season, SGA has improved every single year. He went from 10.8 PPG as a rookie with the LA Clippers to 19.0 PPG in his first season with OKC. In year three, the former 'Cat bumped his average to 23.7 PPG, then to 24.5 PPG in year four, and now 31.4 PPG in year five. In 68 games played this season, Gilgeous-Alexander also recorded 4.8 rebounds, 5.5 assists, 1.6 steals, and 1.0 blocks in 35.5 minutes per outing. He shot a career-high 51.0 percent overall from the field, 34.5 percent from deep, and a career-high 90.5 percent from the free throw line.
The Thunder, which lost No. 2 overall pick Chet Holmgren for the year due to injury before he could even step on the floor, came into this season expecting to contend for another top lottery pick, but Gilgeous-Alexander had other plans. OKC started the season 15-21 and finished the year with a 40-42 record and nearly snuck into the NBA Playoffs before falling in the Play-In to the Minnesota Timberwolves. SGA was the primary reason why; he posted at least 30 points in 45 games this season.
He'll just have to contend for MVP next season, I guess.
Discuss This Article
Comments have moved.
Join the conversation and talk about this article and all things Kentucky Sports in the new KSR Message Board.
KSBoard