Shane Beamer Prepares for Resilient, Dynamic Kentucky Offense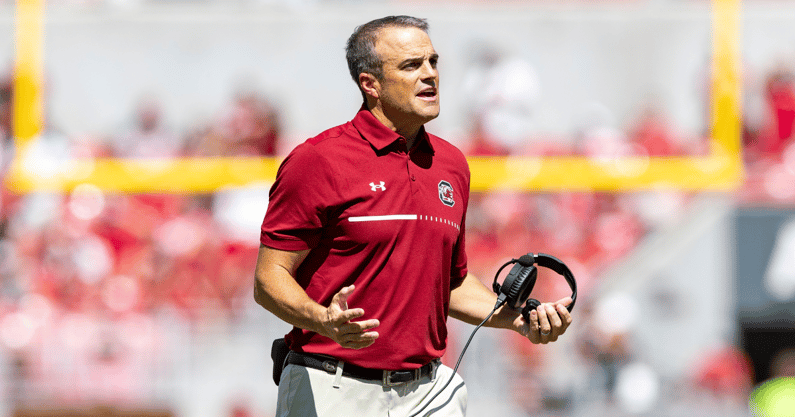 Around the Big Blue Nation, Kentucky fans are eagerly awaiting for Rich Scangarello's offense to clean up its mistakes and play a complete football game. The view of the Kentucky offense from the opposing sideline is a little different. In a losing effort at Ole Miss, South Carolina head coach Shane Beamer was impressed by the Wildcats.
"It just shows what a resilient group they are," Beamer said during Wednesday's SEC Teleconference. "It didn't always go the way they wanted it to, but they just kept hanging in there, scratched and clawed and had an opportunity to win the game with under a minute. So we know we got a big challenge playing them on Saturday night. I was impressed watching them play on television, and even more so on the game tape."
Entering the year South Carolina's quarterback received a ton of buzz. Spencer Rattler has the league's worst QB rating, while Will Levis ranks second at 174.92. Levis also ranks second in the SEC in yards per attempt (10.0) and third in total passing yards (1,405).
"Just watching him this year, he's gotten so much better. He's a first round draft pick and rightfully so," said Shane Beamer. "He can make all the throws, he's big, he can make plays with his feet and really impressed with his ability to move in the pocket, whether it's step up in the pocket or move laterally and keep his eyes downfield to make throws. His arm strength is off the charts. I got a ton of respect for him. Don't know him personally, but from what you read about him and hear about him, it sounds like he's a fantastic person and fantastic leader for their team."
Kentucky fans aren't too concerned about their quarterback play. Most of the BBN's attention is on the Wildcats' inefficient run game that's been slowed down by tackles for loss. South Carolina has one of the worst run defenses in the SEC. They could have their hands full against the Kentucky offense Saturday night at Kroger Field.
"I feel like they're running it this year as well. People talk about that and maybe they've in some people's minds had some struggles running the ball, but they were really difficult last year to defend because they could run it, and then throw it up to Wan'Dale Robinson," said the South Carolina head coach.
"Now they've got the same quarterback and even more dynamic receivers. Then you bring Chris Rodriguez back as well, so when I watch their tape, I don't think there's anybody in our program saying they're having a hard time running the football. Getting Rodriguez back will certainly help their ability to run the football. They haven't all of a sudden turned into a passing offense. They're still going to run the ball downhill, they've also got a dynamic screen game and then they're able to throw the ball over your head with their weapons on the outside at wide receiver and tight end."
Subscribe to the KSR YouTube Channel for complete coverage of the Cats, including press conferences, post-practice reports, exclusive interviews, and original shows.