Shoot the ball, Oscar! Tshiebwe has the green light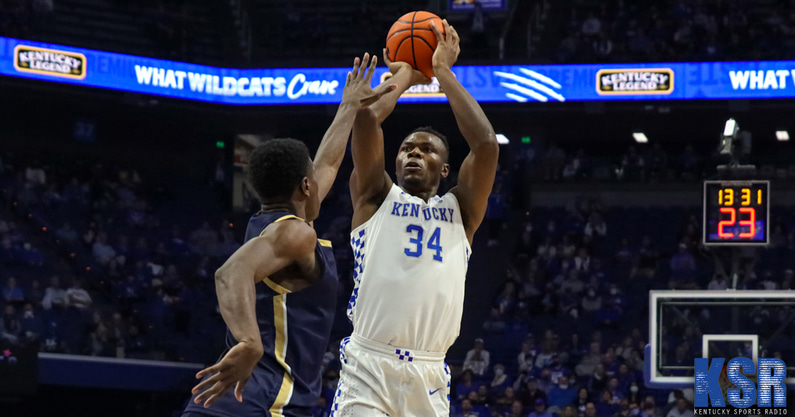 Kentucky Basketball unveiled a new weapon during its win over Mount St. Mary's: the Oscar Tshiebwe mid-range J.
Until Tuesday night, Tshiebwe was primarily a rebounder with his otherworldly average of 20 rebounds per game against Duke and Robert Morris. He scored in those games, too; but all 31 of his points came at the rim or at the line.
Against Mount St. Mary's, Tshiebwe debuted a fadeaway jumper on the Wildcats' very first possession of the game, a set play to get him a look. He bodied The Mount's Malik Jefferson to create a little cushion in the paint then sank a high-arching shot from the SEC logo.
Nothing but net.
Minutes later, Tshiebwe and point guard Sahvir Wheeler ran the high pick-and-roll, freeing Tshiebwe up for a jumper, this time from about 18 feet.
Again, nothing but net.
Minutes later, he let one fly four seconds after the ball crossed halfcourt, this time from dead-center, a foot behind the free-throw line.
Nothing but net.
OK WHAT IS HAPPENING?!
"I told you all he can shoot the ball."
John Calipari told us (or he at least told us that he told us) Oscar Tshiebwe can shoot, and we saw it Tuesday night. Mount St. Mary's shut down Kentucky's outside shooters but left Tshiebwe in a 1-on-1 situation inside. He finished with 24 points, a career-best including his two seasons at West Virginia, and five of his 10 made shots were from beyond the charge circle.
"I told you all that he can shoot the ball," Calipari said in his postgame remarks. "He is one of our best 15, 17-foot shooters. The other day we did the five-minute shooting drill and in five minutes he made 87 shots. 87. I think the most was by Kyle Wiltjer, I think. He might have made 89 one time. The kid made 87."
Keion Brooks confirmed Calipari's story. Brooks said, "I've seen Oscar hit that shot so many times. We have a drill in practice where we shoot for five minutes and Oscar has the highest number every single day, shooting that same exact shot. I have the utmost faith in him taking those mid-range jumpers because each and every day he makes them and now he's just gotta carry it over to the game."
Brooks said he tells Tshiebwe, "You can make that shot. Believe in it."
Tshiebwe made a believer out of himself and everyone else with his 11-of-14 night from the field. Calipari's pregame instruction to him was, "shoot the ball," and Tshiebwe showed no hesitance in doing just that. If they gave him space, he took the shot. If they stepped out, he attacked.
Calipari admitted afterward, "We put in some stuff for him to shoot jumpers, which is what we did. It's an easier way to get him a shot. Like we know that this is for him, but, you know, he made baskets."
"This is not your old school… we want you to shoot the ball."
For Tshiebwe, being the center of the offense Tuesday night was a new concept. He's done plenty of scoring in his career, but never with a green light to shoot.
"I've never shot that many in a row," he said after the game. "Today was good because it reminded me to shoot the ball and they know I can make it. As you saw in the game, I was shooting with confidence and I made a couple… that was good."
It's a change in mindset from his time at West Virginia, where he was encouraged to not shoot the ball. Kentucky is now telling him the opposite as John Calipari pieces together a loaded offense.
"Back at my old school, if you shoot the ball and you miss it, you're coming out," Tshiebwe said. "So I had that thing in my mind. But the coaches said, 'this is not your old school, this is another place, and you've got to shoot the ball. We want you to shoot the ball.'"
Tshiebwe's teammates want him shooting the ball too. You may have heard them screaming SHOOT! whenever he got a touch. One, the threat of his shot/attack frees them up for looks around the perimeter. And two, it keeps them from running in practice. Kentucky has a new practice rule that if Tshiebwe passes up an open shot, the whole team runs.
"He got on to me in the practice this past two or three days," Tshiebwe admitted. "If I'm open and I'm not shooting, we're running, so that confidence was there today in the game, as you see, I was shooting out there."
Hear more from KSR's favorite person to interview about his big night and this new shooting philosophy.