Slowing Down is Key to Will Levis' Slump-Busting LSU Performance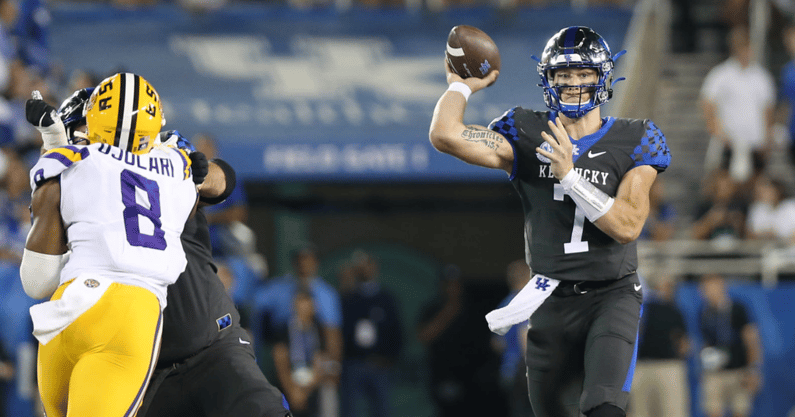 Will Levis was stuck in a rut. The key to finding his way out of his funk was in his feet. He had to slow them down in the pocket and know when to use them at the right time in the open field.
A week after completing just 41% of his passes for 87 yards, Levis only had three incompletions against LSU. One of those incompletions should have been a touchdown overruled by replay at the goal line, while another was a beautiful bomb to Wan'Dale Robinson right before halftime. He finished 14-of-17 for 145 yards and three touchdowns in the victory over LSU. It was Levis' first game without a turnover as a Wildcat.
"I really thought he played exceptionally well," said Stoops. "You could tell early on, just to me, his comfort level was there. You know, he looked really poised, really confident and just going through his progression, making some really nice throws. Maybe the numbers aren't overwhelming you, but I thought he was very clean and what Liam (Coen) has been working with him, being calm in the pocket, and you could see that, carrying over and you could see his confidence stepping up. Then the way he plays it on the line, and he runs so physical, that just gives everybody a great boost, as well. He's a tough kid and just getting better and better."
Need evidence that he's getting back his confidence? The bananas are back.
Slowing Down
When Levis went back to watch the tape from the Florida game, his feet flew off the film.
"When the bullets were flying a little bit, I just got antsy with my feet," said the UK quarterback.
Slow and steady wins the race, and leads to more completions.
"I thought he played his tail off," said Liam Coen. "The whole theme for him all week was, just calm down. Slow down, slow it all down, slow your feet down, slow your mind down. I thought you saw that — the touchdown to Wan'Dale in the red zone, that was all him. That play was designed to go to [Brenden] Bates on a little bit of a sneak route, kind of a little wham look when we were trying to sneak Bates out. Wan'Dale was the second read. Will kind of makes a move in the pocket, he makes a good comfortable throw. The kid played his tail off."
Levis Uses his Legs
He slowed his feet down in the pocket, then let them fly down the field. In addition to his three passing touchdowns, Kentucky's quarterback had 75 rushing yards and two touchdowns. Hard-earned runs, Levis gained respect from his peers and gave his offensive line more energy.
"Testament to Will, testament to him for just getting it right," Coen said of Levis' improvisational skills. "Understanding that in his position, at times, you've got to be a dog. You have to be a physical player. You saw him carry the pile for a few yards there in a couple of instances. I thought he played the quarterback position tonight the way that we were looking for him to play."