So Maybe This Is A Stretch...
  …but
a New York Knicks fan site post this afternoon tries to take the perspective of a Tracy McGrady vs Josh Harrellson matchup in the NBA Finals.
McGrady and Jorts, who both played for the Knicks briefly (Jorts played in 37 games in 2011-2012, McGrady for an even briefer 24 games in 2010), are technically affiliated with the Spurs and Heat, respectively. McGrady signed with the Spurs on April 16 of this year, meaning he was eligible for the playoffs but didn't appear in a regular season game. Jorts, on the other hand, was waived by the Heat early this year after playing in six games, making him eligible to receive a ring should they win it all.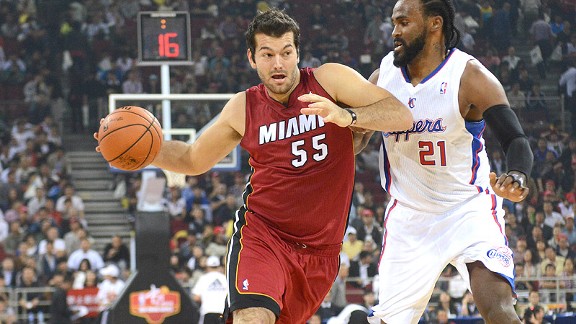 ANYWAY.
Posting and Toasting tries to paint a picture of a McGrady/Jorts showdown in the NBA finals-
despite the fact that Jorts definitely won't play at all (seeing as how he's in China playing summer ball at the moment), and McGrady will probably barely see the court. If you're grasping at straws for a Kentucky connection to the NBA Finals, this semi-ridiculous post is for you. Don't say I didn't warn you.
@KristenGeilKSR