Soleil Moon Frye's Monday News and Views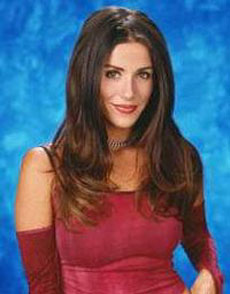 As we get ready for a big week in Kentucky football and the transition of Kentucky basketball recruiting into a new round of players, we take time to pause and honor
the great actress known as Soliel Moon Frye.
Soliel (whose first name is French for "sun") was of course the star of the great 80s show "Punky Brewster", which was part of the "orphan movement" in sitcoms (along with such great hits as Different Strokes and Webster). Punky Brewster told (badly) the story of a young orphan girl taken in by an old man and then destined to be cute and adorable for four mind-numbing seasons. Frye was the star of the show and seemed destined for great things. However ultimately her career hit a grinding halt and only guest appearances on Saved by the Bell and The Wonder Years kept her from becoming a total failure. As we can see in the above picture, Frye has grown up quite nicely and now is fully qualfied to be a Kentucky Sports Radio girl. We salute her today on her birthday and say howdy to Punky....... To the news....
(1)
We of course spent Friday with our first ever interview of
main Kentucky recruit Darius Miller.
The conversation (which you can hear on a post below) was rather normal and you can get some insight into why Darius likes the schools that he currently likes. He mentioned the tradition and fan support of UK, Pitino's influence on Louisville, Bruce Pearl at UT and the "family atmosphere" at Illinois. For most of July I was being told be people close to Darius that he was considering pulling the trigger for Kentucky and one of those still insists that is the case. But I think we may be in for a bit of a Patterson-type situation in which the kid must decide between the school he may favor (Illinois?) and the local school where fans want to see him). If Miller waits until after the season starts, UK's early success (or lack thereof) could have a major influence on his decison. Either way, I am excited about Miller as a player as is Kentucky, which has repeatedly told him that he is their number one option.
(2)
This is a week of transition for Kentucky basketball recruiting as they
officially move towards the second tier of some of their recruits.
It is easy to get frustrated by the events of last week and the seeming inability of the Cats to stay on each player's list. However ultimately, the lasting influence of these events will be fairly short. Rotnei Clarke is the target for one of likely three future scholarships....Darius Miller likely goes for the second....and then you need one big man. My guess is that Chris Singleton is target one and if he commits.....well then all of the rest of this may be for naught. But get ready as we introduce new people this week.....the names of the last few months (Zeller, Czyz, Green) are about to give way and a new set of last names will enter the collective mindset. Just promise me it wont be Teeng Akol.....
(3)
I spoke with two national writers this weekend who told me that when the time was right,
they were picking the Cats to beat the Ville in September.
One of them told me that, "Kentucky has had so many losses they should have won in the last few years.....this is the time they pull it out." I certainly hope so. In the post below and on the poll, pick the next Cat who you will think be All-SEC.....Rob has football practice coverage tomorrow......and here is a picture from this weekend of me the Turkey Hunter and our dates with Sports Mobber Adam Duritz..