South Carolina's starting QB, Zeb Noland, could miss game against UK due to injury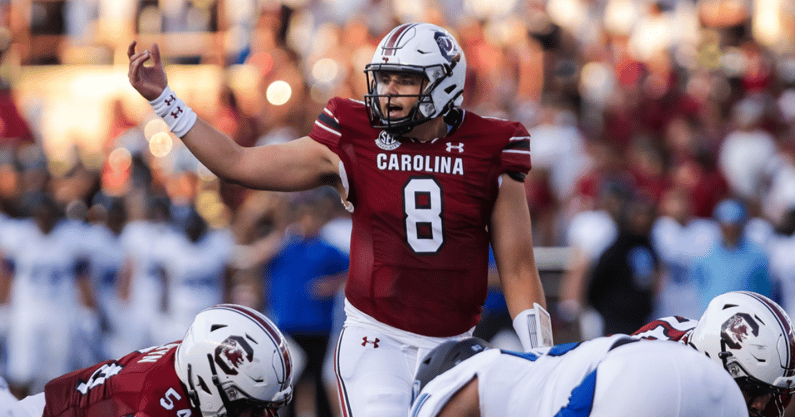 Due to an injury, South Carolina (2-1) might have to resort to its backup quarterback for Saturday's matchup against Kentucky (3-0). But the good news for the Gamecocks is the current backup QB was actually the expected starter ahead of the 2021 season before suffering his own injury.
Zeb Noland, a graduate assistant turned quarterback out of necessity for South Carolina, led the Gamecocks to its first 2-0 start since 2017 with wins over Eastern Illinois (46-0) and Eastern Carolina (20-17). However, during the Gamecocks' 40-13 beat down at the paws of No. 2 Georgia over the weekend, Noland's throwing hand was stepped on and he was forced to leave the action.
During a press conference on Sunday night, Carolina first-year head coach Shane Beamer told reporters that Noland is expected back for the game against UK, but added that his hand is currently in bad shape.
"And then Zeb, his hand is bandaged up pretty good right now and obviously not able to throw the football and struggling to get feeling back," Coach Beamer said. "But we anticipate him being healthy and ready to roll on Saturday night assuming he comes back like we think he will here this week."
The initial sense appears to be that Noland could play this weekend, but in reality, Coach Beamer could just take a completely different direction.
After Noland was injured during the first quarter against UGA, backup sophomore quarterback Luke Doty, a former four-star recruit and top 100 recruit in the country, stepped in and threw for 153 yards on 13-26 passing with one touchdown and one interception. Not exactly stellar stats, but against a Georgia defense considered one of the best in the country where he was tossed into the fire, it was a valiant effort.
Doty was actually the expected starting quarterback heading into the 2021 season, but a sprained foot suffered in mid-August kept him off the field, forcing Noland into action. Noland made the rounds in the media when he was announced as the starter, considering he was brought on as a graduate assistant with the program in May. During his first two games against EIU and ECU, he went a combined 26-45 for 346 yards with five touchdowns and one interception.
Noland started his career at Iowa before transferring to North Dakota State where he started all seven games for the Bison in 2020. Despite transitioning into a graduate assistant role at South Carolina, he still had one year of college eligibility remaining and was able to suit up and play.
While Noland has been serviceable for South Carolina early on, the future is with Doty, and he could make his first start of the season against Kentucky. Something tells me the Wildcat coaching staff won't be overlooking this matchup…
Kentucky will head down to Columbia to take on South Carolina this Saturday at 7:00 p.m. EST on ESPN2.