St. Xavier Reclaims 6A Crown Over Male 31-21 — Presented by Kroger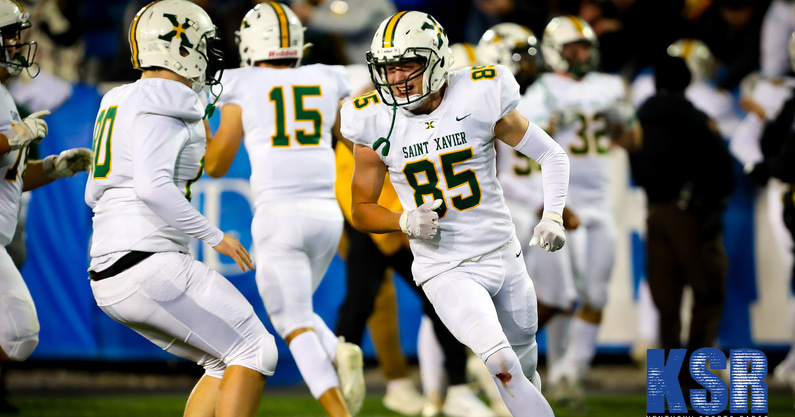 For the 13th time in program history and the first time since 2009, the St. Xavier Tigers are state champions.
"I've said all along during the entire season that this is a group of young men that is unusual in their commitment, unusual in their work ethic, and unusual in how they responded to adversity," Tiger head coach Kevin Wallace said after defeating the Male Bulldogs 31-21 to win the 6A State Championship.
St. Xavier quarterback Jack Sivori finished the game with MVP honors and 370 all-purpose yards with four touchdowns. Wallace said after the game that Sivori lives with a chip on his shoulder.
"He made a lot of good decisions and a lot of really good throws," Wallace said about his quarterback. "He's grown an awful lot his quarterback and as a thrower. Everybody knows he can run a football—and he won the game with his arm."
First Quarter: Male 6, St. Xavier 0
Male coughed the football up on their opening possession—it seemed that was exactly what the Bulldogs needed to wake themselves up Saturday night at Kroger Field. Their defense forced a St. Xavier punt on their next possession and Male quarterback Nic Schutte redeemed his opening drive fumble with a strike to Wisconsin-commit Vinny Anthony for an 88-yard touchdown.
Male's defense equaled the statement their offense made on the ensuing Tiger possession with a fourth down stop inside their own 35.
St. Xavier forced a punt on the next Bulldog possession and found their way inside the Male 25-yard-line with a strike from quarterback Jack Sivori to his favorite target Mekhi Smith for a 28-yard gain on the quarter's final play.
Second Quarter: Male 13, St. Xavier 7
A major effort from the Tiger offensive line helped St. Xavier take the lead early in the second. After a one-handed snag from Smith took St. Xavier down to the two-yard-line, Sivori took it upon himself to find the end zone. 
Male ate up over four minutes of game clock on the next possession on a 12-play (including nine rushes), 88-yard drive that resulted in a 19-yard touchdown pass from Schutte to Dominic Vrbancic to regain the lead.
Sivori finished the half with 119 of St. Xavier's 120 yards (all-purpose). Male went into the locker room out gaining the Tigers 210-120 in yards from scrimmage. 
Third Quarter: St. Xavier 17, Male 13
The Tigers received the second half kickoff and did exactly what was necessary to help them stay alive—keep the Male offense off the field.
For 14 plays and five minutes, St. Xavier dinked and dunked the football all over the Bulldog defense. Male made a stop on third and goal and the Tigers were forced to kick a 26-yard field goal, which Nolan Wolford nailed.
St. Xavier had a shot to tie or take the lead after forcing a Bulldog three and out, but Sivori coughed the football up on the drive's first play.
A fourth down defensive stand from the Tiger's defense set up the most explosive drive of the night for St. Xavier. Sivori hit Will Beckmann over the middle for a 42-yard completion. 
The Tigers went hurry up and Sivori found Michael Duddy in the end zone on the very next play to take the lead late in the third.
Every bit of momentum swung in the Tigers' favor after Tyler Boggs picked Schutte off with less than a minute left in the quarter.
FINAL: St. Xavier 31, Male 21
A second Schutte interception in a row gave the ball back to St. Xavier in Bulldog territory. Thanks to a 34-yard reception to Adam Boone that took the Tigers down to the six, St. Xavier was set up with first and goal where Sivori found Smith in the end zone. 
All of a sudden, Male was facing an 11-point deficit..
With their backs against the wall, Male marched 96 yards on seven plays, capped by a 41-yard Anthony touchdown reception. A successful two-point conversion later and the lead was cut to three. Male had life.
Facing a 3rd & 4 on the next possession, in a make-or-break situation with two minutes remaining, Wallace elected to throw the ball—and throw they did. Sivori hit Smith up the seam for a 45-yard dagger that sealed the victory. 
That game-winning between Sivori and Smith was something they'd been wanting to produce since the days they played pick-up basketball in the fifth grade together. Sivori knew he was going to hit Smith and Smith knew Sivori was going to find him.
"Anything that somebody tells us we can't do, [Sivori] is the guy that's gonna be the lead dog and making sure that we know that we can."
For the first time in Wallace's tenure at St. Xavier, and for the first time in any of his player's careers—they're state champions.
"You can't control the event," Wallace said. "The only way you're going to control the outcome is your response. We've lived that … we don't give in, we're going to keep working."
A Message from Kroger:
We're excited to tell you about something new from our friends at Kroger. Did you know Kroger is America's largest grocery chain that started over 135 years ago? They are doing something they've never done before: bringing fresh groceries right to you with a new service called Hometown Pickup. 
That's right, for those of you in Cynthiana, Midway, Eminence, Bedford, McKee, Dry Ridge, Carlisle, Eubank, Georgetown, Mt. Vernon, Jackson, Frenchburg, Irvine, Mt. Olivet, and Paris, Kentucky you can now order all your groceries online and pick them up at a central location in your hometown. No more long drives into the city to get fresh food for you and your family. Now THAT is truly Fresh for Everyone. Thanks, Kroger. 
Learn more and place your first order at Kroger.com/hometown.