Stoops says "no excuse" for fumbles; Chris Rodriguez: "I blame myself"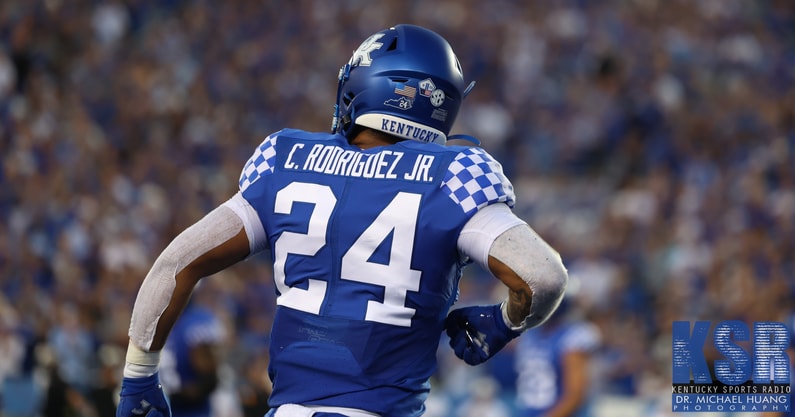 Up 21-7 midway through the second quarter, Kentucky found itself driving down the field toward the end zone for a potential dagger score going into the half against the Missouri Tigers.
With 1:48 to go in the quarter, star running back Chris Rodriguez took a handoff from the eight-yard line and pushed toward the end zone, needing to fight off just one defender for the score. Instead, the junior standout fumbled the ball into the end zone, with Missouri recovering for a touchback. The Tigers then drove down the field for a last-second score of their own, a 17-yard touchdown pass from Connor Bazelak to Keke Chism.
UK's potential 28-7 lead going into the break quickly turned into a 21-14 lead, with Mizzou set to receive the opening kick of the second half.
"No excuse"
"There's no excuse for fumbling on the six-inch line," head coach Mark Stoops said after the game. "
For Stoops, it comes down to maintaining momentum and having a killer instinct in critical situations to ice the game.
"We have to get a killer instinct," Stoops added. "When we have the opportunity to ice it — I don't want to single out any one guy, but some of those things are really pissing me off. We can't fumble the football, there's no excuse for that. We had a chance to really put a fork in them, you know what I mean? You can't do it.
"It's easy to lose momentum right there because you feel like you're in total control. Then it gets flipped on you with a minute and 56 (seconds left in the first half)."
According to Stoops, Rodriguez had "other things on his mind" while pushing toward the end zone, which sparked the brutal turnover.
"I didn't like the fumble because I felt like there were other things on his mind prior to crossing that goal line," he said.
"Shoutout to my team"
The turnover hurt, but Rodriguez says his teammates were quick to shower him with support to help him move on from the costly error.
"Nothing (was on my mind)," Rodriguez said. "It happened, me and (Kavosiey) Smoke talked about it last week. You've got to put it behind you, you've got to move forward. He came up to me today and was like, 'You've got to put it behind you, we need you the rest of the game.' I got my entire team on my back.
"If you look at the tape, everybody came up to me and said, 'You got this, we need you. You've got this.' Shoutout to my team for that, for keeping me in the game."
Given the time and moment of the game, Rodriguez knew it was a game-changing mistake, and he let his teammates know that in the locker room at halftime.
"We knew we had a lot more work to do. I blame myself," he said. "I told everybody in that locker room, 'I shouldn't have fumbled the ball, but that's on me. We shouldn't have even been in that predicament, but we were. So that's on me."
Unfortunately, that wasn't Rodriguez's only error, with a second fumble coming in the fourth quarter. Again, the standout back had the ball jarred loose close to the goal line, only this time it was recovered in the end zone by offensive lineman Eli Cox. Rodriguez has been credited with the touchdown in the meantime, but the SEC will review the play in the near future to decide who will be credited with the score.
As a reward for his clutch recovery, Rodriguez hopes Cox is ultimately credited with the score, even if he firmly believes he crossed the goal line before the ball popped loose.
"I still have more work to do"
"You can give it to Eli, let him have it. I'm not worried about it," Rodriguez joked. "Like I told Eli, that's on me, I still have more work to do, and I can't wait to put that work in. But, but… I'll let you get it, even if I think I was across the goal line."
With two costly fumbles that could have easily changed the result of the game, Stoops says the turnover issues must get fixed, and it needs to happen sooner rather than later.
He certainly has confidence in his star running back to bounce back right away.
"You know Chris and I know Chris, he'll be back and he will be a beast," Stoops said. "He'll play hard and I have all the confidence in him, but that doesn't mean we're not going to correct it. He will, he'll get it fixed."
Looking at Rodriguez's final numbers, it may have even been fixed before the game came to a close.
"You're right, he had 206 yards. I guess he got that fixed," Stoops laughed. "Those are the type of kids we have in this program, they understand. It's not about any of us, any individual. It's for the greater cause, and he understands that. We lean on him, we need him."
The gripes are nitpicky, but for good reason. Rodriguez has superstar, record-shattering potential and expectations are through the roof. He did finish with a career-high 206 yards and four touchdowns on 27 carries, after all.
But for him to be the best running back in the SEC – a feat he's clearly capable of – he's got to keep the ball off the turf.
"He'll bounce back," Stoops added. "He knows, he knows better."