Takeaways from Kentucky's Game 3 in the Bahamas vs. Carleton University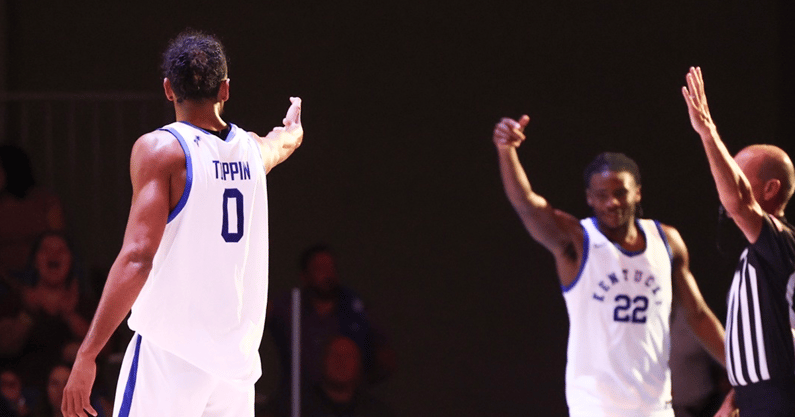 Once the UK Athletics circus closed up its tent for the day, Kentucky Basketball played its third preseason exhibition game down in the Bahamas against Carleton University and it was another 40-minute highlight reel for John Calipari's Wildcats.
Not quite the same Carleton that won four games against SEC competition from 2017-18, this Carleton team stood no chance against Kentucky as the Wildcats pummeled their opponents from Canada by 62 points, 118-56, in a second straight 62-point win in the Baha Mar ballroom.
Defense appeared to be the biggest of Carleton's problems in the mismatch, thus the 48-for-82 shooting clip from the field for UK, and it would've been even uglier if Kentucky could've converted all of its alley-oops. They'll try those again tomorrow against the Bahamas National Select Team.
For now, we have some new basketball takeaways and we'll begin with the star of the night, Jacob Toppin.
Jacob Toppin showed it all
Throughout the summer, there has been buzz about a new and improved Jacob Toppin on campus after he tested the NBA waters for seven weeks in the spring. On Saturday, the new Toppin showed off all of his improvements with a 27-point performance on 11-of-14 shooting from the field.
But here's where it gets really exciting. The high-flying Toppin didn't just dunk all over his outmatched opponents; he hit five 3-pointers on only six shots from outside, sending Big Blue Nation into a frenzy about the potential of a stretch Toppin knocking down outside shots consistently. If he can do anything close to what he did against Carleton, he's due for a breakout year in college basketball and will be a difficult matchup for anyone trying to both respect the shot and stop his athleticism. Even before Toppin went off, Dane Bradshaw said he thinks he will be the best two-way player in the SEC.
Who knows, maybe Knicks' broadcasts will be saying Obi is Jacob's brother this winter.
Antonio Reeves is climbing the rotation
Also with five 3-pointers in the game, Antonio Reeves, the new transfer from Illinois State, continued his outstanding Kentucky debut in the Bahamas. Reeves now has 10 3-pointers in three games down in Paradise and he may have already played his way into a starting role once the action gets real in a couple of months. His shot is smooth, he can handle the ball, and he gave Carleton 23 tonight to bring his scoring total to 46 in three games.
If you're wondering what Calipari thinks of Reeves, he'll tell you if you can read lips.
Oscar Tshiebwe had to sit or the Carleton players might've quit basketball
How's this for a stat? Oscar Tshiebwe was a +54 when he was in the game. The reigning National Player of the Year had eight points and 13 rebounds in 22 minutes played, one missed dunk from another double-double on the mantle.
Calipari mixed up the starting lineup again
Continuing the plan of a different starting five each night, Kentucky began the game with Cason Wallace running the point instead of Sahvir Wheeler (more on that in a moment) with CJ Fredrick, Chris Livingston, Jacob Toppin, and Lance Ware.
For Ware, it was his first game back since he sat out Thursday with a minor shoulder issue. Still, he played only 13 minutes from the tip, probably because it was an instant blowout.
G – Cason Wallace
G – CJ Fredrick
F – Chris Livingston
F – Jacob Toppin
F – Lance Ware
Though Calipari likely set the starting lineup before he took his seat in the crowd, new assistant KT Turner served as the team's head coach in the game. Congrats on 1-0!
Cason Wallace is awesome
It took all of a minute into the game for Cason Wallace to do Cason Wallace things in his first assignment as the team's starting point guard. The rare freshman guard with a commitment to defense, Wallace picked Carleton's pocket for the first points of the game.
Later in the game, he hit back-to-back 3-pointers for more of his 15 points in the game on 6-of-9 shooting from the field (3-4 3PT).
Wallace also had four assists, three rebounds, and FIVE STEALS, all in only 19 minutes played.
Kid's going to be special.
Sahvir Wheeler played great too
The returning starting point guard on the team, Sahvir Wheeler, had a night with 17 points and six assists off the bench, plus some flashy new moves in the process. Anybody got a replay of that crossover?
Need that 3-ball to fall, though. He missed his two tries tonight.
Carleton hadn't lost like that since 1966
From Mark Colley, who covers Carleton Basketball:
We want the NYS Teachers College!
Up next: The Bahamas National Select Team
Bring it. Select anybody you got. DeAndre Ayton, Buddy Hield. Rick Fox still got legs? Bring everybody because Kentucky needs some competition.
Tip-off is at noon. Hopefully we can enjoy a Sunday without drama.