Team USA Survives Major Scare from Lithuania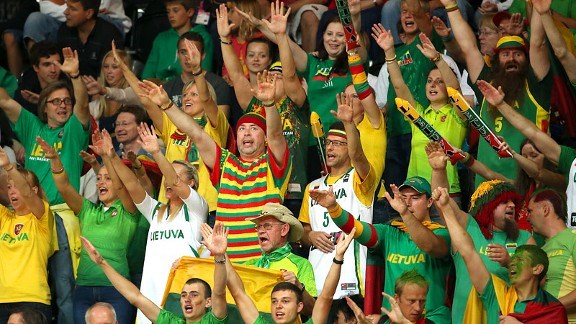 Team USA faced its first major challenge in the Olympic Games this morning against a Lithuania team who would not go away.
 Team USA survived in a 99-94 win. Two days ago, Team USA lived (thrived? obliterated the competition?) by the three pointer. This morning, they nearly died by the three pointer. At one point near the end of the 3rd quarter, the USA had only hit 2 of its last 19 three point attempts. In the fourth quarter, Team USA began to connect from long distance just enough, enabling them to pull away. Lithuania seemed to score at ease around the basket early, which led many Kentucky fans to take to Twitter wondering if a shot-blocking presence such as Anthony Davis might help defensively.
Alas, Davis didn't see the court in a game that was too close for comfort from beginning to end.
If this stat isn't an indication of the kind of game it was...Coach K called his first timeout of the entire Olympics midway though the 4th quarter when Lithuania pulled within 1 point. Team USA was able to pull away in the end but not without receiving a genuine scare from Lithuania. Carmelo Anthony led the way again in the scoring column for the United States, scoring 20 points. LeBron James showed up big late in the game and also dropped in 20 points.
Following a string of Olympic games in which Team USA faced little to know resistance, Lithuania proved that the United States is certainly not invincible
. Call it a perfect storm of Lithuania playing the game of their lives and Team USA being consistently off the mark from behind the 3-point arc, but either way...Lithuania almost pulled the upset. Is anyone a little more worried about the likes of a team like Spain moving forward? Or was this a wake-up call for the star-studded United States team?