That time Scott Satterfield whined about L's Down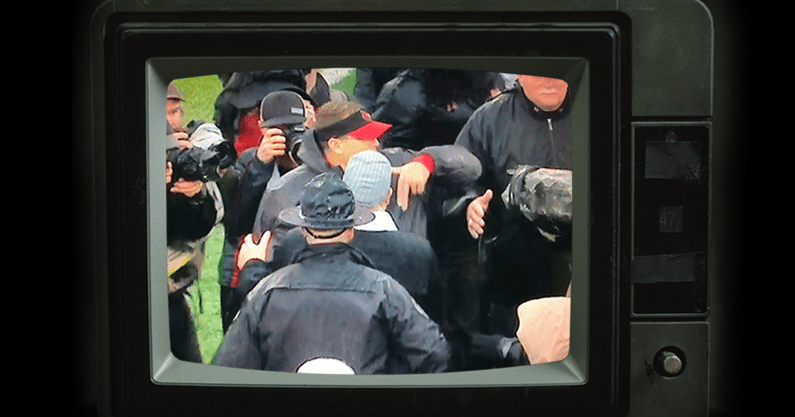 The last time the Louisville Cardinals came to Lexington for the Governor's Cup, the year was 2019 and Scott Satterfield was in his first season as head coach; a fresh start for the Birds following the Bobby Petrino 2.0 era of UofL Football.
No stranger to a good rivalry game, Satterfield was hired away from Appalachian State, where the bitter rival is Georgia Southern and the annual rivalry game is called "Deeper Than Hate." Satterfield embraced that Sun Belt animosity, even telling his App State team, "Every single time, every year rolls around and we play these guys, there's hate. I don't hate anybody. I'm a nice guy. But I hate these guys."
Before his first Governor's Cup, Satterfield admitted he was well aware of the hatred at his new gig between in-state rivals Kentucky and Louisville. "It was indicated pretty early on," he said in his pregame press conference. "It's been interesting over the last 10, 11 months to see how much passion is between the two schools."
But once Satterfield hit the Governor's Cup battlefield for the first time, it was clear he wasn't built for the back-and-forths that have existed in the game since the beginning of time. (Remember, the 2017 game had a trash can as a weapon.) Because after the Cardinals got their teeth kicked in by a wide receiver playing quarterback, Satterfield asked to speak with a manager–in this case, Mark Stoops–to complain about the in-game and postgame taunting from the home team.
Some might even say he "found out."
In the postgame press conferences, it was revealed that Satterfield was pointing out to Stoops which of the UK players did the L's down hand gesture, a non-issue for Mark Stoops. Stoops said afterward, "I don't know, if an L's down is going to offend them… There's going to be a lot worse in this rivalry over time."
Looking back, Stoops called his shot because, after a pause in the rivalry for the conference-only COVID season, it got worse for Louisville in 2021 when Kentucky hung 52 points on Louisville in Cardinal Stadium.
Run it back tomorrow? The Wildcats average 51 points per game in three consecutive Governor's Cup wins.
A photo gallery of L's Down for Scott