That's one way to contain Josh Allen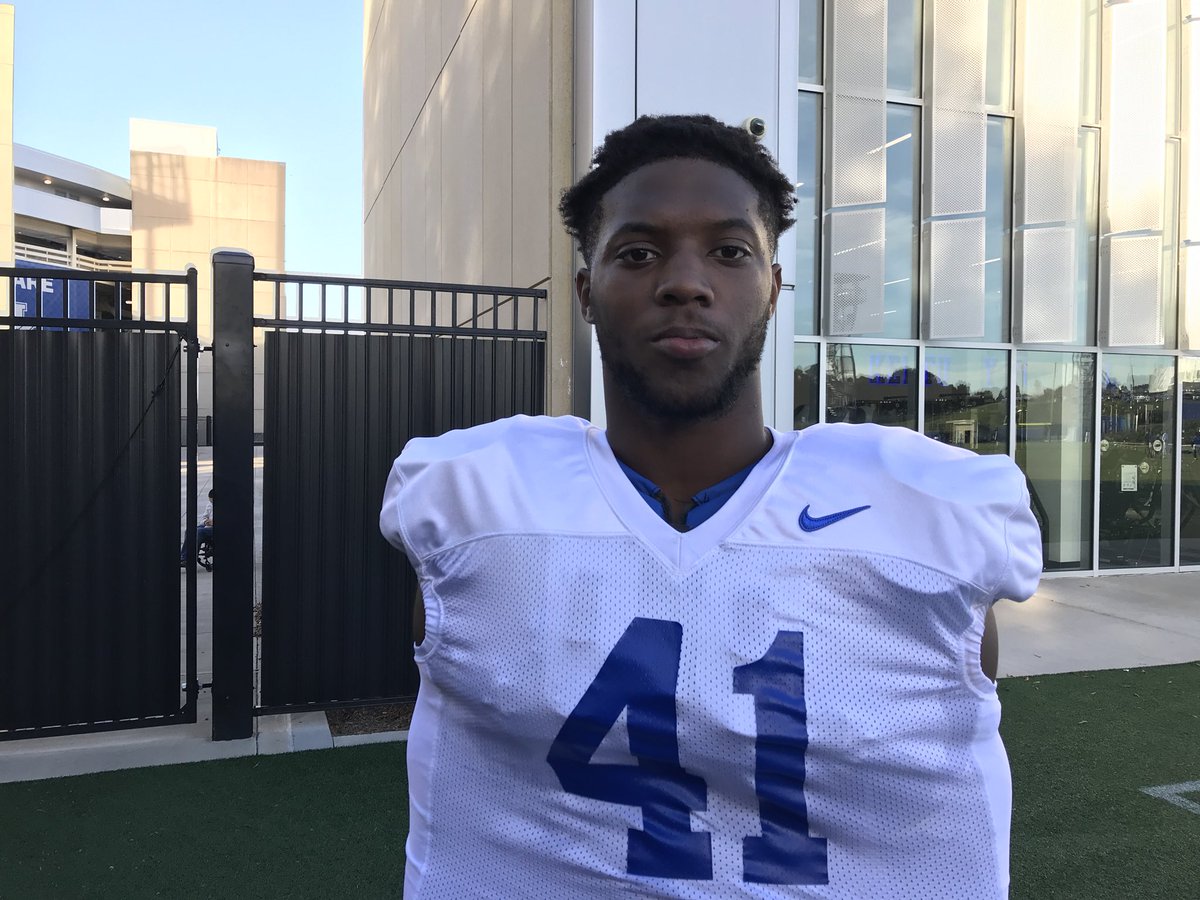 Kentucky's star edge rusher has dominated opponents all season.  The only thing slowing him down are the officials who refuse to throw flags for holding.  He might be slowed down if he takes a similar approach to stay warm Saturday night. Here's what Allen and other members of the defense had to say after Wednesday's practice.
Strong Second Half
Allen had excellent numbers in the first half of the 2017 season, but they dove-tailed down the stretch.  One reason why he returned to play in 2018 was to prove he can be the best of the best for an entire season. "I feel great right now," Allen said.  "This is one of the reasons why I decided to come back, to finish; start the season out good and finish even harder.  I'm here to prove a point that I can finish a whole season because last year I ducked off on my productivity.  I'm trying to double what I had in the first part of the season." https://www.youtube.com/watch?v=QQ5XcXPU8dY
Letting a Loss Linger
After two days at practice, I've picked up on the vibe that the A&M loss is still weighing on the Wildcats, but in a good way. Coaches always urge their players to have a short-term memory, but that memory might be a good thing to hang on to if it throws fuel on the fire. "It pissed us all off," Kash Daniel said.  "We knew how hard we worked throughout the season and in the weight room in the winter.  It came down to missed opportunities for us and that's something we'll never let slip through our fingers again." "
Vandy, we got something in store for 'em
," said Derrick Baity. The Cats have brought it everyday in practice.  The wait is the hardest part. "The way we practiced between the past two byes has been completely different," said Daniel.  "This week it's a different mentality.  We came in with high energy, high focus and we're ready to play on Saturday."
Quarterback Baity?
I don't think so, Tim. https://twitter.com/RoushKSR/status/1052695010011951104 After his touch football interception, Baity said, "quarterback's harder than it looks."  His position coach, Steve Clinkscale, told him he should've been playing center.
A Proud Big Brother
There are few things Kash Daniel loves more than boasting about Chris Oats.  Whenever he's asked about the true freshman linebacker, Kash cannot hide an ear-to-ear grin. "I was really proud of Chris.  Chris is like my little brother.  I'm really excited to see Chris grow as a player, not only that, but as a man here.  He's a great kid and always fun to be around.  When he got his number called, he didn't flinch.  He was never anxious. He was never nervous. He would ask me questions to make sure he was on point when he was out there playing.  I think he stepped up and did a tremendous job for us and I can't wait to see him progress." https://www.youtube.com/watch?v=PoNDO9MwlYE
Communication: Major Key
Is 'Major Key' still a thing?  Is DJ Khaled still hip?  I can't keep up.  I digress. UK's defensive numbers have been incredibly impressive, but there's still room to improve.  Over the bye week communication was a point of emphasis, one that should prevent big plays from Vanderbilt's explosive offensive playmakers. "We gotta get our communication down better and make sure everyone is on the same page before the ball is snapped.  Ultimately I think that's more than half the battle when you're talking about limiting explosive plays." Kash added: "Communication is key on defense.  If you're in a coverage and you ain't got the right checks from the secondary, you're not giving the right checks to the D-line or outside backers, it screws up the whole defense."
Are people throwing away from Baity?
The UK cornerback did not want to comment on the matter, which means, "Yes. Definitely yes."  Hear everything he had to say today: https://www.youtube.com/watch?v=-14wYmk1c68 [mobile_ad]