The Cats Win; Move to 3-3
[caption id="" align="alignnone" width="2048"]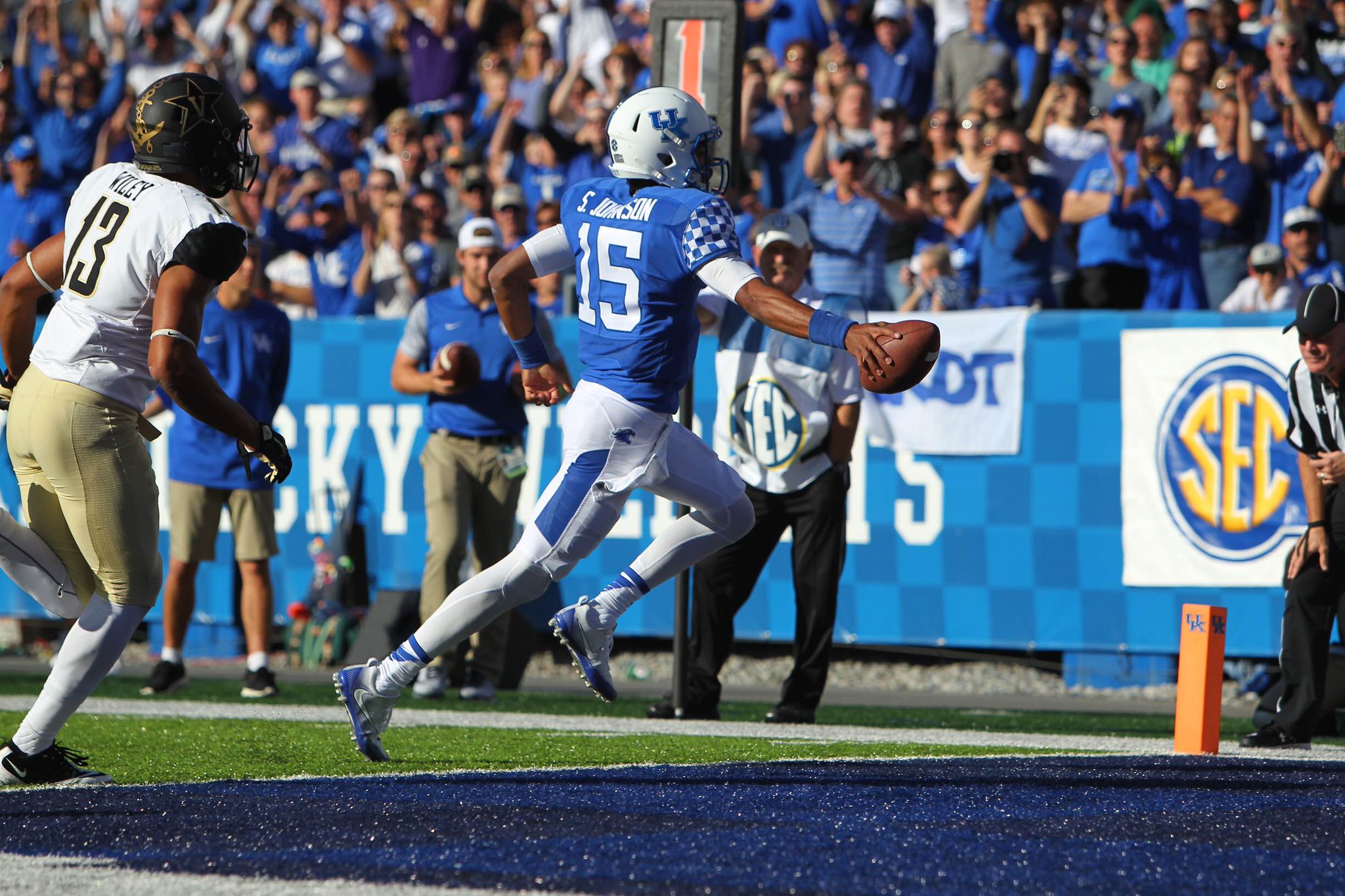 Photo by UKAthletics.com
[/caption]
The primary role of a backup quarterback is to win winnable games.
QB Stephen Johnson certainly hasn't won any beauty contests as the Wildcats' reserve signal caller; but he's now won 3 football games (2 in SEC play) while filling in for injured starter Drew Barker. UK's regenerated and youthful defense allowed just 2 field goals and showed continued structural soundness. The Cats are 3-3 as it enters a well-deserving bye week before the limping Mississippi State Bulldogs come to town.
Let's take a look at the Cats and Dores:
OFFENSE
Kentucky heavily relied on its physical rushing attack while rolling up 258 yards and 2 touchdowns on the ground.
QB Stephen Johnson was ineffective
as a passer:
10-24, 49 yards, and 1 INT. The junior influenced the run game through scrambles and designed plays: 10 carries, 55 yards and 1 touchdown.
Stephen Johnson must improve his passing prowess if he is to continue to be the starting quarterback.
However, for proper context Kentucky's starting quarterback was 10-26 against this Vanderbilt team in a loss year ago. He finished the game with a 3.8 QBR. I'm by no means defending Johnson's inability to complete a forward pass on Saturday. Kentucky's air game was at times disturbing and surely troublesome. In 3 wins, Stephen Johnson has completed 56% of his passes. Passing numbers in those victories are: 38-67, 3 INT, 3 TD, 495 yards. Rushing: 33 carries, 141 yards, 2 fumbles, 1 TD. Boom Williams, JoJo Kemp, and Benny Snell are proving to be a formidable and productive trio. However,
UK has zero chance for postseason football if its offensive approach continues to be one dimensional.
-- 
Benny Snell is becoming a star in the eyes of the Big Blue Nation.
The true freshman carried the football 20 times for 94 hard-fought yards. Rarely does the first opposing tackler take the Ohio native to the ground
. There seems to be an increased level of confidence when Benny Snell is on the field.
-- Boom Williams was successful early with 9 carries for 59 yards. But, an untimely and costly 3
rd
quarter fumble resulted in a Vanderbilt touchdown. Boom has proven to be resilient
. RB carries are going to be competitive down the stretch.
-- JoJo Kemp resurfaced as a threat: 12 carries, 55 yards, and 1 TD. He and Snell excelled in the Wildcat formation as both had significant runs throughout critical situations of the football game. -- Offensive line rotated throughout the game. The second unit comprised of: LT Landon Young, LG Logan Stenberg, RG Ramsey Meyers, and RT George Asafo-Adjei led the way during both touchdown drives.
The group's physicality and execution were obvious as the
Wildcats finished the game with 258 rushing yards.
It also did not allow
a QB sack.
For comparison purposes; John Schlarman's collection of big fellas statistically outplayed Vanderbilt's prior opponent, the Florida Gator OL. VU limited Florida to 236 total yards (92 rushing) while sacking the Gator's QB twice.
Points: 20
Total Yards: 307
Rush: 258
Passing: 49
Time of Possession 32:44
3rd Down: 4/15
4th Down: 3/3
DEFENSE
The Kentucky linebackers played their best game of the season. Same can be said of NT Naquez Pringle. Courtney Love was vastly improved in providing pursuit against the cutback run. Mark Stoops' defense has been overwhelmingly upgraded over its last 14 quarters.
His rejuvenated and physical D has also allowed just 23 points during its two SEC, home wins over South Carolina and Vanderbilt.
  -- OLB Josh Allen is growing up in front of our eyes. The true sophomore totaled 6 tackles, 1.5 tackles for loss, 1 QB hurry, and 1.5 QB sack. -- Denzil Ware is UK's designated pass rusher as he continued to be impress vs. Vandy. Ware's numbers:
6 tackles, 2.5 tackles for loss, 1 QB
hurry, and 1.5 QB sacks.
-- Mike Edwards was the team's leading tackler with 8 total, 1 TFL. -- Cornerback Derrick Baity was the 2
nd
leading tackler with 7. -- LB Jordan Jones tallied 5 total tackles
, 1 TFL, 2 QB hurries, and 1 QB sack.
-- CB Chris Westry showed improvement vs. the run; 5 tackles. -- As listed above,
Kentucky's top 5 statistical, defensive players were all sophomores.
-- RB Ralph Webb rushed for 100 yards off 18 carries. The SEC's leading rusher was averaging 116 yards per game.  
Points: 13
Total Yards Allowed: 282
Rushing: 141
Passing: 149
Time of Possession 27:16
3rd Down: 3/12
[caption id="attachment_208604" align="alignnone" width="1500"]
Photo by UKAthletics
[/caption]  
SPECIAL TEAMS
Kentucky disappointed in the 3
rd
phase for the first time of the season.   -- VU kick returner Darius Simms had 3 returns for 109 yards including a
65 yarder.
-- Punter Sam Loy bobbled two snaps. Kentucky did not capitalize including one that appeared to be a certain block. -- Vanderbilt punt returners muffed two catches; one resulted in an Eli Brown fumble recovery. The other bounced directly into and out of JD Harmon's hands. Somehow, someway the Commodores fell on the football. -- Punter Grant MacKinniss averaged 36.2 yards per punt; 5.4 yards fewer than his season average. -- Kicker Austin MacGinnis connected on 46 and 28 yard field goals.   There is no such thing as bad SEC win. Aesthetically unimpressive, but UK lives to fight another day and is 3-3.