The Five Stages of Grief in Kentucky Football
  As I struggled to pay attention to the football game today, I realized something: I was watching the game with all the emotion of a completely uninvested third party observer, rather than from the perspective of a Kentucky fan who cares about the team and its success. After thinking about it for a bit, I came to the conclusion that Kentucky football is essentially dead and buried (for this season, at least), and
as a fan watching its slow and painful demise, I have already progressed through the five stages of grief in Kentucky football 2012.
Let's pinpoint when and where each stage occurred:  
1. Denial: Kentucky 47, Kent State 14
Okay, so we lost to Louisville. No big deal. We were the underdogs in this game, and at this point in the season, UL is still somehow undefeated and ranked in the top twenty. Plus, we won the game we were supposed to and in the fashion we were supposed to. Our quarterback Maxwell Smith had 354 yards passing with four touchdowns, Raymond Sanders had 115 yards rushing, and Aaron Boyd hit his Dougie catching 11 passes for 100 yards- our offense had its best performance since playing Vandy in 2010. Maybe this is our year! Maybe we'll win seven games! Maybe Joker will finally live up to his coaching potential and we'll return to a bowl game!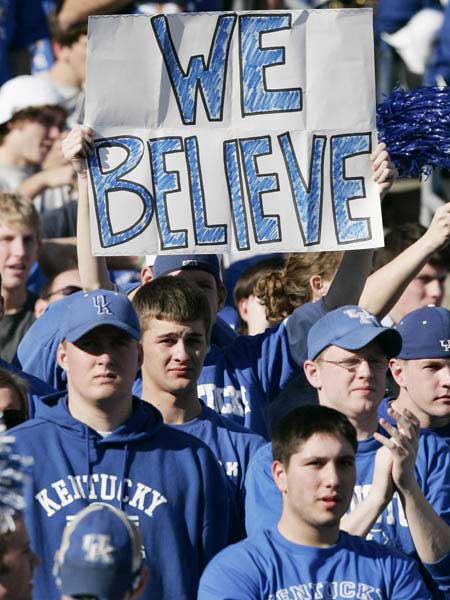 2. Anger: Western Kentucky 32, Kentucky 31 (OT).
What. The. Hell. Losing on a trick play, at home, to a team we had previously written off as the third best in the state? How does that happen? We may be Kentucky, but we should NOT be that bad. The collective rage felt in the Commonwealth after that final play was enough to power Rupp for a year.  
3. Bargaining: South Carolina 38, Kentucky 17
Well, okay. So we put together one half of SEC quality football against the number six team in the nation. Winning the first half 17-7 is a moral victory. Right? And if the football gods had to take Maxwell Smith and his left ankle, well, at least freshman Jalen Whitlow played relatively well in his first big stretch of playing time as a SEC quarterback, going 12-23 for 114 yards. We're Kentucky fans. We'll take what we can get.  
4. Depression: Arkansas 49, Kentucky 7
I don't think there's anything more disheartening than getting manhandled by a horrible team, on the road, in the rain, and then having the game called in the third quarter. The message being sent was "Well, that lightning doesn't look too friendly, and let's face it, Kentucky's not going to win anyway, so let's get an early start on the road home." In the first half alone, Arkansas had 444 total yards to Kentucky's 88. No one had any faith in the Cats at this point. Absolutely no one. Cue Boyz II Men "End of the Road" playing in Joker's office.  
5. Acceptance: Missouri 33, Kentucky 10
This was it. This was the Cats' legitimate chance at a victory in the SEC. A loss today essentially ended Joker's career at Kentucky. By inexplicably putting Towles in (and burning his redshirt) after Whitlow had had two successful drives, Kentucky's offense lost any rhythm it might have had. On defense, freshman J.D. Harmon managed two interceptions in Missouri territory- yet we couldn't convert the steals into points. After those interceptions, the previously injured Missouri quarterback James Franklin came in basically just to stretch his legs and get some light exercise for the afternoon. That's when I knew it was over.   Not to rub salt in the wound, but
with today's loss, the Wildcats' overall football record fell to 579-580-44-
the first time we've been under .500 since losing to Transy (heyyyyy alma mater!) in 1902 to make our record 44-45-6. Yes, there are still three games left- all winnable. However, at this point,
I'm not so sure that even winning out would be enough to consider this season anything other than lifeless.
With the five stages of grief behind me, I'm ready to move on to next season- and after reading your comments and listening to the radio show, it appears that the rest of Big Blue Nation is ready too.  
@KristenGeilKSR