The Tennessee Titans' Thursday Morning Wakeup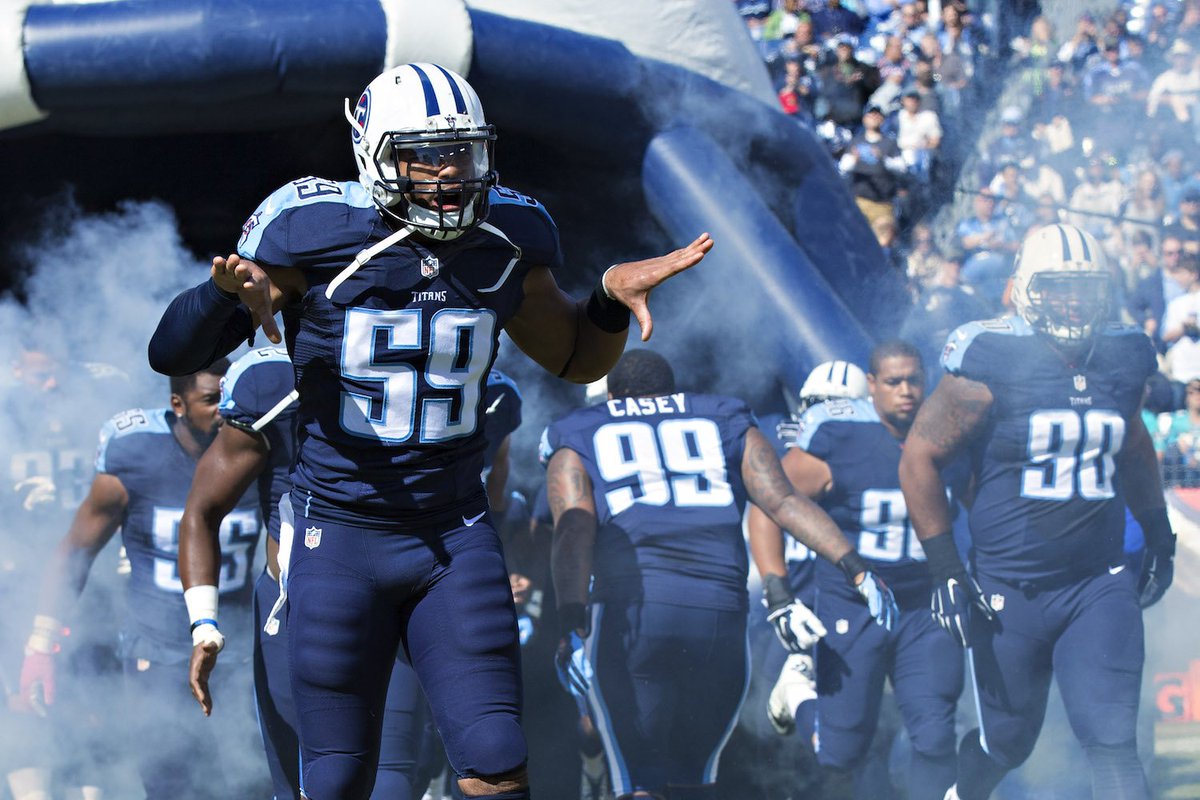 I probably shouldn't admit this publicly, but here it goes --
I'm a huge Tennessee Titans fan
. There. I said it. I'm a big Titans guy and I am fired up for this season when I really shouldn't be. I've got a new Wesley Woodyard jersey, I coughed up the $200 for NFL League Pass so I can watch the first two games before I quit caring, and I'm throwing a party at my house on Sunday that currently has zero guests other than me expected to attend. (More buffalo chicken dip and jalapeno poppers for me!) But I don't care because I'm ready for Titans football, maybe more this year than ever before in the post-McNair era. (Rest in Peace, Steve.) And yes, I know they're going to be really bad and miss the playoffs and break my heart and probably win like five games if they're lucky, but I haven't been this excited for something in a long time. Mariota! Murray! Walker! Williamson! Woodyard! Henry! So I ask you, KSR Nation, if there are any other Titans fans out there, please show your face. Be my friend, because I don't think there are many of us out there and Lord knows we need each other. And before someone makes the comment, I'll go ahead and say it first: For a guy who loves football more than basketball, there's nothing worse than being a Kentucky/Titans fan. It's the life I chose. Now let's talk UK stuff...  
Mark Stoops to speak today.
We'll get one more update from the football program before the team packs up its equipment and heads to Gainesville for Saturday's game. Coach Stoops will speak to the media after today's practice Thursday evening to review the week and likely give us an injury update on Blake McClain, who Kentucky desperately needs back at safety.
I've now watched the Southern Miss game four times.
I don't know why I punish myself, but I have now seen the Southern Miss game three more times than anyone should. The first 29 and a half minutes were so much fun; the last 30 and a half were not.
Denzil Ware called a players only meeting after the loss.
Courtney Love told reporters Denzil Ware called a players only meeting after the Southern Miss loss to let everyone know they are better than how they played in the opener. To recap, it's been one game and they're already calling players only meetings.
Mark Stoops said they will use more guys on the defensive line.
He named Naquez Pringle, T.J. Carter, Tymere Dubose and DeNiro Laster as four guys who will see an increased role against Florida. "We played our starters too much," Stoops said of the rotation in the first game. They will now try out the depth in the front seven to keep from overworking the starters again.
There are four Wildcats leading the SEC.
Jordan Jones: 19 tackles (leads nation) JD Harmon: 2 interceptions Drew Barker:  323 yds, 222.2 QBR Garrett Johnson: 143 rec yds
How about that new podcast intro?
I must say, I'm pretty impressed by the new KSR Football Podcast intro that Nick made, considering Nick rarely remembers to bring the equipment, and when he does, he forgets to turn his own mic on. My man is really taking this podcasting gig seriously now that the season is rolling. You can hear the new pre-Florida episode
here
.
Tim Tebow signed with the Mets.
The New York Mets have signed Tim Tebow to a minor league deal, the entire reports today. It's Tebow's second time with a New York team -- he was the backup QB for the New York Jets in 2012. Try to keep it in your pants today, ESPN.
Tiger Woods to return in October.
He plans to play in the Safeway Open on October 13-16. HE'S COMING BACK!!!!