The Wooks' Wednesday Morning Wakeup
While I am not a big fan of country music, I do love bluegrass, so when I received a tip yesterday about a Kentucky bluegrass band making some noise on a national level, my ears perked. You're looking at
The Wooks, an up-and-coming group from Lexington
, and this past weekend, they won first place at the prestigious 44th annual RockyGrass Bluegrass Festival in Lyons, Colorado. The band is comprised of CJ Cain (guitar), Galen Green (mandolin), Arthur Hancock (banjo), Roddy Puckett (bass), and Jesse Wells (fiddle), and not only did they win the overall competition, Green and Wells received runner-up honors in the mandolin and fiddle categories. I'm not well-versed on my folk music festival competitions, but this is apparently a huge honor; definitely one worthy of a morning wakeup post dedication. Congrats, guys. The Wooks describe their sound as a mix of traditional bluegrass and mountain music, with threads of singer-songwriters, rock, and jam bands woven through. To learn more about them, check out
their website
and
Instagram page
, which includes a shot of this awesome shirt which I need to own: https://www.instagram.com/p/BDGchfKr79Q/?taken-by=wookoutamerica Hit play on this video and let the sounds of The Wooks take you through today's agenda: https://youtu.be/SwjJgBw4Wtw
(Someone complaining about the Bernie shirt in 3...2...1...)
ICYMI, Mark Stoops got a commitment yesterday
Cedrick Dort, a 6'1" cornerback from South Florida, committed to Kentucky yesterday over Cincinnati, Iowa State, Rutgers, South Florida, Syracuse, Wake Forest, and Wisconsin. The 6'1" Dort is considered a three-star by 247 Sports and a two-star by Rivals. He's Stoops' 12th commitment in the 2017 class.
Karl Towns is back in Lexington
Karl's is back in his old Kentucky home to host his "Rookie of the Year" camp at the Joe Craft Center today, and will speak to reporters around 10:30 a.m. We'll have highlights from his press conference, but if you want to see Karl yourself, head on out to All Sports in Fayette Mall tonight: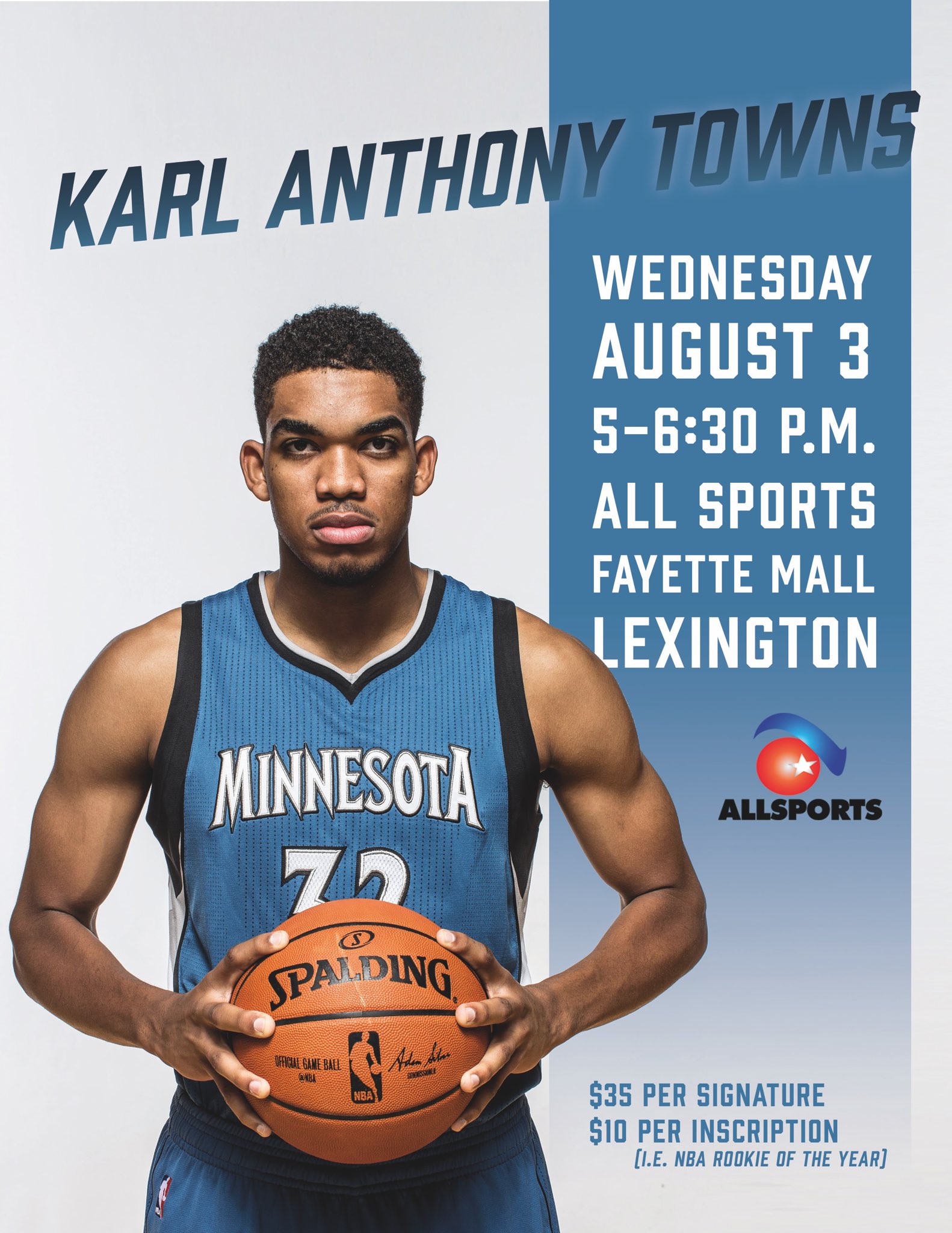 Calipari showed the team the dribble drive last night
If I had a nickel for every time Calipari says his team's going to run the dribble drive and they never do, I'd have...well, at least ten dollars, but regardless, Cal showed them how it works last night. That's all fine and well, but I'm more excited about De'Aaron Fox's defense in this clip: https://www.instagram.com/p/BIn7zfdDK3e/ Giggity.
Players report to fall camp tomorrow
The first practice is Friday, and to prepare, the UK Turf crew put down lines on the new practice fields:
Friday...

We're Back. 🏈 #UKCamp pic.twitter.com/nt45MRn9z1 – UK Stoops Troops (@UKStoopsTroops) August 2, 2016
It's beginning to look a lot like football...
I finished Stranger Things
And it is so, so good. On Monday, I wrote about Netflix's original series in depth, but I'm even more impressed after finishing it up last night. While the 80's nostalgia was the first thing I loved about the show, the storyline itself got better as the show went on, and while the finale was satisfying, the door is still wide open for season two. Speaking of those 80's movie references, check out this supercut (obviously don't watch if you haven't seen the show yet): That'll do, friends. Go make the most of your Wednesday.