The World Chicken Festival's Saturday Morning Wakeup
If it's a great day for football, it's great day for fried chicken. For those who can't be in Lexington for tonight's game against South Carolina, the only other reasonable alternative is the World Chicken Festival in London, Ky. The four-day festival reaches its peak today, beginning with the Grand Festival Parade at 10:00 a.m.  Before Brett Michael takes the Stage of the Stars tonight at 8:00, visitors can enjoy carnival rides, face painting, "egg-citing" games and delicious chicken from the world's largest stainless steel skillet.  The 700 lb. skillet has a diameter of 10 ft. 6 in., it sits 8 in. deep and has an 8 ft. handle. [caption id="" align="alignnone" width="596"]
YUM[/caption] My mouth is watering just thinking about the friend deliciousness.  If somebody chooses to volunteer to make the drive up I-75 for a special delivery to the press box, I would not be opposed.
Kentucky is a 3-Point Favorite Over South Carolina
Kentucky will try to beat an SEC opponent not-named Vanderbilt three times in a row for the first time since 1959.  Even though the Cats didn't look pretty in their first win of the season, and the starting quarterback is out for the year, the Cats' offense should have enough firepower to salvage the season with a "must win, can't lose" victory.
Something's Got to Give
Today's greatest matchup is a battle, a battle of who sucks less: South Carolina's offense or Kentucky's defense.  A closer examination at the suck:
* Yards per game (national ranking)
Kentucky does have something working on its side: the Wildcats rank sixth nationally in interceptions with six on the season.  If Kentucky can win the turnover battle, I'm confident they can walk away with a win.
Six New Members Joined the UK Hall of Fame
[caption id="attachment_207736" align="alignnone" width="2048"]
UK Athletics
[/caption] The UK Hall of Fame added six new members last night.  James Johnson (wrestling), Molly Johnson-Belcher (softball) and Bernadette Madigan-Dugan (cross country/track and field) joined the elite community, but you're probably more familiar with Rich Brooks, Wesley Woodyard and Chuck Hayes. Woodyard began his speech by quoting his old coach, "It's a great day to be a Wildcat!"  I hope he's right.  The Tennessee Titan will be able to stay in town long enough to join the Hall of Fame class on the field at halftime.
Friday Night Football Scores
Mayfield 35, Corbin 34
Franklin-Simpson 30, South Warren 24
North Bullitt 21, Bullitt Central 14
Greenwood 45, Glasgow 12
McCracken County 62, Daviess County 20
John Hardin 42, Meade County 21
St. X 27, PRP 17
Tates Creek 48, Bryan Station 27
Lafayette 55, Henry Clay 6
Pulaski County 28, Madison Southern 14
Harlan 25, Middlesboro 14
A Gut-Punch to Start the Day
The College Gameday signs have not been friendly to Kentucky. [caption id="" align="alignnone" width="900"]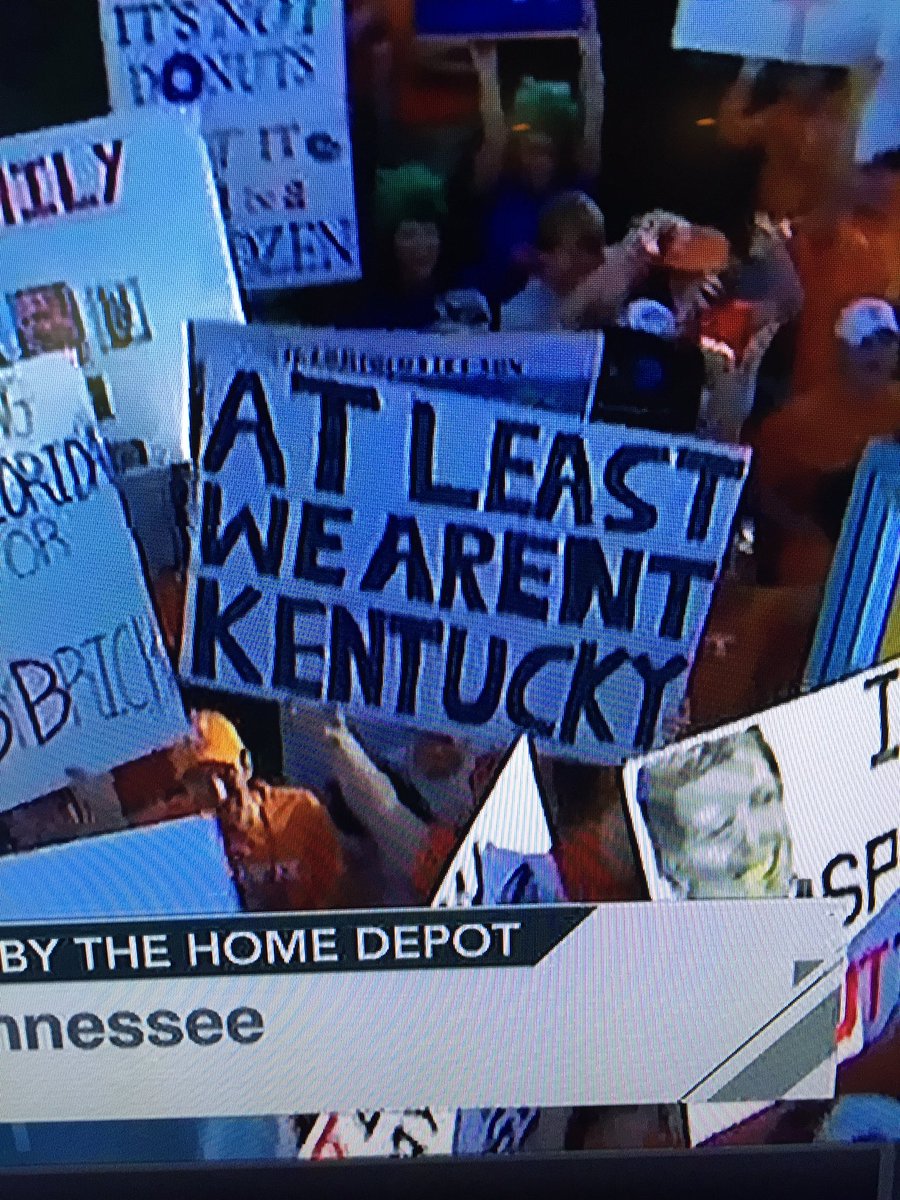 @JD_Coffey[/caption]
Watch Out Versailles Kroger
Freddie Maggard has been touting the Versailles Kroger as the happiest place on earth, but it has new competition.  The new Super Kroger on Dixie Highway may not have as much square footage, but pound for pound, it has more stuff than I could ever need.  Most importantly, it has a wine and spirits shop with a built-in bar.  That's my kinda grocery store.
Night Racing Begins at Churchill Downs
I'm not trying to give you more excuses to not go to the UK game, but if UK was playing at noon, this is where you'd find me.  Not only does it feature the usual booze and gambling, it's got good music too.  The
America's Got Talent
stars from Louisville, 
Linkin'
Bridge, and the uber-talented Lexington cellist, Ben Sollee, will be performing.  #FOMO
Between Two Ferns is the Best
https://www.youtube.com/watch?v=xrkPe-9rM1Q "What's the best way for me to reach you, e-mail?"
College Football Scoreboard and Schedule
The KSR Pregame Show Starts at 3:30
With a pleasant day of weather ahead, join us at the Bluegrass RV Lot near Nicholasville Road to get gameday going.  Freddie Maggard and Christi Thomas will have a few special guests on the Countdown to Kickoff beginning at 5:30 that you can see live after the Cat Walk, which is slated to begin at 5:15. Cats by 90.