There's No Over-Looking Mississippi State for Kentucky Football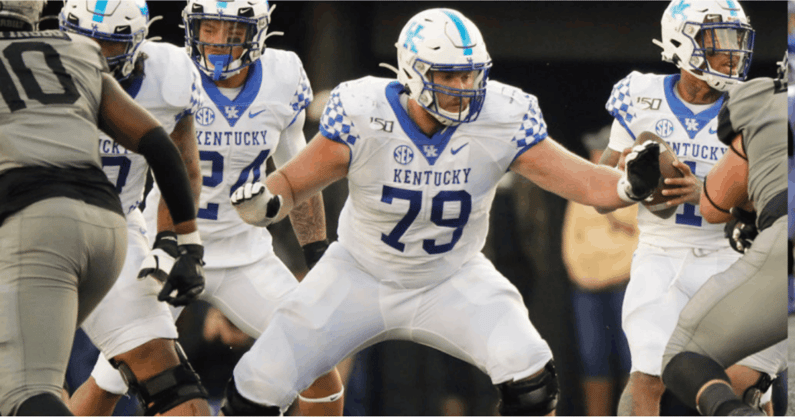 You don't need me to tell you what's a stake for Kentucky football–11-1 with an outside shot of the College Football Playoff and a lock for a New Year's Six bowl game. The folks in the Kentucky Football facility don't need anyone to tell them that either. They, like all of us, know what's on the table. However, that can't be accomplished until Kentucky wins in Starkville, something the Wildcats haven't done in over 12 years.
Despite being ranked 12th in the country and off to the best start since the 1950s, Kentucky has been in this spot before. It wasn't all that long ago Kentucky was a one-loss team headed to Starkville, Mississippi, after the bye week. That year was 2017, and the result was ugly. A Stephen Johnson, Benny Snell-led Kentucky offense could only muster seven points in a 45-7 loss that crippled the rest of a 2017 season that saw Kentucky go from 5-1 to 7-6.
Facing what's in front of you
Sixth-year senior Luke Fortner jumped on the latest episode of Pin It Deep to emphasize that, unlike in 2017, Kentucky knows not to look past the Bulldogs.
"I just think the players are different," Fortner said, comparing this year's team to 2017. "Not that we had bad players, but everyone on this team knows…like you were saying, we know we can go 11-1, right? We all know that's a possibility."
Despite knowing Kentucky can go 11-1, the one-week mentality is a genuine philosophy Kentucky has adapted in 2021. Flashback to not even a month ago, the 'Cats are on the biggest high after knocking off 10th-ranked Florida, but we all knew a very capable LSU team was lurking around the corner. Through numerous media appearances, head coach Mark Stoops said when he came in that following Monday that his guys were locked in on LSU, which led to a 42-21 thrashing of the Tigers.
Now, after a bye week and playing in the biggest game in college football, the Wildcats will have the same approach heading into Mississippi State week knowing they have a healthy task ahead of them.
"You have to have a fine line of knowing that's a possibility and also not looking ahead," Fortner said. "Just the fact we know it (going 11-1) is a possibility is going to give everyone that extra motivation they need. This week, it's like, the only way to get to 11-1, is to get to 7-1. So I think that's the difference between now and 2017."
We'll see how focused the 'Cats are when they kickoff in Starkville Saturday at 7:30 pm ET on the SEC Network. While you're here, check out Luke Fortner's fantastic appearance on this week's episode of Pin It Deep.