Three Kentucky softball players earn First Team All-SEC honors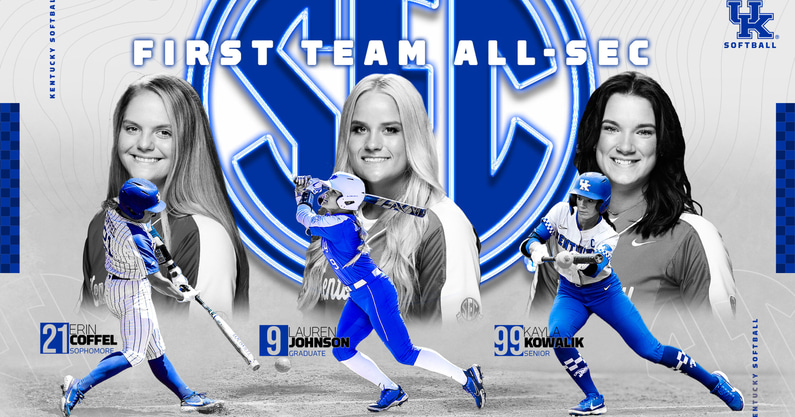 The Kentucky Softball team had six different student-athletes named to eight postseason honors, the Southeastern Conference announced Friday morning. The SEC postseason honors are voted on by the SEC head coaches. 
Three Kentucky players were named First Team All-SEC, including Erin Coffel, Lauren Johnson and Kayla Kowalik – all three of whom were named first team all-conference for the first time in their collegiate careers. 
Renee Abernathy and Tatum Spangler were voted Second Team All-SEC, with Abernathy also taking home SEC Scholar-Athlete of the Year, which was announced Thursday prior to UK's quarterfinal game in the SEC Tournament. 
Kentucky placed three on the SEC All-Defensive Team, including Spangler (P), Kowalik (C) and Rylea Smith (RF).
Arkansas' KB Sides was named the SEC Player of the Year, Auburn's Bri Ellis was voted as the SEC Freshman of the Year and Arkansas' Chenise Delse was named the SEC Pitcher of the Year. Courtney Diefel, who led Arkansas to its second-straight SEC title, was named the SEC Coach of the Year for the second year in a row.
Erin Coffel; First Team All-SEC
.412 batting average
17 home runs
58 RBI
27 extra base hits
Lauren Johnson; First Team All-SEC
.390 batting average
50 runs scored
Eight home runs
21 extra base hits
Kayla Kowalik; First Team All-SEC, All-Defensive Team (C)
.413 batting average
69 hits, 9 doubles, 2 triples and 5 HR's
15 stolen bases
26 RBI
Renee Abernathy; Second Team All-SEC
.331 batting average
13 HR
47 RBI
20 extra base hits
Tatum Spangler; Second Team All-SEC; SEC All-Defensive Team (P)
1.77 ERA
9-2 record
59.1 innings pitched
47 strikeouts
Rylea Smith; SEC All-Defensive Team (RF)
No errors in SEC play
Four doubles
.317 batting average
10 RBI