THROWBACK THURSDAY: Mark Stoops Road Wins at South Carolina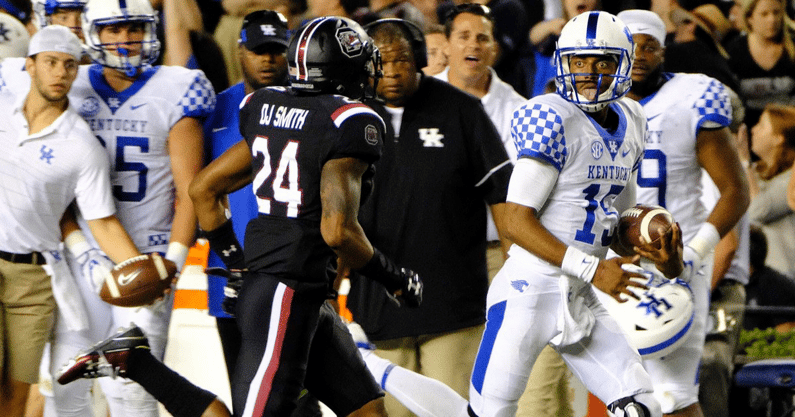 Road wins were few and far between before Mark Stoops arrived in Lexington. Since his second excursion to Williams-Brice Stadium they've piled up, creating lasting memories for the BBN. On this Throwback Thursday, let's revisit two of Kentucky's wins at South Carolina.
2015: Kentucky 26, South Carolina 22
Boom Williams rushed for 107 yards, setting up three other Wildcats to punch in rushing touchdowns. One defensive stop at the goal line paved the way for the Wildcats to snap a 22-game road losing streak.
Play of the Game
The Gamecocks were a two-point conversion away from tying the game with eight minutes left to play. South Carolina's jack-of-all-trades, Pharoh Cooper, took a direct snap, then had the ball stripped. Denzil Ware scooped the ball and scampered 98 yards to give UK two points and a decisive 26-22 lead.
Memorable Moment
The postgame locker room was a Grove Street Party.
Highlights
2017: Kentucky 23, South Carolina 13
Kentucky took two shots to the chin before getting off the mat. Deebo Samuel scored a 68-yard touchdown on the first play of the game. Two plays later Stephen Johnson threw a pick. The Wildcats' defense responded by forcing a three-and-out, leading to a missed field goal. Kentucky then rattled off 20 unanswered points and never looked back.
Play of the Game
Leading 17-6 in the third quarter, South Carolina scratched and clawed its way back down to the goal line. After making an impressive stop on third and goal from the two-yard line, Courtney Love came up hobbled and was forced to the sideline.
Earlier in the week Boogie Watson was moved from outside linebacker to middle linebacker. Kentucky had to "break glass in case of emergency," subbing the redshirt freshman into the game on fourth and one. He ripped through a defender and made a tackle for loss to stop the Gamecocks, the Wildcats' second fourth down stop of the day.
Memorable Moment
Stephen Johnson's legs broke South Carolina's spirit. He had a 54-yard rush and a 22-yard gain that gave the BBN one memorable exclamation point. After the Gamecocks refused to shake the hands of the Wildcats' team captains, he stuck his tongue out at Muschamp's losers, adding insult to injury.
Highlights