Tobias Harris and His Family's Upcoming Decision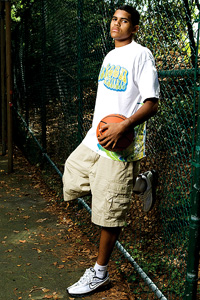 So far I've avoided commenting too much on this situation, allowing the Harris family to figure out exactly what they want to do before I threw my two cents in. However, over the weekend, Tobias gave our friend Anthony Wireman the "ok" to release
a bit of information
on what's going which leads me into giving you my
overview of what the situation seems to be
at this point. I feel that one of the most telling quotes from Tobias is the following:
"I mean right now we are going to wait and see what the final decisions are with the players. Then, we'll talk a lot of it over."
He also added that right now he is sticking with his Tennessee commitment but is going to go into wait and see mode from here on out before making a final decision. My opinion on the situation is that there are two concerns that the Harris family has at this point, one obvious and the other more subtle.
Two Concerns For Tobias and His Family
TOBIAS' FUTURE
: The most obvious concern, and the one that you hear talked about the most, is the family's concern for Tobias' future. Put aside your UK bias about Tennessee for a moment and you must realize that these players are not normally toting guns and drugs. This was a very unfortunate situation that the players allowed themselves to be put into. The question from the Harris family has to be
what amount of blame for those players being in that situation has to be pointed at the coaching staff?
When you allow your son to move more than a few states away from your guidance, as a parent, you want to know that he is in good hands. Is Tobias in good hands at Tennessee if not one but four players could be allowed to get into these types of situations? On top of that, one of the players that was arrested, Tyler Smith, was the model for success that the Harris family looked to at Tennessee and could see Tobias stepping into and filling that role.
TENNESSEE'S FUTURE:
The more subtle concern is where UT will be in terms of on the court success come next year. From the quote above you can see that Tobias wants to wait and see what happens to the players. Aside from a huge blemish on the NBA resume of Tyler Smith, Tobias' model for success, there will also be career-impacting decisions made for junior guard Melvin Goins, junior center Brian Williams and sophomore wing Cameron Tatum. All of those players would be
big parts of any success that UT would have in the 2010 season
, Tobias' freshman year. If those three are gone, which could be the case, the UT team that attracted Tobias into committing during the fall is greatly changed. The family wants to see what the roster is going to look like next year and then reevaluate their decision if huge roster changes are made.
The Future
Bruce Pearl's Big Decision:
Now look at the situation from Bruce Pearl's perspective. Do you dismiss all four players and show future recruits that you are
coming down tough
on these players, giving comfort to those parents that are scared about letting their son get into the same situation, or do you give a form of punishment that allows them to stay on the team, possible showing that you are soft on protecting the environment in which your players are surrounded but at the same time keeping
UT's future success
in mind? A tough decision definitely lies ahead for Bruce Pearl as well.
Why UK Fans Are Concerned:
Kentucky's fans are concerned largely because it is believed that Kentucky was the runner-up to UT when Tobias made his fall decision. At this point,
a lot would have to happen
before the pipe dream of having Tobias become a part of UK's 2010 class would even be possible. Huge family decisions, letter of intent concerns and re-recruitment, just to name a few. As most of you know from Tobias' first go-round with Kentucky, Torrel Harris, Tobias' father, has been a great friend to the site and he has remained so even after Tobias' commitment. As of yet, Torrel has not wanted to make any big public announcements about the family's decision making process and that is certainly something that we respect. For those of you wanting to follow this situation closely,
we'll keep you abreast of any announcements or changes
that happen along the way.
Dustin Rumbaugh  is a law student and covers UK Basketball Recruiting for Kentucky Sports Radio. He can be reached by email at [email protected] You can also follow Dustin on Twitter here. Please check out, subscribe to or RSS feed our YouTube Recruiting page here.