Today on KSR: Chrome is Back
[caption id="attachment_247943" align="alignnone" width="750"]
UKFootball | IG
[/caption] The Chrome Domes are Back. Kentucky practiced in the shiny helmets yesterday.  Nothing has been announced, but their presence was all I needed to see.  In previous years the team had at least one day of practice to break in the reflective helmets. Kentucky has not informed fans if they need to stylize their Saturday night wardrobe a certain way.  A gut feeling tells me the Cats will wear black, but it will not officially be a black out.  South Carolina tried and failed epically in a black out against UK last year, but when UK rocks all-black and chrome against South Carolina, it creates magical moments. https://youtu.be/Abpq8oXYmdU
It's a Sell Out
If you didn't get your tickets to Kentucky-South Carolina, sorry.  You're out of luck.  At around 7:00 p.m. Wednesday night UK Athletics announced Saturday night's game is sold out.  The only tickets remaining can be found on the secondary market.  It's going to be another amazing night at Kroger Field.
Benny has Finebaum's Heisman Vote
Paul Finebaum joined Matt Jones on
Hey Kentucky!
to talk about the Kentucky Wildcats, Benny Snell and how he became the voice of the SEC. https://youtu.be/SO6sYH6_Ma0
Benny has Skyline's Heisman Vote
The new Lexington store believes in Benny's hype.  Snell Yeah. [caption id="" align="alignnone" width="434"]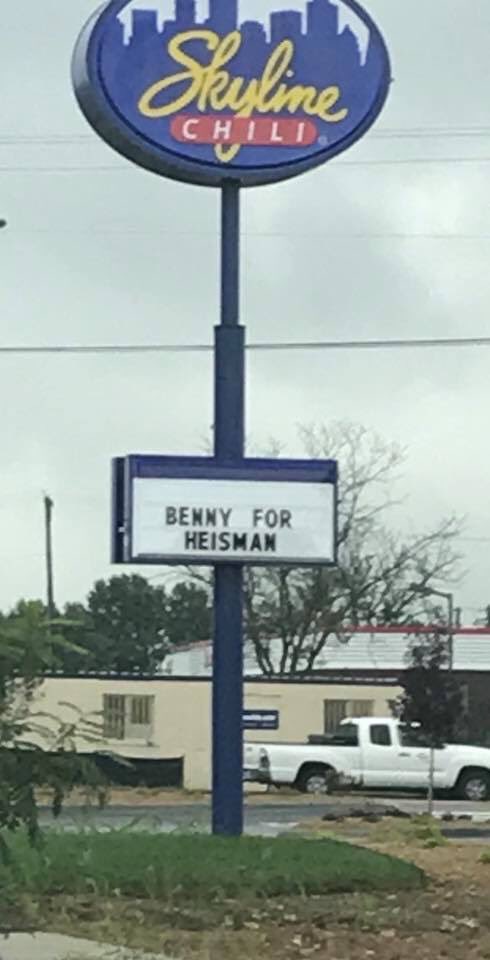 @Ashes1978
[/caption]
Enjoy Wildcat Love
The UK Alumni Association helped create a small batch bourbon that correctly predicted the end of The Streak at The Swamp.  Beatty gave Matt Jones a bottle and Mark Stoops received a bottle from Dr. Mike after the game.  Now you can get your own bottle of Wildcat Love. There are still about 200 bottles left, and proceeds help fund the scholarship endowment of the Alumni Club to allow deserving local students to attend UK.  Wildcat Love bottles are $100 and are only available for sale in person at Barrel House Distilling Co. in Lexington Wednesdays-Sundays 11am to 5pm at 1200 Manchester Street.
Thursday Night Football
The NFL is (finally) back on multiple platforms for Thursday Night Football.  The Rams and the Vikings can be seen on Fox, the NFL Network and Amazon Prime.  Kickoff is set for 8:20. You can pregame the matchup between a pair of potential playoff teams with $1 beers at Churchill Downs or college football between North Carolina and Miami at 8:00 on ESPN.
Really, Ohio State?
I'll take "What is tone deaf?" for $500. https://twitter.com/OhioStateFB/status/1044918440564334593 [mobile_ad]