Today On KSR: It's SEC Basketball Media Day!
Good morning, world. Are you ready for a big day of basketball talk? I know it's football season and the Cats are back in action in a couple of days, but it's SEC Media Day down in Birmingham so there will be a ton of news about John Calipari's Wildcats coming your direction.
Coach Cal, PJ Washington and Reid Travis are set to take questions at 10:55 a.m. this morning and we have TJ Walker in attendance to relay everything back to you. The SEC Network will also provide coverage from the scene during a four-hour SEC Now Media Day special beginning at 11 a.m. before Paul Finebaum takes over for more this afternoon.
Here's the full schedule of appearances from the league's teams (in Eastern time):
9:55 a.m. – 11:50 a.m. (Avery Johnson, Herbert Jones, John Petty)
9:55 a.m. – 11:55 a.m. SOUTH CAROLINA (Frank Martin, Maik Kotsar, Chris Silva)
10:20 a.m. – 12:15 p.m. TEXAS A&M (Billy Kennedy, Admon Gilder, TJ Starks)
11:50 a.m. – 1:45 p.m. OLE MISS (Kermit Davis, Terence Davis, Bruce Stevens)
11:55 a.m. – 1:45 p.m. KENTUCKY (John Calipari, PJ Washington, Reid Travis)
12:30 a.m. – 2:25 p.m. VANDERBILT (Bryce Drew, Darius Garland, Simisola Shittu)
1:45 – 3:45 p.m. MISSISSIPPI STATE (Ben Howland, Aric Holman, Quinndary Weatherspoon)
2:00 – 3:55 p.m. TENNESSEE (Rick Barnes, Admiral Schofield, Grant Williams)
2:30 – 4:25 p.m. ARKANSAS (Mike Anderson, Adrio Bailey, Daniel Gafford)
3:40 – 5:30 p.m. LSU (Will Wade, Skylar Mays, Tremont Waters)
4:15 – 6:05 p.m. MISSOURI (Cuonzo Martin, Jontay Porter, Kevin Puryear)
4:10 – 6:15 p.m. FLORIDA (Mike White, Kevarrius Hayes, Jalen Hudson)
5:15 – 7:05 p.m. AUBURN (Bruce Pearl, Bryce Brown, Jared Harper)
5:40 – 7:25 p.m. GEORGIA (Tom Crean, William "Turtle" Jackson, Derek Ogbeide)
But before all that gets going, let's address the other stories going around…
The NBA season kicked off last night.
Former UK track sensation Sydney McLaughin had a courtside seat in Boston for the Celtics-Sixers game: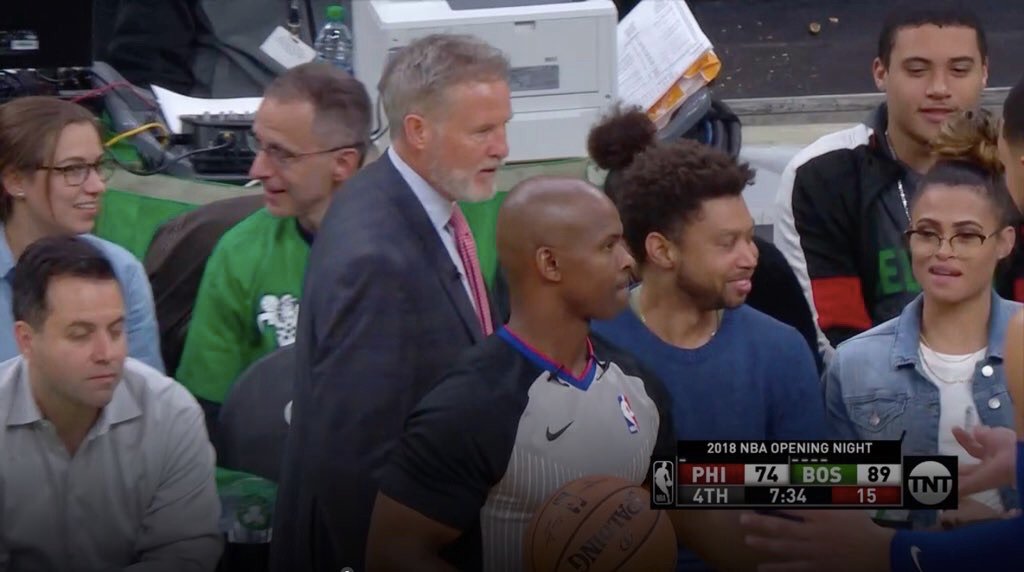 Meanwhile, in the Warriors-Thunder game in Golden State, only two players for Oklahoma City had a positive +/- in the Thunder's narrow loss to the defending champs: Patrick Patterson and Hamidou Diallo. Patterson finished with seven points and five rebounds in 19 minutes played as a starter; Diallo came off the bench for four points, a rebound, an assist and a steal in his NBA debut.
Zion Williamson's name surfaced in college basketball corruption trial.
Zion Williamson (or someone close to Zion Williamson) wanted cash and housing for the family for Williamson's commitment, according to a new development in the ongoing trial up in New York. It came up as an attorney for Adidas employee Merl Code attempted to get some phone tapes entered as evidence. The evidence was denied, but not before a brief transcript was read to the courtroom, in which Code and Kansas assistant Kurtis Townsend talked about the Williamson requests:
Code: "Hey, but between me and you, he asked about some stuff … I know what he's asking for. He's asking for opportunities from an occupational perspective, he's asking for cash in the pocket and he's asking for housing for him and his family."

Townsend: "I've got to just try to work and figure out a way because if that's what it takes to get him here for 10 months, we're going to have to do it some way."
Since the tapes were denied, all we know is the brief dialogue you just read. But if one were to play the assuming game, one would assume: if Williamson wanted money, and Kansas was willing to pay up, and Williamson went to Duke, Duke must've been willing to pay up too. Of course, that's only the assuming game.
For what it's worth, there were loud whispers that Zion had his hand out all along. Was any of it true? I don't know, but it wasn't a big surprise to read the news out of the courtroom. It's unlikely anything comes out of this though because it has nothing to do with the current trial against the Adidas guys.
Drake Jackson expects to play Saturday.
Following UK's Tuesday practice, starting center Drake Jackson said he is doing better and the plan is to play against Vanderbilt this Saturday. He said if Kentucky had a game last weekend, he probably would not have played.
Nassir Watkins is also expected back at left tackle.
Read Roush's full Tuesday practice report:
http://kentuckysportsradio.com/football-2/pissed-off-after-am-loss-uk-football-is-happy-to-get-back-to-work/
WATCH: UK's video of kid reporter Elaijah Mayhorn:
We are headed to #SECTipoff tomorrow. We can guarantee you there won't be as good of a reporter as Elaijah Mayhorn from Julius Marks. She absolutely crushed it at #UKMediaDay. You've got a future in this business, kid. 😼 pic.twitter.com/FUMZjxVqf8

— Kentucky Basketball (@KentuckyMBB) October 16, 2018
Asking non-basketball questions at Media Day? Falling asleep during Coach Cal's press conference? I think she has a future at KSR.
John Calipari paid a follow-up visit to Vernon Carey Jr. on Tuesday.
Because he can't sit still, Calipari made a trip to sunny South Florida to see Vernon Carey Jr. yesterday. It was a follow-up visit to gauge Carey's interest in Kentucky following the five-star big man's trip to Lexington for Big Blue Madness only days earlier.
It's clear Cal wants him and believes he can get him.
Midseason love for Josh Allen, Benny Snell and Mark Stoops.
Josh Allen and Benny Snell were named Midseason All-Americans by the Associated Press on Tuesday. I'm not sure if that comes with a trophy, but it's a pretty nice honor for the two Cats either way.
http://kentuckysportsradio.com/football-2/two-wildcats-named-ap-midseason-all-americans/
And over at The Athletic, which will probably hire someone you know by tomorrow, Mark Stoops was named Midseason Coach of the Year by college football writer Bruce Feldman.
"He's made UK football respectable the past few years, and this season the 'Cats have mauled some solid SEC opponents," Feldman wrote. "They won at Florida for the first time since 1979 by running it down the Gators' throats. They also whipped Mississippi State by three touchdowns and beat South Carolina by two touchdowns. Their only blemish is an overtime loss at Texas A&M."
http://kentuckysportsradio.com/football-2/mark-stoops-named-midseason-coach-of-the-year-by-the-athletic/
He also named Josh Allen his top linebacker at the turn. Louisville is his "Biggest grease fire of the midseason."
Go Cats.