Top UofL boosters are pushing for Tom Jurich to return as Athletic Director
Despite every reason in the world to let Tom Jurich ride off into the sunset with Rick Pitino, several big-name UofL boosters are hoping Dr. Greg Postel brings Jurich back as the school's athletic director. James A. Patterson, founder of Rally's and Long John Silver's, and massive donor to the university, penned this eloquent letter voicing his support for Jurich: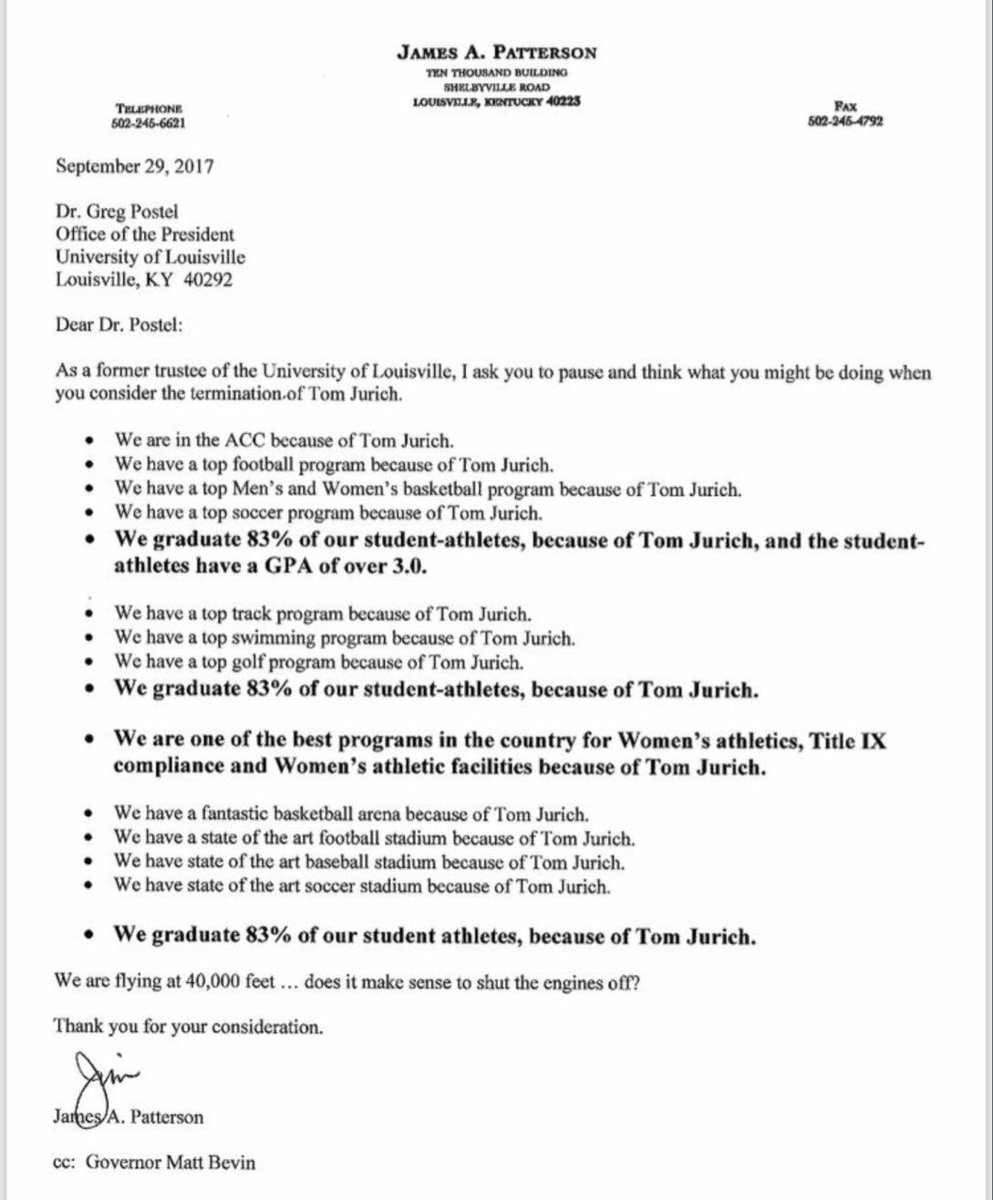 So essentially, the school's success in other sports outweigh Jurich's full support of Rick Pitino following an affair/abortion/extortion scandal, allowing stripper parties in dorm rooms, and being part of an FBI investigation of the biggest NCAA scandal in history. Again, Rick Pitino is the face of the school's biggest and most prestigious sport, yet participated in scandal after scandal and embarrassed the university. Jurich whole-heartedly supported that, yet boosters are pushing for his return. Back in 2015, Patterson, along with two other major UofL boosters, also wrote a letter in support of former president James Ramsey, giving the following examples of leadership his time with the school: – More Fulbright scholars than Harvard. – Record ACT scores. – 5,000 students living on campus. – Admission into the exclusive Atlantic Coast Conference. – A vastly expanded campus. – A foundation worth $1 billion. Here was an excerpt from the letter:
"Jim Ramsey has been the driving force behind this record growth of the most meaningful asset in our community, our hometown university," they wrote, while acknowledging the university has some issues, as does "any complex organization with thousands of employees and hundreds of departments."
You can read the entire letter supporting Ramsey
 here.
That obviously didn't help Ramsey's case much, as he was eventually ousted as president and seen as a joke throughout the state of Kentucky. We'll see how it works with support for Jurich.