Trey Lyles just had the best month of his career in Detroit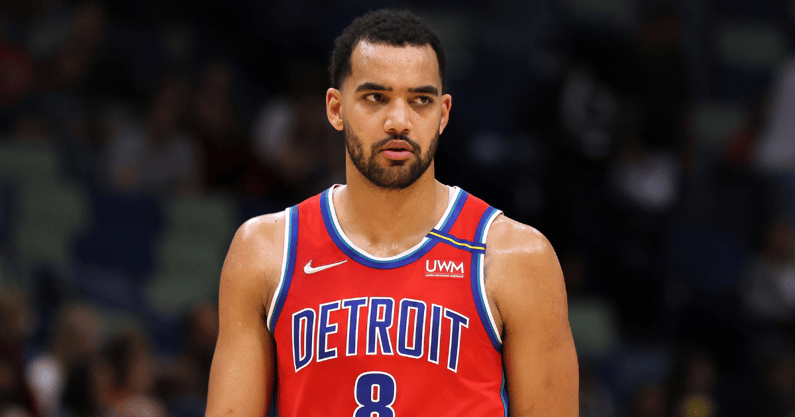 Trey Lyles has bounced around the NBA ever since entering it after one season at Kentucky. But his last 30 days in Detroit may be the best stretch of the 26-year-old forward's career.
How he got here
Lyles was drafted by Utah with the 12th pick in the 2015 NBA Draft following his year in Lexington, just one spot ahead of Devin Booker, who went to the Phoenix Suns. After two years serving as a reserve for the Jazz, he was shipped to Denver in a deal that sent the Nuggets' first-round draft pick back to Utah. A pick that wound up being All-Star Donovan Mitchell.
In Denver, Lyles was a ninth or tenth man before moving again after two years, this time to San Antonio, where he also spent just two seasons. In the first year with the Spurs, he set a career-high in minutes per game but in the second–last season–he played half the year and then seemingly went missing.
Now Lyles is in Detroit, and may be saving his career in the Motor City.
Lyles' last month
Since December 21st, Lyles is scoring 15.2 points a game while also averaging 6.6 rebounds, 1.9 assists 0.9 blocks. He's also earning more trust from his coaching staff, playing 26 minutes a night in 11 games since Dec. 21st as a lot of the Pistons roster has experienced COVID-related absences.
With the extra playing time, Lyles is bettering his team while on the court, at least statistically. In addition to the uptick in scoring and rebounding output, he's one of only two Pistons with a positive net rating over the last month of games. Meaning, when Trey Lyles is on the court, Detroit is actually beating teams. Per 100 possessions, the Pistons are out-scoring their opposition by 1.2 points with Lyles on the court.
It's a small positive number, but it's noteworthy considering every one of his teammates that's played more than five games in January has a negative rating.
The only real problem with his game is that he still isn't shooting the ball terrifically. Lyles only shoots 44.3% on the season and hasn't found his stroke from deep, converting 27.8% of his threes. Those numbers didn't really rise during his hot streak either.
However, part of his production increase can be credited to his aggressiveness in the paint. Lyles is finding ways to score without simply serving as a roller off screens. He's putting the ball in the basket PJ Washington-style with bruising post-ups and by earning fouls.
The biggest jump in his scoring has come at the free-throw line, where in the last month, Lyles is getting to the stripe 5.8 times a game. That's top-30 in the NBA over that stretch. Trey Lyles is earning the whistle of a star player. To me, that's the craziest stat of all.
Check out the clips from some of his best performances lately. He went for 28 points & eight rebounds vs. East two-seed Miami, 21 & seven in a win over Toronto, and 18 & six against Phoenix and his former UK teammate.
What's next?
For Lyles to turn a great month into a solid overall season, he'll need to stay aggressive as a scorer inside the paint, but the shooting may make or break him. He's a capable three-point shooter. 33.5% for his career isn't awesome but it's a slight improvement away from being passable for a skilled 6-foot-10 forward. Plus, he's had three whole seasons as an NBA player where he shot better than 38% from deep. It's doable.
While shooting can be fluky, free-throw shooting often is not. The same players tend to make it to the foul line the most from year to year. Now, Lyles has never averaged more than two free throw attempts a game in his career but, as mentioned, is getting to the line nearly six times a game in the last month.
Maybe that rate wears off rapidly. Or perhaps it's a sign that Lyles is attacking the basket more aggressively than ever and will continue to after finding success in doing so lately.
If Trey Lyles continues to play well at forward and can build a connection with younger starters like Cade Cunningham and Saddiq Bey, the Pistons may see him as a cheap veteran piece that can be part of a longer-term build towards eventual success.