Kentucky to retire Tubby Smith's jersey on New Year's Eve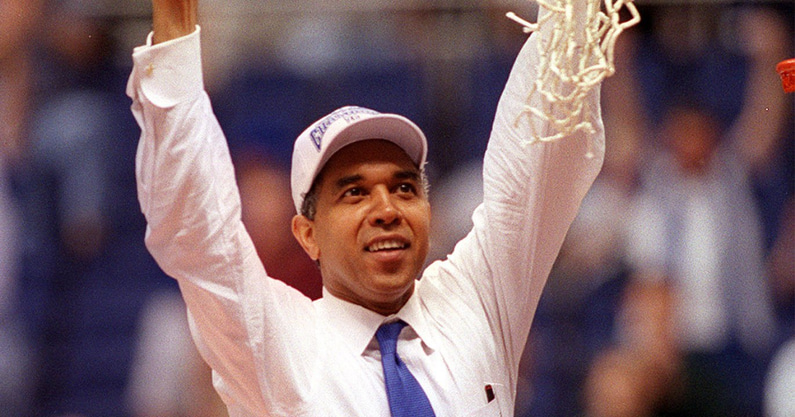 Former Kentucky head men's basketball coach Tubby Smith will finally get to see his name go up in the rafters at Rupp Arena.
On Tuesday evening, Mitch Barnhart went on BBN Tonight to inform the Big Blue Nation that Smith will be enshrined when he brings his High Point team to Lexington to face Kentucky in December.
"It is with great pride, enjoyment and a sense of excitement that we add one more name to the list of people who will see their names in the rafters of Rupp Arena and that's Orlando 'Tubby' Smith," Barnhart said. "A national championship coach, National Coach of the Year, a gentleman who brought so much class, honor and excellence to UK, Tubby is special and so deserving.  We are thankful to have the chance to honor him and will do so when his team comes to play the Cats in December. A lot of folks are going to want to come back and be part of that time.  Tubby and (wife) Donna contributed so much to the fabric of the University of Kentucky and we want to thank them in a special way."
During his decade in Lexington, Smith led Kentucky to a 263-83 record with four trips to the Elite Eight and the national championship in 1998.  The Wildcats won five regular-season SEC titles and five SEC Tournament championships under the head coach
Smith was a three-time National Coach of the Year who spent two seasons working as an assistant at Kentucky under Rick Pitino. Smith was a head coach at Tulsa and Georgia before being hired to run the basketball program in Lexington.
That's very humbling," said Smith.  "I'm certainly grateful to have had the opportunity to lead that program. Some wonderful people there, wonderful fans. You can't find better people.  They have a passion for the game, not just basketball but for the Wildcats, period.  Thank you for doing that. We're looking forward to it.
Smith will be the 44th jersey to hang in the rafters at Rupp Arena joining former head coaches Adolph Rupp, Joe B. Hall, and Rick Pitino. It is a well-deserved honor for the 70-year-old basketball coach.
He is so deserving of this honor," said current Kentucky head coach John Calipari. "He won big here and he did it with class. Tubby impacted so many people in and around this program and he is loved by the players who played for him and by this fan base. I can't wait to see his banner raised.
Neither can we.