Ty Bryant, class of 2023 ATH, commits to KENTUCKY!
His connections to Kentucky were too much to overcome as Ty Bryant announced his commitment to the Wildcats this afternoon.
The 6-foot, 175-pound rising junior made the announcement in front of his friends and family at Frederick Douglass High School in Lexington on Thursday afternoon, becoming the first Kentucky commit from the class of 2023. Ty Bryant is a three-star athlete, according to 247 Sports, and is projected as a defensive back at the college level. Previously a member of the 2022 class, Bryant recently reclassified to 2023, as he did not turn 17 until Wednesday.
Welcome to the family, Ty!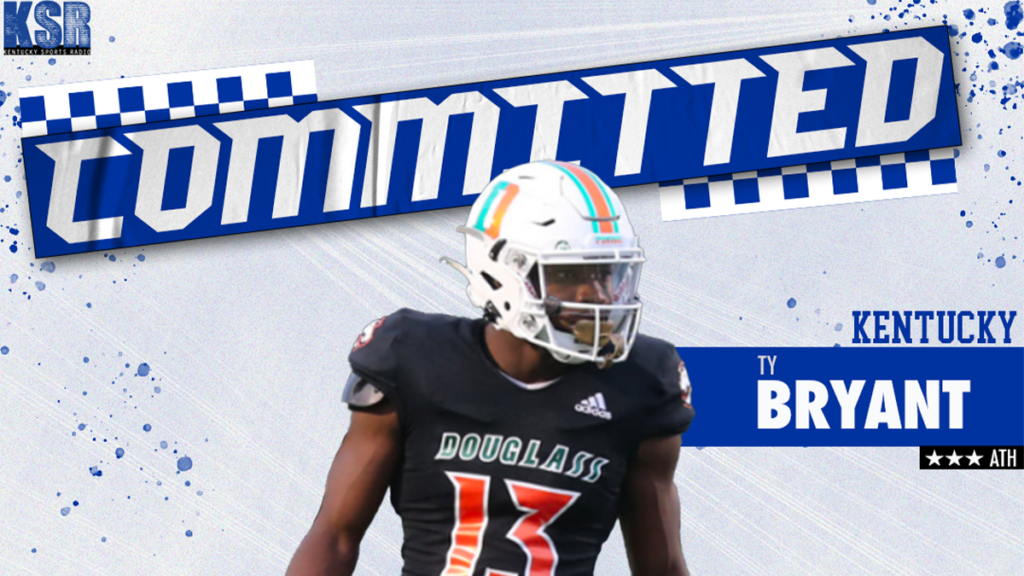 Bryant has long been viewed as a heavy-lean for the Wildcats, considering associate head coach Vince Marrow offered him a scholarship all the way back in Jan. 2020 and has been recruiting him ever since. Bryant's father, Cisco Bryant, was a wide receiver at Kentucky under then-head coach Jerry Claiborne from 1983-85. The younger Bryant is also close friends with current Kentucky Football freshman Dekel Crowdus and class of 2022 wide receiver target Dane Key, both of whom went to or still attend Frederick Douglass.
"Ty has a lot of self-confidence about himself,' Frederick Douglass head coach Nathan McPeek told KSR back in February. "He thinks he's the best guy on our team, which we're blessed with a lot of skill players so it's a battle every day in practice. But he thinks he's the best and can line up against the Dane Key's and Dekel [Crowdus]'s of the word and win every rep. That's just kinda how he is. In my 18 years of coaching, he's one of the best open-field tacklers I've ever seen and had that I've coached. Just a really really good instinctive football player and really good in the open field."
Bryant has previously earned offers from Marshall, Cincinnati, Tennessee, Maryland, Dartmouth, West Virginia, Kansas, Toldeo, Air Force, Western Kentucky, Eastern Kentucky, Austin Peay, and UT Martin. He's also a star baseball player and has spoken previously about playing both sports in college.
Watch Ty work as we welcome him to the Big Blue Nation!