Tyler Herro wants to start for Miami Heat in 2022-23 season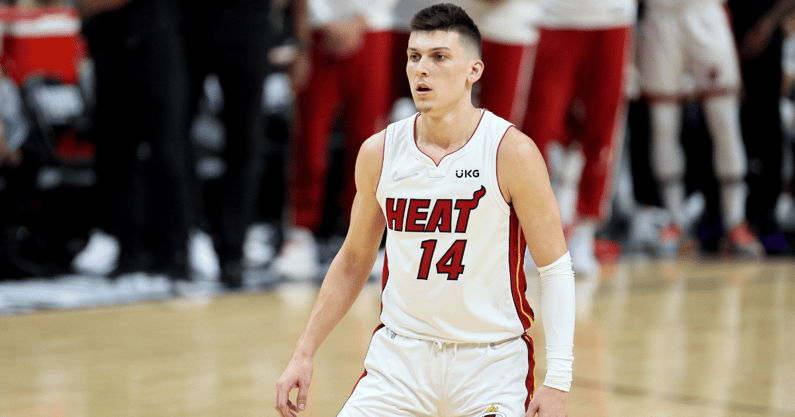 Tyler Herro took a major leap from his sophomore season in 2020-21 to his third-year campaign in 2021-22, winning the NBA's Sixth Man of the Year award in the process. Heading into the 2022-23 season for the Miami Heat, he's looking for even more.
"Yeah for sure," Herro said during his end-of-season interview on Tuesday about prioritizing a starting role for next year. "In some way, I would like to start. I think it's my fourth year, so I think I've earned it, and we'll see what happens."
During his breakout season with Miami, which recently came to an end in the Eastern Conference Finals against the Boston Celtics, Herro was spectacular off the pine. He averaged 20.7 points, 5.0 rebounds, and 4.0 assists per outing while shooting 44.7 percent from the field, 39.9 percent from distance, and 86.8 percent from the free-throw line. Despite his bench role, Herro still managed upwards of 32 minutes per game and was a key piece in leading the Heat to an Eastern Conference-best record of 53-29.
Taking all of that into account, he is absolutely deserving of a starting role, and should likely earn it ahead of the 2022-23 season, but there are a couple of other questions surrounding his status in Miami.
Herro is 22 years of age (turning 23 in January) and eligible for a massive contract extension this summer worth $184 million over the course of five years. He's still on his rookie deal through the 2022-23 season, but the Heat could face a tough decision regarding whether or not to keep him around. It's not likely he garners the full $184 million, at least not right now, but a $100+ million deal feels inevitable.
Miami is currently paying all three of Jimmy Butler, Bam Adebayo, and Kyle Lowry ridiculous sums of money. The trio will earn a combined $96 million next season, and that doesn't include the nearly $17 million owed to Duncan Robinson, who was bumped out of the postseason rotation. Only Lowry's deal ends after the 2023-24 season, with the other three under contract through the 2025-26 season. In the 2023-24 season, those four will soak up a combined $125 million in Heat cap space.
Pat Riley has earned the benefit of the doubt as Miami's front office dealmaker though, so this contract situation shouldn't stranglehold the franchise, but it will make dealing with Herro a bit more interesting, especially if he's adamant about taking on a larger role. There's already been some talk that the Utah Jazz might be interested in trading Donovan Mitchell to Miami with Herro as the centerpiece from the Heat. It could be a long offseason.
First things first though, Herro must get healthy. He suffered a groin injury during the fourth quarter of Game 3 against the Celtics in the ECF, sitting out Games 4, 5, and 6, as well. Herro tried to gut it out in the decisive Game 7 but played only six minutes as he was clearly not himself. He admitted that he was dealing with the injury throughout the entire playoffs, but it didn't get bad until the series against Boston. Herro should be fully recovered within the next few weeks.